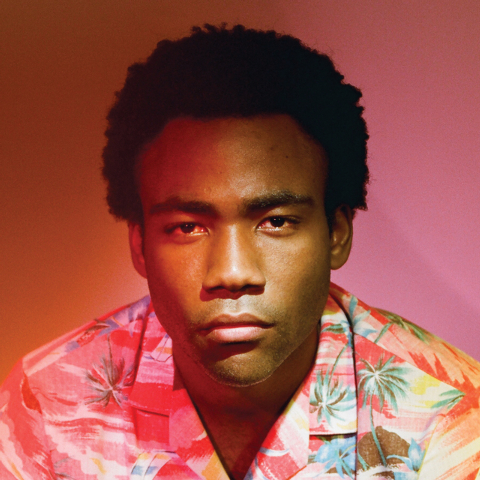 Donald Glover knows well the plight of the "nerdy-ass black kid."
It's his story, and he tells it in verse.
"I used to get called 'Oreo,' " notes the actor, writer, comedian and rapper on the song "Fire Fly," recorded as his hip-hop alter-ego Childish Gambino. "I used to get more laughs when I got laughed at."
The chuckles haven't stopped — as Troy Barnes on NBC sitcom "Community," past writer for "30 Rock" and gifted stand-up whose 2011 special "Weirdo" was as funny as it was heartfelt, Glover is a natural comedic talent.
Thing is, that skill set doesn't always translate to hip-hop when an artist wants to be more than a self-effacing dunce playing everything for comic relief.
Guys like Glover struggle to get taken seriously, as he acknowledges at various points in the Childish Gambino catalog.
"Sometimes I feel like I ain't supposed to be here," he admits on "All That Shine" from his 2011 disc "Camp."
"I'm not trying to come hard, I'm trying to come me," he elaborates on the song in question. "What's the point of rap if you can't be yourself?"
Ultimately, this is exactly what Glover does, and what makes his Childish Gambino output refreshingly devoid of pretense.
He's confident and self-conscious, clever and puerile all at once.
Best of all, he's completely unabashed about letting his inner nerd shine.
To wit, here's a brief rundown of some of the most awesomely geeky moments in the Childish Gambino canon:
■ He once named a song after "Flight of the Navigator."
Remember this mid-'80s cinematic cheese puff about the kid who gets abducted by the universe's lamest aliens — What? No human vivisection or carnivorous space babies exploding from a single abdomen? Weak. Nevertheless, Glover pays homage to the sub-Disney flick, naming a track from his most recent record, "Because the Internet," after it. It's but one of many references to hit-or-miss '80s movies in the Gambino repertoire: "Innerspace," "The Land Before Time," "The Fly" and who could forget "Brewster's Millions"? Not us. We've tried.
■ He's referenced cult Sega Genesis game "ToeJam &Earl."
This game was an overlooked classic, equally goofy and satirical, centered around two rap lovin' extraterrestrials who crashed on Earth and are trying to get back home. Think E.T. with more gold chains or Alf if he was all about feasting upon sucka MCs instead of the Tanners' cat. Gambino works a "ToeJam &Earl" reference into a rhyme on "Bonfire," a fitting move for a dude who often seems to come from some other galaxy in hip-hop, a universe where the geek gets the girl — namely, your girl.
■ He name-dropped Marc Summers.
Remember this guy? Gambino does on "Crawl." Summers was the original host of "Double Dare," the Nickelodeon game show where kids answered trivia questions and did "physical challenges," which usually amounted to trying to catch pies in clown pants or digging for trinkets in pools of Jell-O and pudding to the horror of starving children the world over. It was food for absolutely no thought whatsoever. Seeing as how much of hip-hop has long been posited upon conspicuous consumption, though, this one was for all the ballers in braces.
■ He coined the term "net-twerk."
This is next-level nerdiness, taken from Gambino's "Worldstar," where he fashions a new word from the term for gyrating one's derriere so that it jingles like a couple of ferrets gettin' it in on in a gym bag. This requires expertise in both grammar and ladies named Cinnamon. Impressive.
■ He's all about the Doozers.
What's a Doozer? It's one of those little green construction dudes on HBO's '80s kids series "Fraggle Rock," which Gambino references on "They Don't Like Me." Doozers toil and toil and toil, only to inevitably have one of those a-hole Fraggles come and devour the fruits of their labors. Their plight was a metaphor for life: You gotta work hard and never give up no matter what, even if some giant Muppet (i.e., your mom, your boss, or, in our case, parole officer) is always trying to keep you down, man.
■ He calls himself the "prep-school mic killa."
It's tough to be a badass in advanced placement calculus. But Gambino doesn't put on any airs about not growing up in the streets on "Shadows." Attending prep school doesn't exactly equate to instant credibility in the hard-knock world of hip-hop, even though Gambino wasn't born of privilege. Think about it: While other rappers have gritty tales about a youth spent dodging bullets and wondering if the next day will be their last, you can only counter with stories of abnormally high-quality cafeteria food and how embarrassed you were that one time when the rest of the kids tricked you into thinking that everyone was going to wear argyle socks that day.
Hey, it's hard out there for a gimp.
Contact reporter Jason Bracelin at jbracelin@reviewjournal.com or 702-383-0476. Follow @JasonBracelin on Twitter.
Preview
Childish Gambino
8 p.m. Friday
The Chelsea at The Cosmopolitan of Las Vegas, 3708 Las Vegas Blvd. South
$41.85 (800-745-3000)