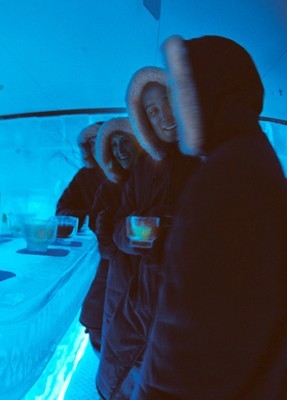 It's not cold enough inside casinos, according to one bar chain.
On Sept. 26 at Mandalay Place, New Zealand-based Minus 5 is set to open the first ice lounge in the United States.
Named for the temperature maintained within its 1,200-square-foot main room — 5 degrees Celsius below freezing, or 23 degrees Fahrenheit — Minus 5 will feature a bar, chairs and cocktail glasses all carved from frozen blocks.
"We believe we can do almost everything in ice," said Craig Ling, president of the chain. (Everything except the floors, he admits, which will be nonslip masonry.)
For $30 admission, guests will be issued rental parkas and gloves — plus a coupon for a free vodka cocktail (or nonalcoholic "mocktail" for kids and teetotalers).
Just a suggestion: Hold the ice.
"This concept has been very successful around the world," said Ling, who opened similar places to chill in New Zealand, Australia, the Grand Caymans and Portugal.
"And we think Las Vegas is ready for it."
There is certainly no better place to debut the chain's first wedding chapel. Minus 5 will offer fur-trimmed white wedding dresses and ceremonies planned by the Mandalay Bay wedding department. (Insert your own joke about cold feet here.)
"But they have to say 'I do' in 30 minutes," Ling said, explaining that the main bar has to be cleared every 30 minutes, to prevent cold-related injuries.
Once completed, Minus 5 will have taken one year, $3 million and 46,000 liters of frozen Canadian water to build.
"Probably our biggest obstacle will be getting the ice here and offloaded in the heat," said Ling, who launched his first ice lounge in New Zealand in 2002.
"I always had carved ice statues and an ice back bar," he recalled. "It used to melt every night. So we decided to combine it all and put it in a big freezer."
In the United States, ice lounges have been constructed temporarily before — most recently last year at Sundance Film Festival — but never as permanent attractions.
"Actually, I shouldn't have used the word freezer," Ling said. "A lot of engineering goes into this concept to make it happen.
"It's far from a freezer that goes in a normal kitchen or nightclub."
According to Ling, Minus 5 will not compete with Red Square. The Russian eatery — which operates only footsteps away in Mandalay Bay — operates a frozen bar top it advertises as an "ice bar."
"We're an experience, an attraction," Ling said. "They're a bar with an ice bar in it and a cool room.
"They're two completely different things."
Red Square's reaction is decidedly more chilly.
"They say imitation is the most sincere form of flattery," read an e-mail from Terry Zarikian, product development director for China Grill Management, which owns Red Square.
"But in this case it just shows an exaggerated dose of bad judgment — or is it bad taste?"
Like most ice lounges, Minus 5 will be allied with a specific vodka company. (Absolut, Minus 5's main competitor, operates bars in London, Toyko, Copenhagen, and Stockholm and Jukkasjarvi in Sweden.) However, at press time, Ling said he was unable to name the company.
"Las Vegas is very important to us," he said. "We see it as a key site for us and a key city."
Minus 5 bars also are set to open in Los Angeles, Manhattan, Miami and Hawaii by next year.
Contact reporter Corey Levitan at clevitan@reviewjournal.com or 702-383-0456.