November 14, 2008 - 10:00 pm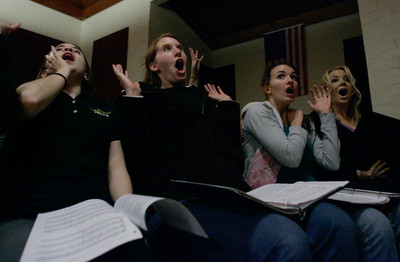 Creamy harmonies coating a classic tune — "Moon River" couldn't be in more loving care.
Cradling the Henry Mancini standard, the Red Mountain Music Company paints a melodic rainbow around the silky ballad, rife with creative riffs. An already lovely song now shimmers with a musical gloss.
"We are all the time pushing them to the edge of their abilities," says David Skouson, the group's musical director, conductor of its youth choir and pianist for the adult ensemble, which celebrates a decade of community music-making with "In the Beginning: The Best of Red Mountain Music Company (1998-2008)," an anniversary concert tonight at Cashman Theatre. Seventy-six voices from high-schoolers to seniors, backed by a three-piece band, will sing 21 songs chosen from past performances and voted by the vocalists as their favorites.
Once a single community choir, the group has expanded over 10 years into a multifaceted organization that produces full-scale concerts, choral recitals and cabaret-style shows while operating musical and theatrical programs across the valley.
"One of the things I'm most proud of is that we have some truly outstanding soloists and choir members who are of professional quality, and we also have people who can't read music and have a hard time staying on pitch," Skouson says. "But anybody who wants to be in the choir can be in the choir. There's no audition, no requirement except to show up and join with the group."
Perhaps as they rock the "Guys and Dolls" rouser "Sit Down, You're Rockin' the Boat," a tongue-in-cheek takeoff on church-style gospel, in which a repentant gambler comically chronicles his sins before he reforms. In the ensemble's infectious interpretation, a soloist goes beyond singing to acting the buoyant character, including its spoken passages, as the choir kicks in a joyful spiritual shout behind him.
"It's a challenge to make it a professional-sounding choir, but our directors always do," says the group's executive director, Wendy Randall. "They choose music that flatters the voices of the choir. They are pieces that have a lot of personality to them, that require some acting and not just your typical choral singing."
Skouson, along with his brother Jeffrey, the group's artistic director and conductor of the adult choir, have steadily strived to take the Red Mountaineers into more adventurous terrain. "In the past years, we've gone almost to a show choir featuring a lot of musical theater pieces," he says. "We're doing things like 'Green Eggs and Ham' from 'Seussical,' or things from 'Titanic' (the musical), pieces from 'Company' by Stephen Sondheim."
A rendition of "All That Jazz" from "Chicago" is a curious combo, managing to apply a clean-cut choral sound to the tune's sex-and-sin innuendo. But beyond a Broadway bent, the ensemble also explores more exotic fare, such as the haunting "Adiemus," with its midtempo, chantlike hum, propulsive percussion and a tone set somewhere between mournful and prayerful. Or John Williams' "Dry Your Tears, Afrika" from the movie "Amistad," inspired by the Bernard Dadie poem, in which one lonely voice rolls into a chorus of communal unity.
"Jeffrey's not trained in traditional choral conducting, but he's a brilliant vocal coach," says Randall of the choir's leader. "He can make people really pull off a piece, make it a character piece instead of just something the Mormon Tabernacle Choir would sing. It's got a lot more flavor."
Complex and eclectic, their repertoire is rehearsed weekly at the LA Water & Power Building in Boulder City. "That's the highlight of their week, I hear it all the time," Randall says. "It provides relationships and a creative outlet and something to uplift them and give them joy in their lives. Most of us don't have a soloist-quality voice, yet so many of us love to sing. It's not about the entertainment, it's about the education and experience, and it becomes a gift to the community."
But a rehearsal's payoff is performance, this one promising listeners a chance to float along on a shimmery moon river.
Contact reporter Steve Bornfeld at sbornfeld@ reviewjournal.com or 702-383-0256.
Preview "In the Beginning: The Best of Red Mountain Music Company (1998-2008)" 7 p.m. today Cashman Theatre, 850 Las Vegas Blvd. North $15-$35 (294-0043)