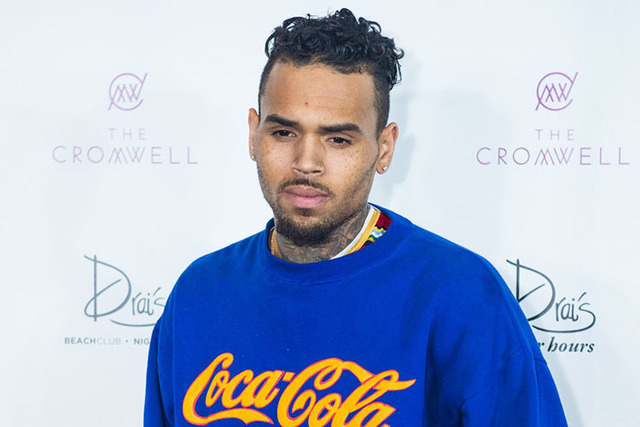 Chris Brown's Vegas gigs are in limbo, but Drai's nightclub hopes to bring the tough-guy singer and his entourage back to the city.
Drai's and the Cromwell hotel have branded themselves as the exclusive home of Chris Brown performances since 2014.
Victor Drai's club even booked Brown — who became infamous for repeatedly punching Rihanna in the face — on the night Floyd Mayweather Jr. punched out Manny Pacquiao in Vegas last year.
Drai's continued to support Brown after Brown was accused, then cleared, of two separate violent episodes at the Palms hotel.
But it seems Brown finally hit Drai's (figuratively) where it hurts.
Brown wrote on Instagram Drai's has racist power-trippers working there, and that he packs the otherwise "EMPTY" club.
"I KEEP THE LIGHTS ON IN THIS PLACE. I ain't no slave or an employee of this establishment," Brown Instagrammed.
Drai declined a request for an interview, but a statement from the club calls its relationship with Brown "successful":
"However, recent events have raised concerns that will need to be addressed with Chris and his management before that relationship can continue to move forward. We have reached out accordingly and are waiting to hear back from his team."
Gossip site TMZ has been dogging Brown recently with such headlines as:
— "COPS BOOT SINGER FROM IBIZA, VOMIT AND URINE EVERYWHERE"
— "MANAGER SUES … CHRIS BEAT ME TO A PULP"
Despite those TMZ stories, which Brown vigorously denies and counterclaims, Drai's offers its heart and wallet to the singer with this statement:
"We remain open to sitting down with him to discuss the future."
WHERE WILL GOSS LAND?
British singer/heartthrob Matt Goss is leaving Caesars Palace after headlining the Gossy Room (Cleopatra's Lounge) for six years.
Goss, who many regard as a real sweetheart, and his brother Luke attained U.K. fame as the teen boy band Bros, singing 1987's "When Will I Be Famous?" The song was not a big hit in America.
But after much personal and professional drama, Matt Goss settled into a typically sold-out, tuxedo-and-torch song Caesars show where female fans (and many Brits) stared big-eyed at him, and male fans stared at scantily clad dancers.
Caesars offered a grateful, emotional goodbye to Goss on Tuesday, announcing Sept. 24 as the final curtain, before Goss headlines a London arena Oct. 1.
NEW SELFIE IDEA
London artist Rich McCor has reinvented the Vegas vacation photo, and now tourists will probably copycat this method to death.
On July 4, McCor posted a funny photo for New York-New York resort's Statue of Liberty that made it look like she was lifting weights.
He achieved the optical illusion by drawing a finger-sized silhouette cutout of an arm holding free weights, then he held the cutout in front of his camera while he photographed Lady Liberty.
He used other silhouette cutouts to make his Instagram photos look as if a whale were jumping into the Bellagio fountains; a giant drummer was using the High Roller as a bass drum; and the Neon Museum's billowy facade was Marilyn Monroe's air-blown dress from "The Seven Year Itch."
This isn't just some silly little Instagram fun anymore. McCor has been earning bits of press from CNN and London's Daily Mail for a year , crafting his silhouette finger-cutouts from cardstock, then holding them in front of his camera lens .
His creative idea won him sponsored trips around the world. Not surprisingly, he arrived in Las Vegas, the home of sponsored junkets, in June after "Brexiting" the U.K.
Since then, he's posted 13 fun photos, drawing international attention for a picture of Caesars Palace's Julius Caesar statue holding a selfie stick, a surfer hanging 10 on the surfboard roof of Fashion Show mall, and the naked Bliss Dance statue playing tennis.
If souvenir shops don't start selling their own little silhouettes for tourists to hold in front of Vegas icons, it would be surprising, since leaving money on the table is not one of our pastimes around here.
SIGHTINGS
At Drai's Sunday during Fabolous' performance: L.A. Lakers Jordan Clarkson and Cleveland Cavaliers J.R. Smith.
Joe Naufahu, Khal Moro from "Game of Thrones," drank vodka-and-soda with friends at Encore Beach Club during DJ Zedd's set on Sunday.
Comic Cedric the Entertainer took friends to Beauty & Essex restaurant on Monday for chicken meatballs, tuna poke tacos, salmon ceviche, spaghettini and sirloin.
Doug Elfman can be reached at delfman@reviewjournal.com. He blogs at reviewjournal.com/elfman. On Twitter: @VegasAnonymous