Chris Jericho reminisces over Tyson punch to the face
January 16, 2015 - 4:20 pm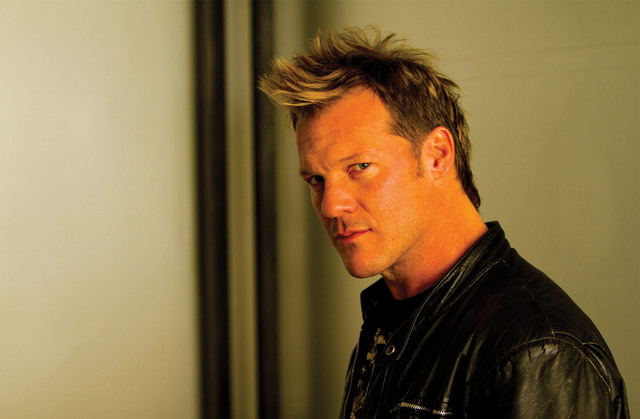 Mere mortals celebrate the anniversaries of their weddings and jobs, but WWE superstar Chris Jericho this week celebrated the fifth anniversary of Mike Tyson punching him in the face.
This is a man, this Jericho, who is in Las Vegas for Saturday's WWE Live at Mandalay Bay, and afterward, he and buddies will party at Body English nightclub.
Jericho jokes that his jaw still hurts from Tyson's punch during WWE Raw. Jericho told me what went through his head that day:
Jericho and Tyson were tag-teaming together.
"He was so fast and so powerful. I couldn't imagine how powerful he was 20 years earlier," Jericho recalls.
But Tyson turned against Jericho to excite the crowd. Jericho knew this twist was coming.
"The moment before he swung at me, I told him, 'Just wait until I put my hands up in the air, and swing,'" Jericho said.
Jericho waited.
"Time stood still," Jericho said.
Tyson prepared his fist.
Jericho thought, "I am the craziest man on the planet right now, because I'm waiting for Iron Mike Tyson to take a swing at me."
Jericho, adrenaline racing, thought:
"I'm going to let him do it. Hopefully, he's going to do it the proper way.
"But what if he's mad?
"What if he misses?"
Tyson's sledgehammer hand came circling 'round. Remember, this is wrestling. Show business. The swing flew by like a tornado.
"He barely grazed me, but I felt a wind go by my face," Jericho said. "That's how fast he swung. It was like a 'Swoosh!' Who swings that hard and leaves a vapor trail?!"
Jericho hit the canvas, happy to be alive.
"Nothing could ever scare me ever again, after standing face-to-face with Mike Tyson, knowing he's going to swing at me, and giving him 100 percent trust he's not going to knock me out and kill me."
I extended to Jericho an official Las Vegas invitation to move here and fight in mixed martial arts. He politely declined.
"I'm not a fighter. I'm in show business," Jericho said. "I will stand there and take a punch from Mike Tyson, but that's about it."
Jericho has a podcast, "Talk is Jericho," where he hangs out with his icons, from Hulk Hogan to a Vegas interview with Kiss's Paul Stanley.
Jericho wanted to interview Tyson in his Vegas home this weekend, but the king of fists is out of town.
I asked Jericho what a girl has to do to get his attention at Body English in the Hard Rock Hotel.
"Say hi," he said.
He and his friends will not sequester themselves behind a VIP velvet rope "like an animal in a zoo" while "people stand at the perimeters and look in and feed us peanuts."
Everyone is welcome to join him, he said.
"We're easy, man."
Contact Doug Elfman at delfman@reviewjournal.com. He blogs at reviewjournal.com/elfman.