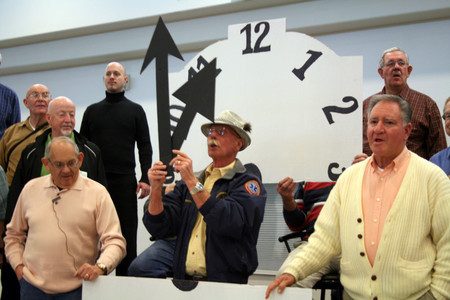 Santa gets a shave and a haircut today, when the City of Lights barbershop chorus stages its annual bow-tied production of Christmas carols.
"Christmas Magic," which runs 90 minutes, includes 13 sacred and commercial holiday songs delivered in four-part harmony.
"It's a different take on the typical carol," said producer and performer John Mackey.
The numbers are joined by spoken interludes both serious and funny, including a skit based on Sid Caesar's "Your Show of Shows" television series.
"We're trying to touch all the emotions connected with Christmas," Mackey said, "from laughter and good cheer to nostalgia and sentimentality."
City of Lights chorus, made up of 30 male singers — 20 of whom perform in five quartets — has presented both a Christmas and a spring show in most of the years since its 1999 inception. In April, the chorus announced that its holiday show would be an "American Idol" spoof called "North Pole Idol." By July, however, scheduling conflicts caused the loss of two venues and Mackey thought the idea required too much work for such a limited audience. (Most City of Lights members have day jobs; Mackey, 55, works as an architect.)
"I think this is as good a show," Mackey said. "It just wasn't as hard to put together."
Contact reporter Corey Levitan at clevitan@ reviewjournal.com or 702-383-0456.
PREVIEW
What: City of Lights Presents "Christmas Magic"
When: 7 p.m. today
Where: Winchester Cultural Center Theater, 3130 S. McLeod Drive
Tickets: $12 (455-2433)