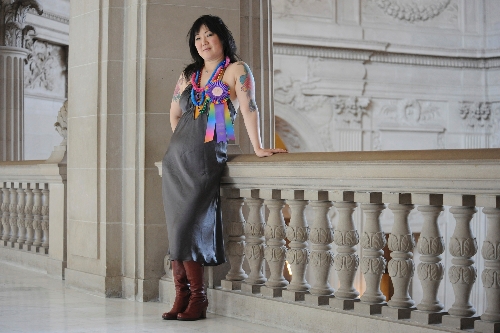 There's a dreamy gay-icon lineup of comedians heading to the Las Vegas Pride parade on Friday. Joan Rivers, Kathy Griffin and Margaret Cho are honorary grand marshals for the Pride Parade.
"It's gonna be a crazy weekend – the diva triumvirate," Cho says.
The trio are also expected to perform at the parade's main stage. (For more information, check LasVegasPride.org.)
Cho says their coming together was a luck of timing, since they are in Vegas for stand-up gigs: Cho tonight at The Mirage; Rivers tonight through Saturday at The Venetian; and Griffin at The Mirage on Saturday.
"I think we're all going to be going to each other's shows, as well," Cho says.
Her Mirage show has a theme about motherhood.
She doesn't have kids. But she applies her maternal instincts toward young LGBT people (lesbian, gay, bisexual and transgender).
"LGBT really need that support. It's so troubling and difficult – all of the bullying and stuff like that that's in the news, that we've all experienced.
"So I hope to lend some solace for that. That's where my maternal instincts lie, rather than having children."
Cho arrives in town with a new Emmy nomination after portraying variations of North Korea's Kim Jong Il and Kim Jong Un on "30 Rock."
Cho's bits on "30 Rock" were so funny, I ask her if there was any talk of a spinoff series starring her Jong characters.
Nope. No such luck.
But she and Tina Fey did lark about a different project.
"She and I talked about how great it would be to do a big Hollywood action film with him (Kim Jong Il), with a lot of explosions. Maybe someday. That would be great."
Cho and Fey went to a lot of trouble to make Cho's "30 Rock" appearances even happen, because Cho was simultaneously acting on Lifetime's series "Drop Dead Diva."
"Tina's sheer brilliance made that happen," Cho says. "I had to go and do it ('30 Rock') in the middle of the night. I had to do it and go back to work on my show on the same day in a different city!"
Even though Cho's Jong roles were comedic, Cho was more than happy to expose viewers to the single-party state of North Korea.
"I am actually of North Korean descent, so it's appropriate for me to play him, even though I'm the wrong gender" for the role, Cho says.
"He (Kim Jong Il) has really stood in the way of my family being reunited and the Koreas being reunited. It's an insane government. They'd rather their people starve than … ask for aid.
"It's really corrupt, and we don't even know the extent of … terrible human rights violations.
"So I really appreciate I get to use comedy in defense of (the citizens in) this nation deprived of food, and communication with the rest of the world."
Doug Elfman's column appears Tuesdays, Thursdays and Fridays. Email him at delfman@reviewjournal.com. He blogs at reviewjournal.com/elfman.