Comedian provides laughs on Elton John's private planes
September 11, 2016 - 3:48 pm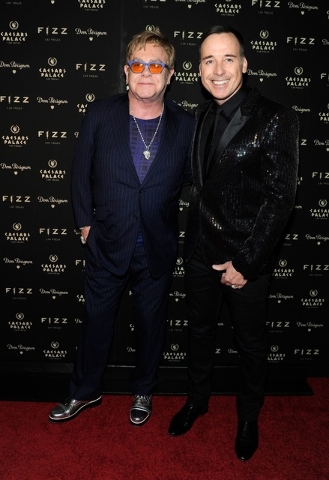 Elton John and husband David Furnish regularly pay a comedian to don vintage airline costumes and comically curse out celebrities on their private planes.
The comedian's real name is Caroline Reid, but she goes by the stage name Pam Ann, a wordplay tied to her clothing inspiration, the classic Pan Am airlines.
Pam Ann just divulged in a Guardian newspaper memoir she's been performing on private planes for the Caesars Palace headliner ever since Furnish's 40th birthday party in October 2002.
That first Elton John gig for Pam Ann was on a privately chartered Boeing 737 with passengers Spice Girl Victoria Beckham, actress Elizabeth Hurley, artist Damien Hirst and other stars of the day.
Pam Ann's job, while dressed in her flight attendant uniform, was to hurl verbal curses at celebs, who were at first confused but after learning it was an act became so fond of her that John hired Pam Ann routinely.
The plane flew from London to Venice, Italy, where stars were "ferried into beautiful wooden speedboats" and sent to luxurious hotels.
Designer Donatella Versace was there and threw a fit because she didn't like her hotel, so she was speedboated to an upgrade, then she, Sting and other stars joined Furnish's 40th birthday party.
None of this is a surprise. John is not only a beloved singer, his reputation for glamorous excess is legendary.
"There is no one in the world who knows how to throw a party like Elton John and his husband, David Furnish," Pam Ann gushes in the Guardian.
These kinds of details don't often get divulged by an insider. Stories about John's royal life in Vegashave circulated for years, but I have yet to get any of them on the record. No one wants to lose that fantastical Elton John access.
BRITNEY DANCE CLASS
Planet Hollywood headliner Britney Spears is doing more than just interviews and TV appearances to promote her show and new album.
On Saturday and Sunday, she Instagrammed video of herself teaching dance class for girls, en route to snaring a few million views on Instagram.
She gave no indication what dance class this was, let alone which city.
HOME TWEET VEGAS
Hockey writer @Proteautype: "Las Vegas NHL expansion team owner says team name will have Knights in it. My top picks to complete it:
1. Summer
2. Talladega
3. Bobby
Sportswriter @HackswithHaggs: "Waiting patiently for Bill Foley & the Las Vegas NHL expansion group to trademark 'Jedi Knights' as one of their possible team names"
SBNation Sports writer @Hannah_Bevis1: "Yes it's a long shot but I'm still rooting for the Las Vegas Hillary Knights"
HOUGH WEDDING PLANS ARE SLOW-GOING
Former Las Vegas Academy student Julianne Hough isn't saying whether she will return to "Dancing With the Stars."
And the "Grease: Live" star and her fiance Brooks Laich, the Toronto Maple Leafs player, haven't really done any wedding planning — not the dress, not the location, nada.
"We kind of started to plan and we're like, eh!" she told E! News. "Let's just enjoy it instead and not feel pressured to start planning already."
GIVING
Las Vegas' nationally recognized food charity Three Square is asking for support for its newest food drive called "Fill the Plate."
So far, entertainers who dropped off nonperishables at Three Square include Cindy Williams ("Menopause: The Musical"), BMX athlete Ricardo Laguna, and performers from "Showstoppers," "Puppet Up," "Baz — Love Never Dies " and "Million Dollar Quartet."
Three Square is the only food bank in Southern Nevada. In 2015, it supplied 31 million healthy meals to hungry people and families via 1,300 nonprofits, schools and religious organizations.
If you want to help, you, your business or your group can take nonperishables to the warehouse, 4190 N. Pecos Road, 9 a.m.-3 p.m. Monday-Friday.
Or you could donate cash at ThreeSquare.org.
The "Fill the Plate" campaign started Thursday but as of Sunday afternoon, the campaign site had raised just $55, likely due to lack of awareness, which is why I'm telling you, Elton John and Britney Spears about it.
SIGHTINGS
Palms restaurant N9NE last Friday treated five members of the gold medal-winning USA women's water polo team to dinner from chef Barry Dakake: Ashleigh Johnson, Maggie Steffens, Kaleigh Gilchrist, KK Clark and Sami Hill.
Steffens went with a one-piece swimsuit at Tao Beach dayclub at the Venetian on Saturday.
Doug Elfman can be reached at delfman@reviewjournal.com. He blogs at reviewjournal.com/elfman. On Twitter: @VegasAnonymous