Comedian Rossi surrounded by friends till the end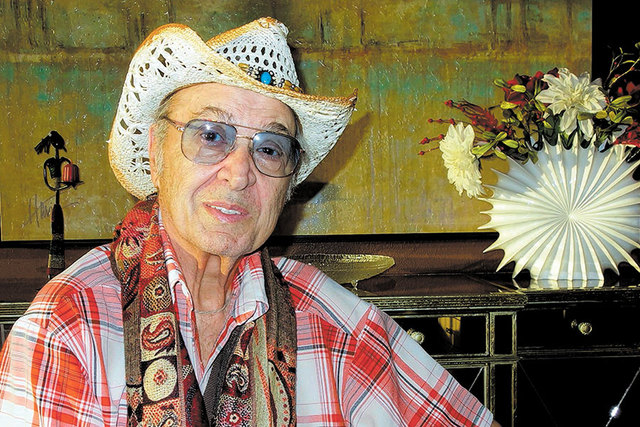 Comedian Steve Rossi had more friends than one-liners. And that's saying something.
He loved making people laugh.
Rossi, who died Sunday, fittingly spent his last days surrounded by many of his show business friends, some for his final breath at Infinity Hospice. He was 82.
Marty Allen, who partnered with Rossi to create comedy magic in the 1960s as Allen &Rossi, stopped in to cheer up his former straight man.
Longtime pal and comedy collaborator Rich Little saw him Thursday before leaving town. Rossi's voice was too weak for conversation, but he held Little's arm and repeatedly kissed his hand. Little wept when informed of Rossi's passing.
Little chuckled at the memory of their occasional cameo appearances with Piero's headliner Pia Zadora. "He got such a reaction at Piero's that Pia had me open for him. All these years in show business, and I'm opening for Steve Rossi."
Zadora, who was at Rossi's bedside on Sunday, gave him a farewell kiss at the end. She gave him his last job, two years ago in Niagara Falls.
Golden Nugget headliner Gordie Brown softly sang "More" to Rossi the day before he died.
"That was his favorite song," said Brown, who called Rossi "Uncle Stevie."
Rossi, a Las Vegas fixture since arriving in town with Mae West's beefcake revue in 1954, loved supporting the show business community.
"I think he went to a show every night," Brown said. "I'd look into the audience, and he was always there for me."
Little's wife, Catherine, who kept vigil with Rossi's wife, Karma, said Rossi went peacefully, with "so much love in his eyes. I've never experienced anything like it."
He was so religious, she said, that Rossi never missed church on Sunday, not even on the road.
"We couldn't leave until he found a (Catholic) church. Waiting until Monday was out of the question," she said, adding that "was one of so many beautiful qualities he had."
Rossi's daughter, Gina, Little and Dennis McAllister will deliver eulogies during a 1 p.m. vigil ceremony Friday at St. Joseph Husband of Mary Roman Catholic Church, 7260 W. Sahara Ave.
Mass will be held at the church at 2 p.m. Burial will be at Palm Eastern Mortuary at 4 p.m.
Rossi's family requests that in lieu of flowers, contributions toward his service be made with Kraft- Sussman Funeral Services (702-485-6500).
LOVE OF HIS LIFE
Las Vegas attorney Jim Jimmerson could fill a chapter in the book of grand gestures.
He one-upped himself again for wife Carol's 50th birthday on Saturday.
For starters, he surprised her by flying in her favorite actor, Tom Gibson of "Criminal Minds" and "Dharma &Greg," for a private soiree for 140 invitees in a balloon-filled dining room at Piero's Italian Cuisine.
The over-the-top evening included a fashion show with top local models displaying ultra-luxury designer handbags, his wife's passion.
That set up the big moment: Jimmerson presented his wife of 22 years with a one-of-a-kind black crocodile Louis Vuitton handbag, rumored to be in the price range of a luxury car.
For entertainment, Jimmerson hired Zadora and her band, directed by Frank Sinatra's former musical director Vince Falcone.
In an ironic sort of way, Zadora helped pay for the Jimmerson party. She hired Jimmerson to be her divorce attorney when she split with Riviera hotel-casino owner Meshulam Riklis in 1993.
Zadora wisecracked to the birthday gathering that Jimmerson was such a good friend "he sent me a 40 percent-off coupon on my next divorce."
Jimmerson, who repped Mike Tyson in some of his biggest legal bouts, handled the Steve Wynn-Elaine Wynn divorce.
THE SCENE AND HEARD
Rebekah Brooks, who was found not guilty Tuesday in Britain's phone hacking scandal trial, was married at the Little Church of the West in 2002. She married award-winning English actor, author and investigative journalist Ross Kemp, best known for his role in the BBC soap opera "EastEnders." The marriage ended in 2009. …
Join me at the Las Ventanas retirement community at 1 p.m. today for their lecture series. I'll share my favorite stories and personal history about the journey to Las Vegas. The public is invited. The address is 10401 W. Charleston Blvd.
THE PUNCH LINE
"After the pope's announcement about (ex-communicating) the Mafia, the first thing I thought was: Well, good luck starting the Popemobile." — David Letterman
Norm Clarke's column appears Sunday, Monday, Wednesday and Friday. He can be reached at 702-383-0244 or email him at norm@reviewjournal.com. Find more online at www.normclarke.com. Follow Norm on Twitter @Norm_Clarke.