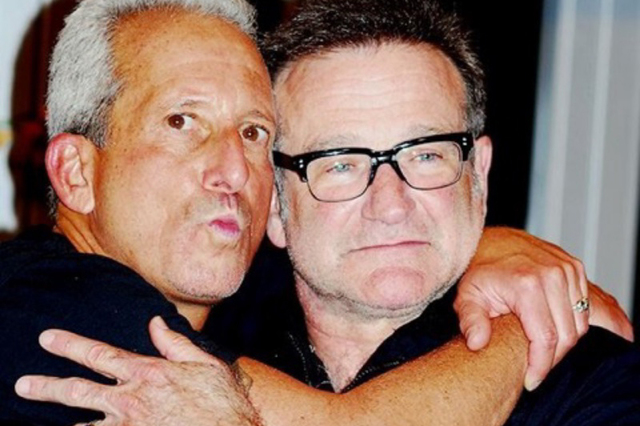 Before they canceled, comedian Bobby Slayton had plans to go to Wednesday's Rolling Stones show instead of UNLV's presidential debate, because "I don't want to see Donald Trump talk; I have no sympathy for the devil."
Slayton isn't a political comic. Fans who go see him perform stand-up Thursday-Sunday at the Laugh Factory will hear no election routines.
But Slayton and Trump have one thing in common: They've both been called "politically incorrect."
Slayton, the "Pitbull of Comedy," agrees with people who feel Trump is giving "political incorrectness" a bad name.
"There's a difference between saying things that are politically incorrect and things that are irresponsible and stupid," Slayton says.
"Politically incorrect for me is, 'Oh my god, a lot of people are thinking this but they don't want to say it.' I think Trump is a little bit of that — but also just idiotic rhetoric, and stupidity, and irresponsibility."
On a personal level, Slayton, a Vegas comic for decades, is having "the worst year of my life" (his wife of 30 years died) while also having the best professional year of his life.
He co-starred in Woody Allen's Amazon show, "Crisis in Six Scenes." Afterward, the director signed Slayton to co-star in his next film in 2017.
"It's been so exhilarating and so depressing at the same time," Slayton says of 2016. "It's pretty overwhelming."
Slayton had to retool his comedy act. Half of his act was about marriage.
"I talk about her death, which is probably the hardest thing I've ever had to do, to make it funny," he says.
But he's not being melancholy onstage.
"I'm still Bobby Slayton, so I've still gotta be an (expletive) up there and make jokes about it."
But since Trump seems to read most things the media says about him, there's a chance Trump will read Slayton's harsh words in this very column. That thought makes Slayton happy.
"That would be great," he jokes. "Make it as nasty as you can."
TRUMP CALLED LIL JON 'UNCLE TOM'?
Las Vegas resident and Hakkasan DJ Lil Jon has responded to a report Trump called him "Uncle Tom" when the pop/rap superstar was an "All-Star Celebrity Apprentice" contestant in 2013.
The Daily Beast quoted former "Apprentice" workers saying Trump called Lil Jon "Uncle Tom," a slur often meant to define a black subordinate who kowtows to white people.
There was confusion on the set, however, because Lil Jon was wearing an Uncle Sam costume.
Producers "frantically" and "in vain" pleaded with Trump to stop saying "Uncle Tom," and Trump was "trying to figure out the difference between 'Uncle Tom' and 'Uncle Sam,'" the Daily Beast claimed.
Lil Jon tweeted a response to all this:
— LILJON (@LilJon) October 15, 2016
"I can't say if he knew what he was actually saying or not, but he did stop using that term once we explained its offensiveness," Lil Jon tweeted. "I also want to be clear that I don't agree with many of the statements Mr. Trump has said during his current run for President."
SIGHTINGS
Fox News' Sean Hannity and Bret Baier had separate cabanas at Topgolf Monday.
Rapper Ja Rule and friends partied Monday at club Marquee in The Cosmopolitan.
HOME TWEET VEGAS
CNN host @Ananavarro, addressing a protest of taco trucks that will girdle around Vegas' Trump building Wednesday: "Trump finally delivering on that famous wall he's been promising. A big, beautiful wall…of taco-trucks!!"
Trump finally delivering on that famous wall he's been promising. A big, beautiful wall…of taco-trucks!!https://t.co/hwcbOj5y77

— Ana Navarro (@ananavarro) October 18, 2016
Doug Elfman can be reached at delfman@reviewjournal.com. He blogs at reviewjournal.com/elfman. On Twitter: @VegasAnonymous