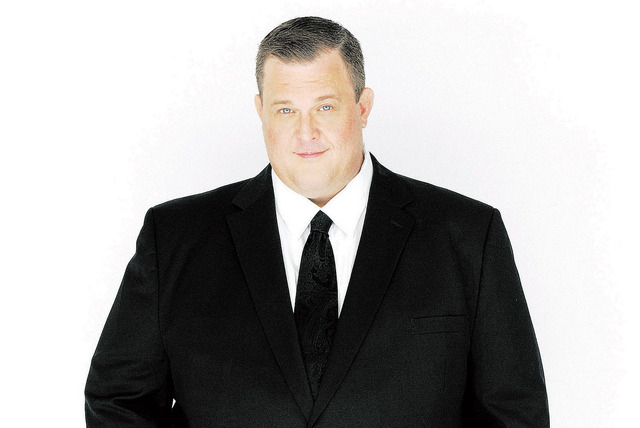 A group of comedians who started their careers at the Riviera Comedy Club are planning an L.A.-to-Vegas road trip to pay their respects to the soon-to-be imploded icon.
"I'm going to try to come out for that," comedian Billy Gardell said after talking about plans by Kenny Rogerson and other comics.
Gardell — who headlines the Treasure Island on Friday — got his Vegas start at the Riviera Comedy Club in the late 1990s.
"Back then, you couldn't wear jeans. You had to wear a jacket. I went to a thrift store and bought a jacket for like $15," the TV star of CBS's "Mike & Molly" said.
"It didn't fit me, because I'm heavy and it was a little small, but it kind of worked because it was funny."
As Gardell walked through the Riviera in his little jacket for the first time, his ears filled with the sounds of a big band playing oldies.
"On the escalator, on the way to the comedy club, I heard the Temptations' 'Get ready, 'cause here I come.'
"It hit me just right, even as a performer. I thought, 'One of these days, my big fat head is going to be on one of those billboards, and I'm going to be a headliner on the Strip.'"
Gardell, 45, said he and other comics shared a funny habit at the Riv.
"You'd get off stage and run downstairs, and run across the street to try to catch the last 15 minutes of (Don) Rickles," he said.
That's when Rickles worked at the Stardust, RIP.
"When the Stardust went down, that was a big loss, as well," Gardell said.
I told Gardell this implosion business will happen to the beautiful Bellagio, too, someday, because the Vegas Strip has three seasons: Birth, death and rebirth.
"I guess you're right. It's inevitable. It's just sad to see them go," he said.
Anyway, Gardell's gig on Friday is his first at Treasure Island, where there used to be a "Sirens" show of seductive male and lady pirates outside — but that show went RIP even though it was very popular.
"You're like the new 'Sirens of T.I.,'" I joked.
"I'm the big siren," he said.
Contact Doug Elfman at delfman@reviewjournal.com. He blogs at reviewjournal.com/elfman. Find him on Twitter: @VegasAnonymous.