Comedians share their favorite jokes about Sin City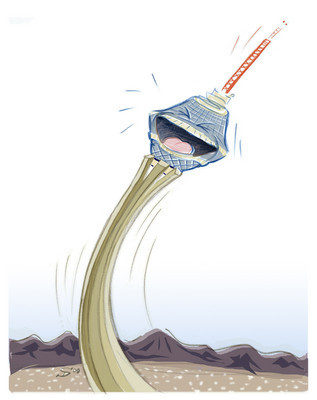 Few jobs in a Las Vegas casino are more important than stand-up comedian. Ever since Rose Marie was hired to tickle the opening-night crowd at the Flamingo in December 1946, it has fallen almost entirely on this person's talent to reverse negativity — to make the guest forget all about that recent bet on 13 red that effectively condemns junior to community college.
We asked top Strip comedians, and others who play here regularly, to tell us their favorite joke about the town that pays such a large portion of their bills.
GEORGE WALLACE
FLAMINGO HEADLINER
"What happens in Vegas stays in Vegas. And if you don't believe me, you can ask O.J. Simpson."
RITA RUDNER
HARRAH'S HEADLINER
"I went to a dentist in Las Vegas because I had a cavity, and he wanted to wait until I had three in a row."
DAVID BRENNER
APPEARING JUNE 5-7 AT SUNCOAST
"The Venetian hotel was paid for by one man — Sheldon Adelson. He and his wife honeymooned in Venice, Italy, and she fell in love with the city. So, as a surprise, he built her The Venetian hotel. Thank God they didn't go to Newark."
BOBBY SLAYTON
TROPICANA HEADLINER
"Las Vegas has long been the honeymoon capital and the suicide capital of America. What a surprise. A guy wakes up in the morning with a wife, no money and a hangover. And you wonder why the windows in the hotels don't open."
VINNIE FAVORITO
O'SHEAS HEADLINER
"You get what you pay for in Vegas when it comes to shows. I wanted to see David Copperfield. He has exotic animals, but it was like $150 a ticket. I said screw that. Instead, I went to see a magician down the street. He was $13.95 and he had a German shepherd sit. Ta-da!"
MARTY ALLEN
APPEARING JUNE 12-13 AT SOUTH POINT
"I once gambled away my car in Las Vegas. The people at Hertz were absolutely furious."
ARTIE LANGE
APPEARING JUNE 27 AT THE HARD ROCK HOTEL
"What happens in Vegas stays in Vegas — except herpes."
JOE ROGAN
RECENTLY PERFORMED AT THE HOUSE OF BLUES
"Vegas is all about knowing when to go to bed. The key is, as soon as you see the overweight girl walking around barefoot carrying her shoes, that's your Groundhog Day. It's time to call it a night."
MICK LAZINSKI
BONKERZ AT PALACE STATION
"Vegas is getting too crowded. There's people everywhere. I was in the men's room, taking care of my business. A hand came underneath the stall and a lady's voice asked, 'Keno?' "
WENDY LIEBMAN
IMPROV AT HARRAH'S REGULAR
"I wanted to get married at the drive-through wedding chapel. That way if I wanted a divorce, I could just back up."
ALEX REYMUNDO
IMPROV AT HARRAH'S REGULAR
"I love Vegas because of the hotels. You can see the world without ever leaving the desert and it's better than the actual place. You can see the pyramids of Egypt, with air-conditioning, New York without getting stabbed, and Paris and there's no French people."