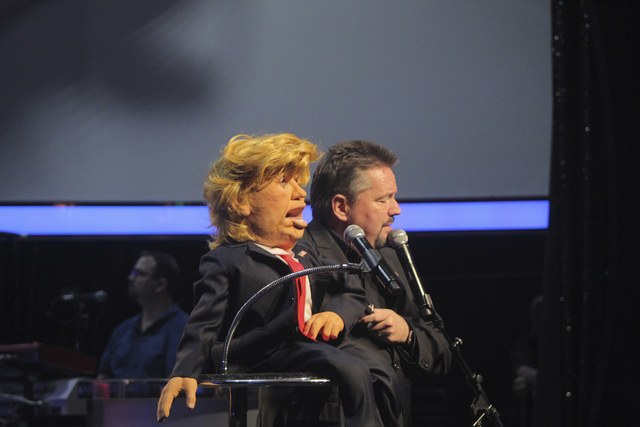 It's the wildest presidential campaign Americans have seen in years, providing endless punch lines to late-night talk-show hosts and stand-up comedians everywhere.
Except Las Vegas, which does not have a reputation for take-no-prisoners political humor. The reason, in part: Las Vegas audiences who have no burning desire to parse incisive, hard-edged political humor while they're on vacation.
Of course, the perils of performing political humor include the risk that, in a presidential race in which Democrat Hillary Clinton and Republican Donald Trump are running nearly neck and neck, firing a barb at either may alienate literally half of the audience.
Las Vegas does host name comedians — Bill Maher and Dennis Miller among them — whose humor is aggressively political and heavily partisan. But audiences of such performers know, expect, and usually agree with the jokes they'll be hearing, says Greg Vaccariello, who headlines and books acts at Sin City Comedy and Burlesque at Planet Hollywood.
In contrast, for comedians who play clubs here, "if you're taking a stance with your joke, pro or con, with those two candidates, you're going to lose quite a bit of the crowd," Vaccariello says.
"We live in a vacation town, and people want to forget about their problems and what's going on," he adds. "So if you go out and just start hitting them with political stuff, even if it's funny and even if they kind of agree with it, they don't want to think about that. … They just want to have fun, they want to gamble, they want to drink."
Vaccariello says most of the comedians he books don't do political humor. And to those who do, often playing off the news, Vaccariello says he urges them to play it down.
"If you do hot-button topics like politics and Black Lives Matter jokes, it'd better be good," he notes.
The way in which a political joke is presented can affect whether it's accepted by a Las Vegas audience. For example, Vaccariello says, "if you do both (candidates) fairly, I don't think people mind it as much."
Comedian Bobby Wayne Stauts, who co-hosts the podcast "Rise to Offend" and is scheduled to host a comedy presentation at the Life is Beautiful festival Sunday, has found that Las Vegas audiences will accept political jokes that are aimed not at specific candidates but at the political process itself.
"I do have a good number of political jokes I'm doing at the moment," Stauts says. "A lot of them definitely are jokes that are sort of (about) absurdity. That way it doesn't draw a line between audience members. I'm basically anti-both sides of the argument."
Stauts says Las Vegas audiences are challenging because of their diverse, international makeup.
"When you go to another town and do comedy, everyone, even if they have different political beliefs, they're kind of on the same wavelength from living in the same area," he says. "But people come to Las Vegas, you've got 100 different countries represented. That means 100 different mindsets in there. So you have to kind of deal with that."
Jokes based on the nuances of American politics might be a tough sell for Las Vegas audiences, while jokes based on what Stauts calls the "reality show" vibe of this year's presidential campaign probably will resonate even among international visitors.
Stauts says most of the political humor he's been hearing this campaign season is "based on the visual. There is no political humor based around people's policies or anything like that. It's more or less making fun of the way people look and the way they act."
That's the tack being taken by ventriloquist Terry Fator, who earlier this year introduced a Donald Trump puppet into his show at The Mirage. Fator, who supports Trump and has said so publicly, says that his aim is to poke fun at Trump's public persona, rather than at his, or Clinton's, political stands.
"So it's not really political, and it's fun," he says. "I get asked a lot, 'Why don't you do a Hillary puppet?' Because that's purely political. The only way we know Hillary is through politics.
"Donald Trump transcends politics. I won't do political humor in the show."
"I really think people are there to be entertained," Fator adds, and will accept political humor "as long as you're not making fun of policy.
"I would never get up and make fun of one side or the other, because I know half my audience, especially in this politically divided age, is going to get angry if you make fun of policy. One of the big punch lines I use (with the Trump puppet) is, 'And Mexico is gonna pay for it.' For me, it's really just to have fun."
Read more from John Przybys at reviewjournal.com. Contact him at jprzybys@reviewjournal.com and follow @JJPrzybys on Twitter.
JUST FOR LAUGHS
Here are a few nuggets of political humor that you might hear at a show by Las Vegas-based comedian Bobby Wayne Stauts.
■ "Bernie Sanders has wasted so many young people's money and time that he should change his name to 'Trump University.'"
■ "We're at that point in the election where I start looking at moving to cities with a lower population so the soup lines will be shorter."
■ "With Hillary Clinton potentially becoming president, I bet a lot of y'all are wishing Obama had brought in that Sharia law you were so worried about."
■ "Of course Trump supporters are impressed that Melania can speak five languages. They've never been to a restaurant where the waitress has all of her teeth."
■ "Relax, y'all. Hillary Clinton just made mistakes with classified government documents. It's not like she parked in a tow-away zone or had weed in her pocket."
■ "Choosing who to vote for in this election is like using the bathroom in the woods and having to wipe your bum with either a sweaty sock or poison ivy."
■ "Remember when everyone was freaking out about Y2K so they started hoarding bottled water and potted meat? That's how this presidential election has me feeling."