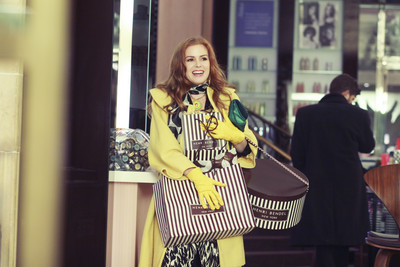 At one point in "Confessions of a Shopaholic," one of the few characters in the movie who's not a shopaholic ponders an all-American assumption.
Namely, if the U.S. government can be billions of dollars in debt and keep going, why can't we?
By now, we all know why not. And whether we can laugh about the way things are now — and the way they used to be — turns out to be one of the few intriguing things about "Confessions of a Shopaholic."
The latest (and least offensive) in a recent spate of chick flicks, "Shopaholic" is neither as witless as "Bride Wars" nor as hapless and hackneyed as "New in Town."
This should by no means be interpreted as praise. These days, however, diminished expectations are the rule rather than the exception, at the movies and elsewhere.
Yes, "Shopaholic's" timing couldn't be worse, considering all those financially strapped folks wondering how they're going to keep food on the table and a roof over their heads when the ceiling (and maybe even the sky) is falling.
But why worry about all those bills you've got to pay? Especially when you can watch someone even sillier than you worry about her bills.
That someone is Rebecca Bloomwood (Isla Fisher), a madcap Manhattan magazine writer who toils at a humble gardening publication — but dreams of working at the fashion bible Alette, edited by its oh-so-chic French namesake (Kristin Scott Thomas).
Reading Alette may be inspirational, at least to Rebecca, who's racked up more than $16,000 in credit card debt, thanks (or no thanks) to her addiction to designer labels. No wonder a debt collector's breathing down her neck. (And into her cell phone.)
When Rebecca loses her job, however, it's just another reminder that, when the going gets tough, the tough go shopping. Good thing Rebecca's got a best friend (Krysten Ritter) who lets her share her apartment, rent-free.
Better thing that Rebecca snags another job.
Not with Alette, but at least Successful Saving is in the same building — with an earnestly genteel editor, Luke Brandon ("The Jane Austen Book Club's" Hugh Dancy), who senses that Rebecca's penchant for fashion metaphors masks a keen understanding of finance. (Or maybe he just likes her penchant for pink.)
British writer Sophie Kinsella's novels "Confessions of a Shopaholic" and "Shopaholic Takes Manhattan" (with a switch from a London to a New York setting) were published at the turn of the millennium.
That seems like a millennium ago, but screenwriters Tracey Jackson ("The Guru" — not to be confused with "Love Guru"), Tom Firth ("Kinky Boots") and Kayla Alpert ("Ally McBeal") maintain the illusion that we're still in a make-believe Manhattan where "Sex and the City's" Carrie Bradshaw and Co. hang out. (Just like Carrie, Rebecca delivers voice-over pronouncements expressing her personal philosophy. "A man will never love you or treat you as well as a store," she reasons — except, perhaps, when the store's bill comes due.)
And while I wasn't exactly a fan of last year's "Sex and the City" movie, it seems sophisticated — and insightful — compared to "Shopaholic's" sitcom-style slapstick.
Director P.J. Hogan (who brought both warmth and smarts to such '90s favorites as "Muriel's Wedding" and "My Best Friend's Wedding") injects a few bright spots, as when store-window mannequins come to life and chat with the fashion-addled Rebecca.
Most of the time, however, "Shopaholic" slogs along, bouncing from one subplot to another with little spark, rather like a shopper who flits from lingerie to cosmetics, grabbing whatever's at hand, whether it works together or not.
At least "Shopaholic" echoes its protagonist's affinity for brand names when it comes to its supporting cast, which is stocked with top-chop players; John Lithgow, John Goodman, Joan Cusack, Julie Hagerty and Lynn Redgrave (billed as "Drunken Lady at Ball") add a touch of class to their underwritten roles. (Every time I spotted one of them, I thought of a line in Billy Joel's "Piano Man," the one about customers at the bar who ask, "Man, what are you doing here?")
Yet no matter how outlandish "Shopaholic" gets, Fisher's fizzy giddiness saves the day, making it possible to care for her character even when it's not possible to care for the movie.
After all, this is a movie that pretends to be about the important things in life — love, loyalty, principles, priorities — when it's really about fixating on the high-priced luxuries that tempted our heroine to max out her credit cards.
But I guess it's cheaper to buy a movie ticket and drool than to spend your money on what "Confessions of a Shopaholic" keeps trying to sell.
Contact movie critic Carol Cling at ccling@reviewjournal.com or 702-383-0272.
Carol Cling's Movie Minute
Review
Movie: "Confessions of a Shopaholic"
Running time: 112 minutes
Rating: PG; mild profanity, thematic elements
Verdict: C
Now playing: multiple locations
Deja View
Never underestimate the power of a woman — especially when she's pretending to be something (or someone) she's not:
"Pygmalion" (1938) — In George Bernard Shaw's classic comedy, a stuffy linguist (Leslie Howard) teaches a cockney (Wendy Hiller) to speak proper English, enabling her to be mistaken for a lady.
"Midnight" (1939) — A penniless chorus girl (Claudette Colbert) lands in Paris, catching the eye of a cabdriver (Don Ameche) — before a millionaire (John Barrymore) helps her pose as an aristocrat.
"The Lady Eve" (1941) — Aboard a luxury liner, a con woman (Barbara Stanwyck) sets her sights on the slow-witted heir to a brewery fortune (Henry Fonda) in writer-director Preston Sturges' screwball favorite.
"Anastasia" (1956) — A destitute amnesiac (Oscar-winner Ingrid Bergman) poses as the Grand Duchess Anastasia, heir to the Russian throne, so successfully that many wonder whether she's the real thing.
"Working Girl" (1988) — When her arrogant boss (Sigourney Weaver) steals her idea, her frustrated secretary (Melanie Griffith) strikes back — by posing as the Wall Street whiz she wants to be.
— By CAROL CLING