Cooperative Extension program teaches children about food, nature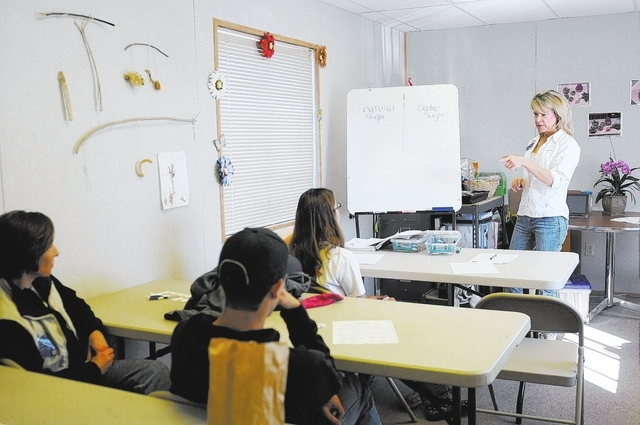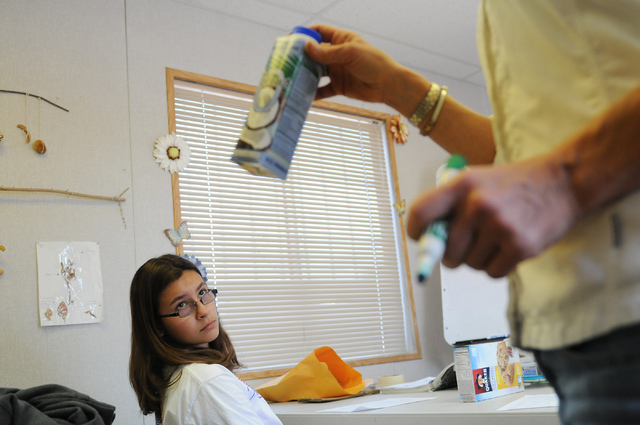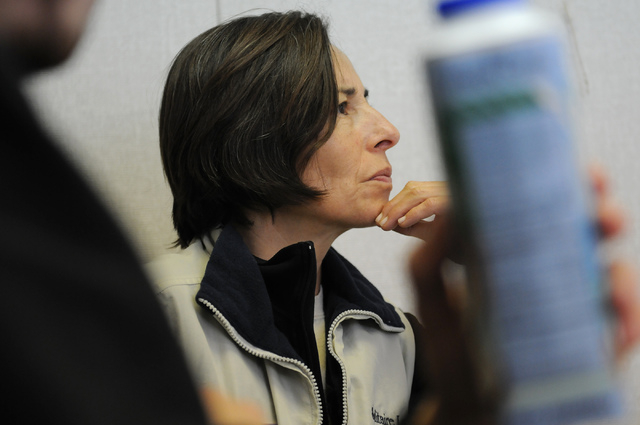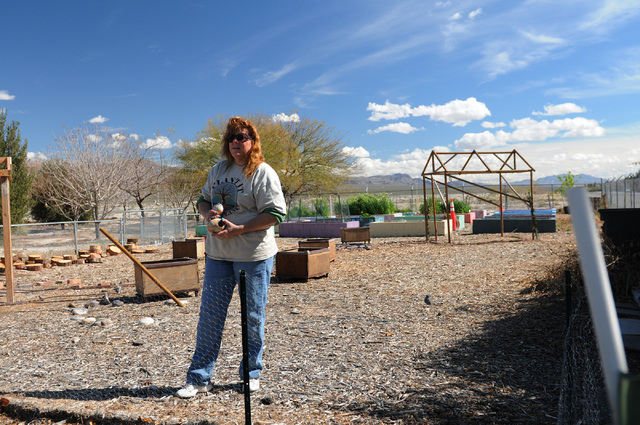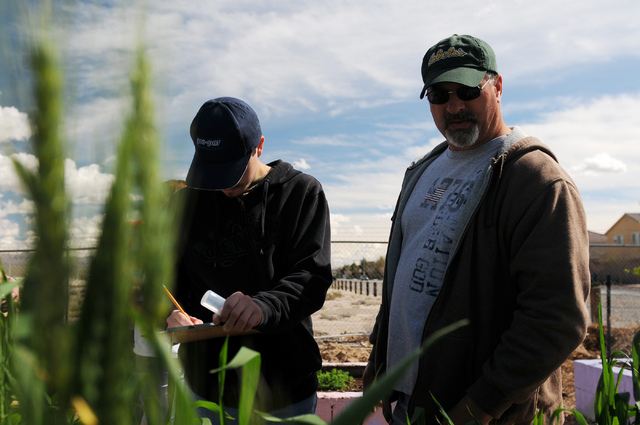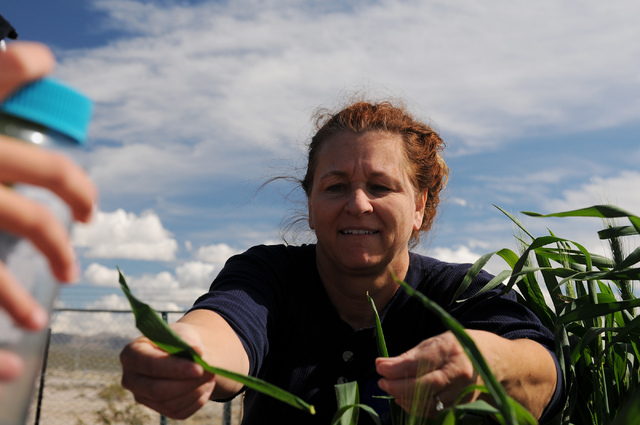 There's a patch of chard over there, full and ready for harvesting. Some parsley here. And, even, a few early-sprouting spears of asparagus.
But it's all a bit bare, frankly, the collection of raised plant beds that make up the children's demonstration gardens at the Clark County Center for Urban Food Production Studies, just north of the Las Vegas Beltway off Decatur Boulevard.
But it won't be for long. In another month or so, the garden will be awash in thyme, rosemary and other herbs and lettuces, beets, peas, carrots and parsnips, too, while nearly a dozen dwarf fruit trees will be on their way to yielding their bounty of apricots, apples, pluots and peaches.
And for all of this, thank members of University of Nevada Cooperative Extension's Junior Master Gardener program, in which students ages 7 and older meet every other week to learn about growing things in the desert and, along the way, learn about the natural world.
The program — an affiliate of a national program based in Texas — has been available to children in Southern Nevada for more than 10 years, says Karyn Johnson, a community-based instructor with Nevada Cooperative Extension.
Classes are from 9 a.m. to noon Saturdays at alternating locations: In the northern part of the valley at 4600 Horse Drive on the first and third Saturday of each month, and on the second and fourth Saturday of each month at the Lifelong Learning Center, 8050 Paradise Road. (However, Johnson advises parents to call before driving out on class days.)
The Junior Master Gardener program is structured as a two-year-long, four semester course of study. Students each week begin with classroom lessons covering topics including soils, the physical needs of plants, conservation, watering and irrigation, environmental horticulture, garden insects and plant diseases, as well as the specifics of growing particular herbs, plants, vegetables and flowers.
Then, students head outside to tend the program's own garden. After completing each unit of study, students receive a pin and a certificate. After completing the full curriculum, students are certified as junior master gardeners.
However, Johnson says, some students participate just for fun.
"Some of the kids are really interested in gardening," she says. "The kids have a great opportunity for learning, and a lot of times their parents stick around and hang out with us, too, because they get the same information the kids do."
Students also take home some of the produce they grow. They can also, for example, sample multigrain bread made from the wheat, barley and rye they grow.
All of the produce is grown organically and chemical-free whenever possible, Johnson says.
The students also undertake a community service project each semester, and a portion of their harvest is donated to the Las Vegas Rescue Mission or other charities, Johnson says.
"Last year, we gave over 150 pounds of produce to the mission," Johnson says.
But, most of all, the students have a chance to have fun.
"Some of the kids really love gardening, and some kids just really love the outdoors," Johnson says.
Granted, students often are prompted by their parents to try the program.
"Some parents want their kids to be exposed more to the outdoors," Johnson says, and others "feel their kids need to be more in-tune with what they're eating."
Dailynn Burgess, 11, learned about the program from a friend. She attended her first class about a year ago and has been coming back ever since.
"I just really enjoy gardening. It's just relaxing," Dailynn says. "And it keeps you outdoors.
"I didn't even know how stuff could even grow in Nevada. I've just found different ways you can plant things."
Dailynn's mom, Jolene Burgess, says, "She's been up here every week and she loves it. After she started here, we actually had to start our own garden at home. She was like, 'Mom, we need our own garden now.'
"I was born on a farm and we had a garden so I knew how much work it was, and I thought, 'How long is this going to last?' But she was out there every morning checking and watering and clipping, and everything that she learned here she applied in her own garden. She even had to deal with pests and knew how to get rid of them, because she learned here."
What does Dailynn like to grow?
"I prefer to grow things that I can eat," she says. "I love to grow zucchini and squash."
Couldn't she just buy vegetables at the supermarket? "Well, that isn't stuff that you grew yourself and worked for," Dailynn says. "And (growing is) cheaper, too."
Donna Adamowski accompanies her granddaughter, Erin Wilcox, 11, to classes at the Horse Drive garden every other week.
"I've been bringing her here for about a year and a half," says Adamowski, an eighth-grade teacher at Cram Middle School who also is adviser of the school's garden club.
Erin says she and her dad also garden at home. What's the appeal?
"I like to get my hands dirty," she says.
What's her favorite crop?
"Strawberries," Erin says. "They grow really well here."
Johnson says students can be surprised at the variety of crops that do grow well in Southern Nevada. As part of the program, "we also grow things they normally wouldn't be growing, like peanuts," she says. "This year, we're growing soybeans and berries. We have strawberries and blackberries, and we grow as many different types of melons as we can find."
However, Johnson said students also learn about more than gardening through the program. Incorporated into their lessons are science — including meteorology and biology — literacy, math, history and other academic disciplines, Johnson says.
Each semester runs for eight sessions; the per-semester fee is $50 per student. The current semester started in February and the summer session begins in June, but Johnson says kids also may join late.
"A lot of times, we'll just have people come in to do gardening with us and not worry about the Junior Master Gardener (program)," Johnson says. "If kids want to participate in a class, we let them do it for an individual day rate."
For more information about the Junior Master Gardener program — as well as family gardening day and other programs of interest to families — call 702-257-5523 or email Johnson at johnsonk@unce.unr.edu. Students must register to participate in the Junior Master Gardener program.
For both children and adults, the most impressive lesson the program can teach is that the desert turns out to be more welcoming to plants than most of us would imagine.
"We've learned that almost anything will grow here," Johnson says. "The only fruits and vegetables we have not been able to grow here are rhubarb and celery, and everything else that we can grow in the right season will grow here and grow beautifully."
Contact reporter John Przybys at jprzybys@reviewjournal.com or 702-383-0280.