Cornell enlists Timbaland to help change his tune
October 24, 2008 - 9:00 pm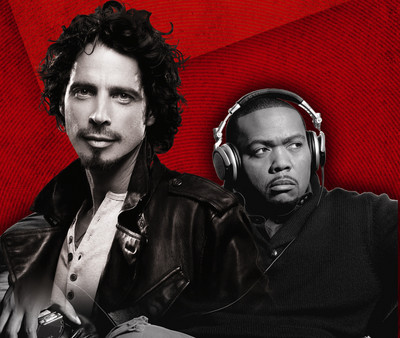 Wanna make a Chris Cornell fan shriek like his impossibly high-voiced hero, a man capable of wailing like his manhood was caught in a car door?
Well, just pair the guy with hip-hop/R&B producer Timbaland, the same dude who helped break the Pussycat Dolls and who is best known for working with decidedly nonrock types such as Jay-Z and Justin Timberlake.
Timbaland helmed Cornell's new album, "Scream," which sees the Robert Plant-esque belter venturing into poppier terrain at times, though his distinctive, titanium pipes still carry the day over a bed of shape-shifting electronic beats and skittering rhythms that range from old-school soul to nouveau hip-hop.
The decision to team up with Timbaland is an understandable move for Cornell: His second solo album, and first since splitting with alt-rock supergroup Audioslave, came and went last year with little fanfare, and clearly he's eyeing a return to the top of the charts.
As well he should.
Cornell's still one of the most gifted vocalists of his generation, and it's a kick to hear him in a slightly different context, where he wraps his voice around the beat instead of overwhelming it.
And hey, at least now you can dance to the man's tunes without having to scrub off the stink of the mosh pit afterward.
See Chris Cornell and Timbaland at 8 p.m. today at The Joint at the Hard Rock Hotel, 4455 Paradise Road. Tickets are $35-$75; call 693-5066.
Before the show, Cornell and Timbaland will have a meet-and-greet at 3 p.m. at the Verizon Wireless Store, 7300 Arroyo Crossing Parkway. Call 260-9301.
Remember when it used to be all fun and kinda dangerous to watch Shane MacGowan front The Pogues with a blood alcohol level that rivaled his shoe size?
Us neither.
The Pogues might have blazed one boozy trail for concussive Irish jams tempered with a punk-rock vigor, but with MacGowan's perpetually sauced and befuddled stage presence these days, the band has relinquished its status as the premier flame throwin' Celtic rock band to Flogging Molly.
Having gradually built its fan base over the past decade in dive bars and on the Warped Tour, the band is now at the point where its new albums debut in the Billboard Top 10 and they pack sizable halls with their raucous, foot-stompin' shows.
Their gigs are loud, revelrous affairs, like one big drunken family reunion, with lots of dancing in the aisles and beers hoisted high in the air.
And best of all, you never have to worry about their singer falling off the front of the stage.
See Flogging Molly at 8:30 p.m. today at The Pearl at the Palms, 4321 W. Flamingo Road. Tickets are $25.50-$29.50; call 942-7777.
Why do they call it the Jagermeister Tour?
Because Jagermeister sponsors it, right?
Well, yeah, and thankfully so, as it's gonna take a whole lot of stout, eye-watering Bavarian hooch to get you through the latest installment of this trek.
Featuring perennially dull "bad boy" rockers Hinder — you know, that band that pens all those sissified radio ballads and then still acts like a bunch of badasses somehow — alongside the similarly milquetoast Trapt and Revolution Theory, this tour makes the dry heaves seem like a gas by comparison.
Man, remember when Slayer used to headline this thing?
Those were the days.
See the Jagermeister Tour at 7 p.m. Thursday at The Pearl. Tickets are $28; call 942-7777.
Other shows of note: indie rockers The Mathematicians at 10 p.m. today at the Beauty Bar (517 Fremont St. Tickets are $5; call 598-1965); electro jam band Sound Tribe Sector 9 9 p.m. Saturday at The Joint ($25-$50; call 693-5066); another weekend of Jimmy Buffett at 8 p.m. Saturday at the MGM Grand Garden arena, 3799 Las Vegas Blvd. South ($69.25-$211; call 891-8777).
Contact reporter Jason Bracelin at jbracelin@reviewjournal.com or 702-383-0476.