Cox customers could miss Super Bowl if dispute with KLAS-TV continues
January 22, 2016 - 4:17 pm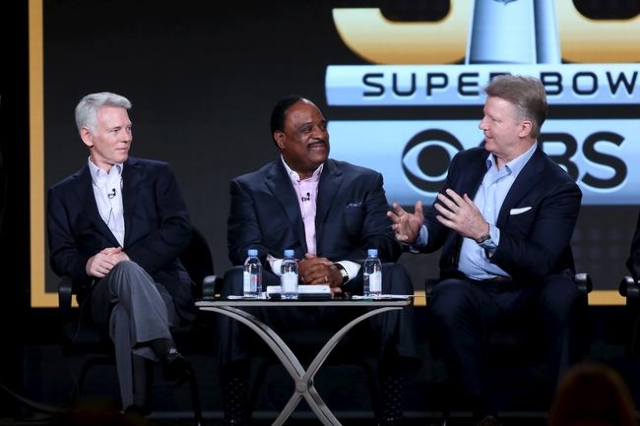 Super Bowl 50 could be a super bust for some local TV viewers.
That's because a dispute between the TV station set to air the game and the city's cable provider threatens to pull the plug days before the Feb. 7 kickoff.
KLAS-TV Channel 8's parent company, Texas-based Nexstar, and Cox Communications have been unable to reach a new distribution agreement, including the price Cox will pay for the CBS affiliate's programming. The two sides have been operating without a deal since Dec. 31, but agreed to keep negotiating through January.
If they can't strike an agreement by Jan. 29 at 11:59 p.m., a blackout will take effect and local cable viewers will no longer be able to see the channel. Lisa Howfield, Channel 8's general manager, said 48 percent of TV households in the Las Vegas market are Cox subscribers.
The Super Bowl is also huge business for local casinos. Nevada's sports books are the only places in the country that can legally accept bets on the big game, and visitors stream into town to gamble and watch the championship inside hotel-casinos. Operators said they've lined up alternatives for showing the game if there's a CBS blackout.
Amid the high stakes, representatives of both Channel 8 and Cox sounded frustrated Friday.
"Neither party wants viewers to not be served," Howfield said. "It doesn't help either one of us to not come to an agreement. But here we are."
Added Cox spokesman Juergen Barbusca: "We've been working on reaching a deal with Nexstar for weeks. And we're committed to getting a deal that is reasonable for our customers."
The back-and-forth is "a little dance" that's become routine, as networks look for higher carriage fees from the cable providers that air their content, said Craig Delsack, a New York-based television and media-distribution attorney.
Although both sides seem dug in today, it's possible Channel 8's signal will stay on, but a similar dispute resulted in a blackout of part of 2010's Oscars ceremony for millions of ABC viewers in New York.
Monthly fee at issue
At issue is the monthly fee per household that Cox pays Nexstar for Channel 8's content.
Local broadcasters keep those fees confidential, but Howfield said they averaged less than $1 per household per month nationally for local affiliates in past negotiations.
Compare that to cable sports network ESPN, which gets $8 per household locally, or Turner Network Television, which takes in $1.65. Both have fewer viewers in the local market than any broadcast network affiliate, Howfield said.
"By taking this stance, Cox is downplaying the importance of local information, and that's not right," Howfield said. "OK, ESPN is a national network. But will ESPN provide information about a local snow storm?"
Channel 8 airs nearly 35 hours a week of local news and community shows.
Barbusca countered that Nexstar is asking for three times its current monthly household fee, a demand he called "unreasonable." He added that citing ESPN as an example isn't a fair comparison because the network is "absolutely the most expensive piece of the TV programming pie."
"A simple Web search will verify the enormous fees sports TV programming commands," he said.
Barbusca also said Nexstar already "targeted" Cox customers in other markets for higher retransmission fees earlier this month. White Knight of Louisiana and Mission Broadcasting of Ohio both went dark for nearly two weeks before striking deals with Cox on Jan. 13.
Howfield said Nexstar manages those companies' stations but doesn't negotiate retransmission fees for them.
"The customer expects us to get the best value for the video package and they leave it up to us to do so," Barbusca said. "We strive to protect our customers from significant programming fee increases, but that has become increasingly difficult when stations and networks demand an increase that's two, three or even 10 times more than what they've ever received before — and all for the exact same channels."
Nexstar holds the advantage in this disagreement, Delsack said. CBS has high ratings, dominating Sunday night with popular shows such as "Madam Secretary" and "The Good Wife," as well as Tuesday and Wednesday nights with its "NCIS" franchise, he said.
And then there's the Super Bowl, TV's highest-rated annual sports event. Nearly 115 million people — 47.5 percent of all TV-owning U.S. households — tuned in last year.
"(Nexstar) is saying, 'We know we have good content, and it's too bad your negotiated expiration is right before the Super Bowl,'" Delsack said. "This is the leverage they have at this time of the season."
Attorneys on both sides are probably "going to be working all night" in the next few days to get a deal done and avert a blackout, Delsack said.
"Networks and cable operators do resolve these (disputes)," he said. "Something tells me they'll come to an agreement before Feb. 5."
Barbusca said Cox's goal was to "reach an understanding about a fair price."
"Nobody wants them to go dark," he said.
Howfield sounded less hopeful.
It's concerning that the two sides have been talking for more than five months and have been unable to agree, she said.
"I'm generally optimistic, but I'm worried about this," she said. "Right now, I'm feeling like it's 50-50 that it will be resolved. That percentage will change day to day. My hope is that we get this handled, but viewers probably do need to speak up."
Precedent exists
If local viewers can't watch Super Bowl 50 via cable, it won't be the first time a big, national TV event was pre-empted by a retransmission fight.
More than 3 million viewers in New York, New Jersey and Connecticut missed the first 15 minutes of the 2010 Academy Awards after a dispute between ABC and Cablevision forced a blackout.
The two sides rushed out a statement shortly after the ceremony began stating that they'd reached new terms, and the broadcast picked up just in time for the first awards.
Local viewers worried about missing one minute of the Super Bowl or Budweiser's puppy commercials could switch to satellite providers DISH and DirecTV, or to CenturyLink's fiber-optic Prism TV, Channel 8 said in a statement. The station would also still be available over broadcast airwaves, although viewers would need to connect their high-definition antenna.
Talk of interrupting CBS' signal also raised concerns Friday that the gaming market's lucrative Super Bowl business could take a hit. Nevada's sports books reported nearly $116 million in Super Bowl wagers in 2015, on top of a record $119.4 million in 2014. Super Bowl weekend drew more than 300,000 visitors to the market a year ago.
But resort operators said they expect no trouble showing the Super Bowl.
MGM Resorts International, which operates nine casinos on the Strip, receives broadcast TV signals from three providers, including Cox.
"We're confident the parties will come to terms before kickoff," spokesman Gordon Absher said.
Station Casinos spokeswoman Lori Nelson said all 17 of the company's sports-betting venues have satellite service.
"We will be able to feature the game throughout all of our sports books," she said.
Contact Jennifer Robison at jrobison@reviewjournal.com. Follow @_JRobison on Twitter.