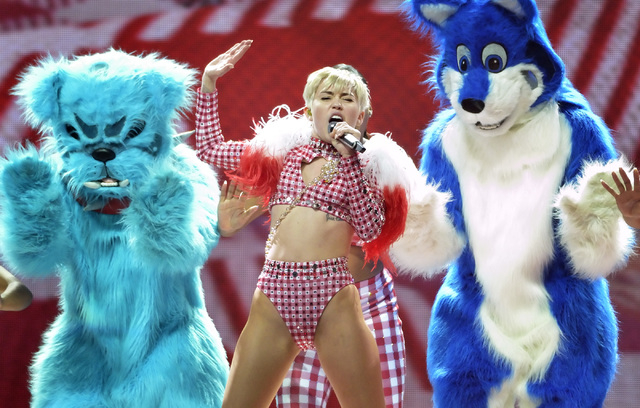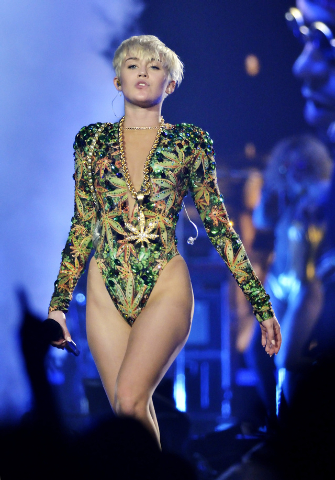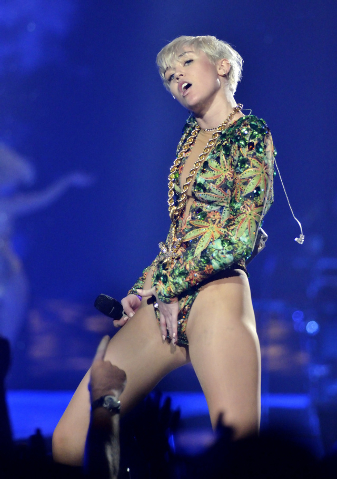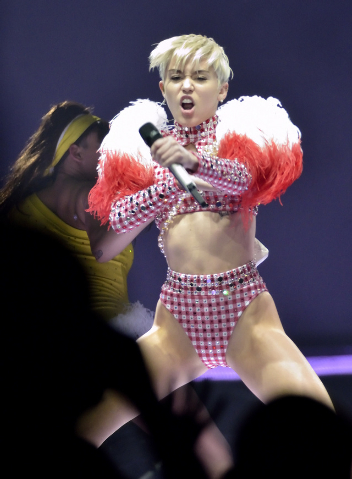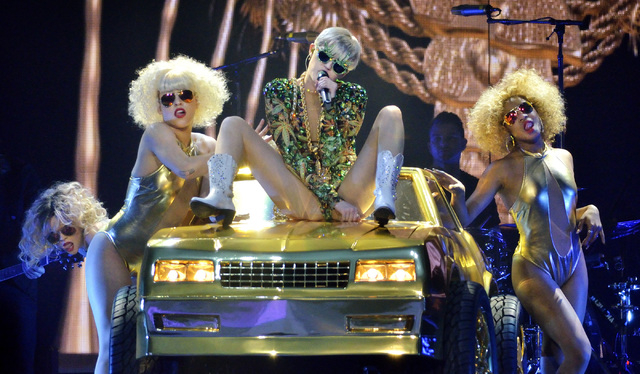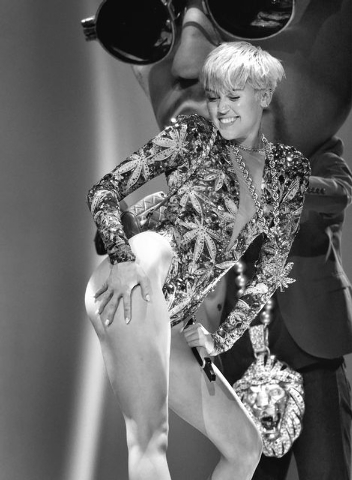 The pink gorilla knew what was up.
As a sturdily constructed African-American lady in spandex and a little person in a tight red leather get-up with a cone-shaped brassiere pistoned their rear ends up and down like human crankshafts, the costumed primate in question did what you do at a Miley Cyrus performance: you dance, and look out for the purple shark doing the same.
Barely three minutes had elapsed since the room went dark and the show began with the 21-year-old singer sliding down a 20-foot-long approximation of her tongue like a kid on the world's most ewww!-worthy playground, and already the foolhardy notion of making any kind of sense of what was unfolding on stage had gone flying out the window like a litter bug's hamburger wrapper.
In the two hours or so that followed, Cyrus would soar above the crowd astride a massive, saddled wiener like an Oscar Meyer cowgirl, prance around a towering, three-story-high inflatable pooch with glowing eyes, polish the hood of a gold-plated car with her butt and, during a show-ending "Party in the U.S.A.," pretend to fellate a fellow dressed as Abraham Lincoln next to dancers costumed as Mount Rushmore and the Liberty Bell.
Everybody, all together now: U.S.A.! U.S.A.!
Oh, and she did some singing, too, you know, when not locking lips with a female audience member, confessing to being seriously hung over and doing the do-si-do with two people in a plaid horse costume that looked as it was fashioned from a tablecloth swiped from a cheap Italian restaurant.
It was the apex of kitsch, a mountain of camp that even John Waters himself couldn't scale, right up there with the velvet painting of Jesus, the plastic pink lawn flamingo and the troll doll in the Trash Art Hall of Fame.
And it was all delivered with a knowing wink from Cyrus, a CEO of spectacle, who all but dared you to try and look away.
In a conference call with journalists prior to the start of her current tour, in which the Review-Journal participated, Cyrus intimated that her outlandishness was largely an act, an exaggeration of the public perception of her as a debauched wild child.
Basically, her performance on Saturday was a caricature of as much, a highly self-aware, tongue-in-check send-up of both herself and those that would take any of this seriously.
Cyrus isn't just in on the joke, she's laughing the loudest.
To this end, no contemporary pop star makes sport of herself the way she does.
It's hard to imagine, for instance, Beyonce offering T-shirts for sale adorned with an image of her with fake buck teeth or Katy Perry performing while deliberately unflattering pictures of herself were displayed on a massive video screen at the back of the stage, both of which Cyrus did at the MGM Grand Garden Arena.
You could say it's all distraction from Cyrus' true talent — she is a singer, after all, and a good one — but then again, this is a talent, the ability to both satirize and celebrate the conceits of pop stardom with equal conviction while ultimately favoring neither.
Cyrus might wink at the absurdity of her position, but she also commits to it fully.
And so in addition to the lightweight fun of hip-pop hoedown "4X4," where Cyrus fancied herself a "s-southern belle, crazier than hell," the whistling funk-lite of "#GETITRIGHT" and the banjo-abetted "Do My Thang," where a phalanx of dancers cavorted about in denim cowboy hats, there were moments when Cyrus elevated her vocals above all the shtick, raising her voice to the rigging above the stage during "Can't Be Tamed" and the earnest, heart-on-the-sleeve pop of "Maybe You're Right."
Perhaps the most convincing display of Cyrus' singing abilities came when she retired to a smaller stage in the back of the arena for a five-song, acoustic-based set mostly of covers, re-imagining the British pub rock of the Arctic Monkeys' "Why'd You Only Call Me When You're High?" and leading the crowd in a singalong of a wistful, sweetly sung blown kiss to Outkast's "Hey Ya."
Cyrus displayed her true range, however, when cannonballing her voice through Irma Thomas' "Ruler of My Heart" and Dolly Parton's "Jolene," a song that's been covered to death but in which Cyrus managed to breathe new life.
Even during this interlude, though, Cyrus never missed a chance to provoke.
"There's not much you can do to shock me," she told an audience member attempting to get her attention, refusing to be one-upped in public displays of non-public behavior.
Still, you could forgive the fan for trying.
You know how that old saying goes: pink monkey see, pink monkey do.
Contact reporter Jason Bracelin at jbracelin@reviewjournal.com or 702-383-0476. Follow on Twitter @JasonBracelin.