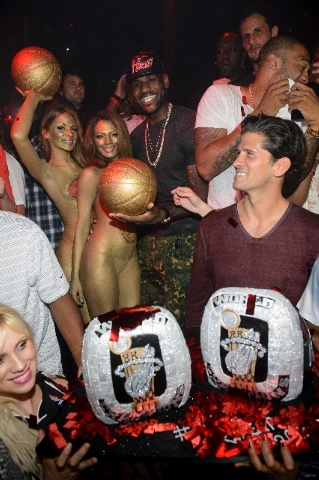 So you think today's Vegas clubs are crazy? Whatever.
I have an extravagant story to tell you about a 1981 nightclub run by Vegas TV star Jon Taffer — a nightclub that featured a UFO and a $400,000 disco robot from "Rocky IV."
Here's the story as told by "Bar Rescue's" Taffer — who this weekend will host an "adult spring break" called "On The Rocks" on the Strip.
Taffer's nightclub in Philadelphia, Pulsations, was a post-Studio 54 behemoth that held 3,500 people. The club's main bar traveled across the room at a half-foot per minute. The club grossed $640,000 in its opening week ($1.6 million in 2012 dollars).
The club looked like this:
A 27-foot spaceship powered by 600 amps of electricity "flew" onto the club's ceiling. Then the UFO doors opened while lights and fog billowed out, reminiscent of "Close Encounters of the Third Kind." The room shook from booming sounds.
"And this robot would roll into this room and look around and say, 'Wow, check this place out.' People would go (expletive) nuts," Taffer says.
Pulsar the robot (800 pounds, and controlled by an operator with a remote in his pocket) then would find a woman in the club, and Pulsar's forehead would send a light beam up and down her body.
"And he would say, 'My sensors indicate a humanoid of the female gender. Prepare to be scanned,' " Taffer recalls.
For Pulsar's finale, the robot said, "Let's boogie."
"He was an object, not a person, but people would stand in line to shake his hand," Taffer says. "It was the greatest thing I've ever done."
Taffer says the first time Pulsar appeared in the club, the robot operator was "crying like a baby," and Taffer was tearing up too. Why?
"It was as close to a religious experience as I have ever had. And to this day, I have never seen technology make people cry like that did. It was (expletive) powerful."
A few years later, producers of the Philly-set "Rocky IV" rented Pulsar so that Rocky could give the robot to brother-in-law Paulie as a present, while Pulsar sang "Happy Birthday, Paulie" during a terrible synthesizer-movie song.
These days, Taffer lives in Las Vegas with his wife, and he shoots some "Bar Rescue" episodes here.
He is promoting "On The Rocks," which will give partyers access to 22 clubs (XS, Hakkasan, Tao, etc.) and eight pool parties (Marquee Dayclub, Wet Republic) Friday-Sunday ($117-$558 at OnTheRocksLasVegas.com).
Where is Pulsar now? Taffer says some guy in Pennsylvania bought him a long time ago.
"I'm told he does do promotional appearances."
LEBRON, CONTINUED
So I guess I didn't realize LeBron James has a fiancee, but her name is Savannah Brinson, and when she showed up at The Venetian's dayclub Tao Beach for a bachelorette party Saturday, cocktailers held huge letters spelling out "QUEEN JAMES."
Sunday night, "King James," as he calls himself, continued his championship partying at Lavo nightclub after eating there and drinking Champagne.
Sometime this weekend, a fellow pro athlete — Tampa Bay running back Doug Martin — met James but slammed him on Twitter:
"Meeting @KingJames was as glorious as watching paint dry.lol … #Rude No biggie."
And various sources sighted LeBron playing roulette at Wynn on Saturday and filming a commercial in a Wynn ballroom converted into a basketball court.
Doug Elfman's column appears Mondays, Tuesdays, Thursdays and Saturdays. He also writes for Neon on Fridays. Email him at delfman@reviewjournal.com. He blogs at reviewjournal.com/elfman.