Did Brandon Flowers just accidentally announce his new album?
February 23, 2015 - 12:39 pm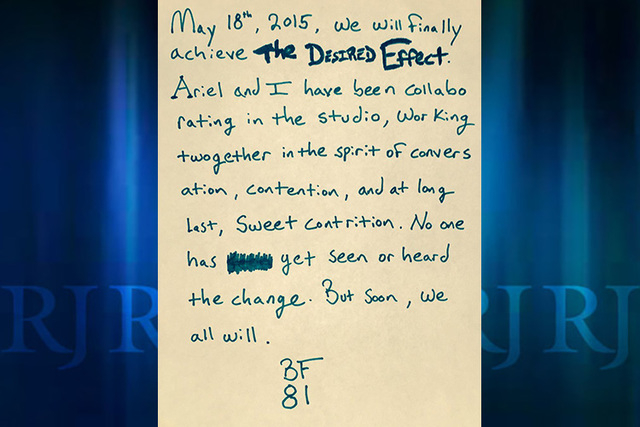 Well, this will explain the hand … a little.
A mysterious tweet appeared — and then disappeared — on Brandon Flowers' account Monday morning, possibly announcing his new album.
A few days after teasing fans with new solo material, Brandon Flowers might have announced the release date and title of his sophomore effort.
"The Desired Effect" will be released on May 18, 2015, if the fan reaction says anything.
The whole post, hand-written, reads "May 18th, 2015, we will finally achieve The Desired Effect. Ariel and I have been collaborating in the studio, working twogether [sic] in the spirit of conversations, contention, and at long last, sweet contrition." The post ends, "No one has yet seen or heard the change. But soon, all will. BF 81"
On Sept. 20, Flowers posted a picture of sheet music on Twitter also titled "Desired Effect."
Contact Kristen DeSilva at kdesilva@reviewjournal.com or 702-477-3895. Find her on Twitter: @kristendesilva