Dining Guide: Ethnic restaurants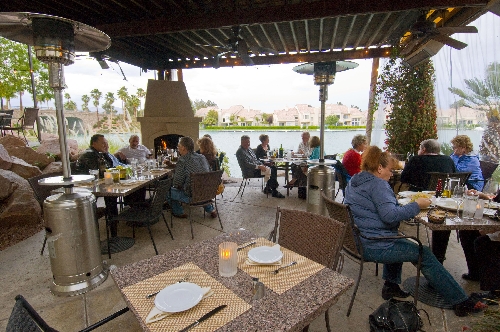 Each week Neon spotlights a different cuisine in the Dining Guide, with ethnic restaurants this week. Restaurants are rated on a letter-grade scale, from A to F. Opinions by R-J critic Heidi Knapp Rinella (H.K.R.) are indicated by initials. Price symbols are based on the cost of an average entree: $ = entrees between $10 and $20; $$ = entrees between $10 and $20; $$$ = entrees between $20 and $30; and $$$$ = entrees more than $30.
BACHI BURGER
470 E. Windmill Lane; 242-2244
Gourmet-burger joints are all over the place these days, but here's one with a twist: an Asian-fusion burger joint. We loved Bachi Burger's pork-belly steamed burgers, which had dough similar to that in a Chinese steamed bun, formed into ovals and folded over the fillings of the three sliders. But wait! There's more: We also loved the homemade pickles, Kiki's Burger, sweet-potato fries, garlic-salt-and-pepper fries and Portuguese doughnuts. (11/19/10 H.K.R.)
Overall: A
$
BAGUETTE CAFE
8359 W. Sunset Road; 269-4781
Fresh-baked baguettes would be a great start for any sandwich, and at Baguette Cafe, things just get better from there. We loved our turkey with caramelized onions and Swiss cheese, our Blue Brie with chicken, apples and walnuts, and also a cup of gazpacho with basil-flecked cream and wondrous desserts, tiramisu and a pear-custard tart. (7/8/11 H.K.R.)
Overall: A-
$
BARCELONA TAPAS BAR
10690 Southern Highlands Parkway; 483-5764
Tapas have been growing in popularity in Las Vegas and for good reason; this is a fun, flexible way of eating. And Barcelona does the tradition justice by adding fusiony touches for American tastes. We liked the house bread with garbanzo puree and sweetened butter, plus Serrano ham and Manchego cheese, fried goat cheese, stuffed dates, chicken cakes, albondigas and Chocolate Tres Leches a la Mode. (2/19/10 H.K.R.)
Overall: B+
$$
BOUCHON
Venezia Tower at The Venetian, 3355 Las Vegas Blvd. South; 414-6200
It still seems as incongruous among the Italianate trappings of The Venetian as on the day it opened, but Bouchon has worn very nicely, delivering French-bistro fare that's as authentic as it gets. Notable were a charcuterie board, the Poulet Roti (roast chicken), Triute aux Amandes (trout almondine) and the silken-sin richness of the Mousse au Chocolate Noir, which requires no translation. (9/18/11 H.K.R.)
Overall: A
$$$
CAFE HEIDELBERG
610 E. Sahara Ave.; 731-5310
Signature dishes: schnitzels, wursts.
CARLITO'S BURRITOS
3345 E. Patrick Lane; 547-3592
It sure ain't fancy, and it tends to get a little cramped, but Carlito's Burritos is the only game in town when it comes to authentic New Mexican food. While the margaritas were forgettable, we needed them to put out the fire fueled by the traditionally seasoned chips with red and green salsas, steak combo burrito and pork verde stuffed sopapilla. (1/14/11 H.K.R.)
Overall: B+
$
COMME CA
The Cosmopolitan of Las Vegas, 3708 Las Vegas Blvd. South; 698-7000
A name that's a bit of a challenge for most of us to pronounce (say "comb sa") is hopefully no obstacle for those wanting to try this streamlined, casual bistro. Among the rustic dishes on the menu were these that we truly enjoyed: duck confit, steak tartare, braised beef cheeks, Scottish salmon, moules frites and beignets au chocolat. (12/9/11 H.K.R.)
Overall: A
$$$$
COTTAGE CAFE
4647 Paradise Road; 650-3395
Signature dishes: Ethiopian-style meats, injera bread.
ENGLISH'S
Town Square, 6599 Las Vegas Blvd. South; 478-8080
English's bills itself as a gastropub, but the food is more reminiscent of a traditional, old-fashioned pub – not that there's anything wrong with that. The cod and chips carried all of the crisp/moist goodness of the classic, and the steak and ale pie had hearty flavor and was accompanied by creamy whipped potatoes and some nice honeyed carrots. But we thought the Cornish pasty and Ploughman's were lacking a little luster. (2/17/12 H.K.R.)
Overall: B
$$
THE FAT GREEK
4001 S. Decatur Blvd.; 222-0066
Despite a few dishes that we thought were too timidly seasoned – like an otherwise lovely pasticcio, with its rich, creamy top layer – there was a lot to like about The Fat Greek, from the pillowy grilled pita and crisp-crusted Italian bread to the assertively flavored, silken avgolemono; earthy lentil soup; saganaki; lemon-sauced dolmades; and lamb shish kebob. (10/28/11 H.K.R.)
Overall: B+
$$
FIREFLY ON PARADISE
3900 Paradise Road; 369-3971
Tapas restaurants have been increasing in popularity in Las Vegas and for good reason, as they provide great flexibility and variety. And we liked everything we had at Firefly on Paradise: Tortilla a la Espanola, Manchego cheese and Serrano ham croquetas, albondigas, roast pork and red pepper empanadas, baked stuffed clams, Firefly fries, steak toasts, a Sangria-poached pear with vanilla ice cream, a Nutella-and-banana sandwich – even the garden-variety salad. (8/15/11 H.K.R.)
Overall: A
$$
FLAME KABOB
6540 Escondido St.; 868-9096
Mediterranean/Middle Eastern restaurants are in plentiful supply in Las Vegas, but Flame Kabob stands out for several reasons, including the taftoon, the homemade Persian bread that falls into the catchall "pita" category. At this casual, counter-service spot, we also liked the hummus, lamb kubideh kabob and beef shish kabob platter. (7/16/10 H.K.R.)
Overall: A-
$
GANDHI AN INDIAN BISTRO
4080 Paradise Road; 734-0094
Signature dishes: tandoori specialties, lamb curries.
HOFBRAUHAUS LAS VEGAS
4510 Paradise Road; 853-2337
Signature dishes: schnitzels, pretzels.
JALEO
The Cosmopolitan of Las Vegas, 3708 Las Vegas Blvd. South; 698-7950
Jose Andres is considered the father of the tapas movement in the United States, making a splash with them on the East Coast. While he was somewhat late to Las Vegas, his tapas, showing a fine balance between the classic and the innovative, are proof he deserves exalted status. We loved them all: a cone of La Serena cheese and quince paste, pan con tomate with Manchego, carne asada with poquillo pepper confit, chorizo wrapped with potato, dates wrapped with bacon, grilled asparagus with Romesco sauce and – most spectacularly – flan, and olives stuffed with anchovy and piquillo with Ferran Adria liquid olives. (2/3/12 H.K.R.)
Overall: A
$$$
JULIAN SERRANO TAPAS
Aria at CityCenter, 3730 Las Vegas Blvd. South; 590-7111
Julian Serrano is from Spain and so are tapas, so it should follow that his tapas would be exemplary, and they are. Refreshingly updated twists on the classics, they include an apple and Manchego salad, huevos estrallados, chicken croquetas, pan Manchego, pinxto morcilla, stuffed dates and, for dessert, Santiago's Cake. (9/17/10 H.K.R.)
Overall: A
$$$
MARCHE BACCHUS
2620 Regatta Drive; 804-8008
An ownership shift launched Marche Bacchus through some turbulent waters a few years ago, but after a chef change and some tinkering, all is well. We loved the lakeside outdoor terrace and the extensive selection in the retail wine shop – and $10 corkage in the restaurant – but no less than the artisan cheese platter, beef tartare, rack of lamb, pork chop and flourless chocolate cake. (7/17/11 H.K.R.)
Overall: A-
$$$
MARRAKECH MOROCCAN RESTAURANT
3900 Paradise Road; 737-5611
Signature dishes: six-course dinner including beef kabob, chicken.
MI PERU
1450 W. Horizon Ridge Parkway, Henderson; 220-4652
Here's one reason you should try cuisines that might not be familiar: purple corn drink. Yes, it sounds weird, but it was fantastic. And Peruvian. We also liked the other Peruvian foods we ate, which were deep-fried yuca root, polla a la brasa (roasted marinated chicken), lomo saltado (beef with tomatoes and onions) and a rich flan topped with toasted coconut. (7/24/09 H.K.R.)
Overall: A-
$$
MINT INDIAN BISTRO
730 E. Flamingo Road; 894-9334
Mint proved the book-by-its-cover folly with a rather unwelcoming exterior that yielded to a cozy interior with plenty of charm. Inside we also found great food and drink such as the mango rum lassi, potato-pea samosas, naan with fire-roasted garlic, Rebel Curry, chicken biryani and gajar halwa, a creamy carrot pudding. (11/18/11 H.K.R.)
Overall: A-
$$
MOUNT EVEREST
3641 W. Sahara Ave.; 892-0950
Mount Everest definitely isn't fancy – it's in a former fast-food place, right in front of a supermercado – but that's belied by soft lighting, crisp linen and polished service, and exemplary versions of such dishes as vegetable samosas, garlic naan, seekh kabab and all components of a vegetarian thali, including palak paneer, chana masala, raita, dal makhani, vegetable pakoras, naan and kheer. (2/4/11 H.K.R.)
Overall: A-
$$
ORIGIN INDIA
4480 Paradise Road; 734-6342
Our most recent visit to Origin India was for happy hour, the period from 4 to 7 p.m. daily when appetizers and specialty cocktails are half-price. We indulged accordingly and truly enjoyed the lot, which included chicken chili fry, lamb sheek kabob, vegetable samosas, portabella mushroom caps, paneer tikka, a ginger-pomegranate martini and a strawberry and black raspberry mojito. (11/20/09 H.K.R.)
Overall: A
$ (at happy hour)
PETRA: A GREEK TAVERNA
Tivoli Village, 440 S. Rampart Blvd.; 534-0200
The moussaka at Petra was far from conventional – a precisely cut, firmly stacked, straight-sided rectangle with layers of firm potato slices, beef and lamb and a soufflelike topping – but we liked the innovative touches. Those also showed in the zucchini drops appetizer with an extremely creamy tzatziki and the orzo and mizithra cheese served with the braised lamb shank. (1/13/12 H.K.R.)
Overall: A-
$$
RED SQUARE
Mandalay Bay, 3950 Las Vegas Blvd. South; 632-7407
Signature dishes: caviar, Salmon Kulebyaka.
RI RA
Mandalay Place, 3950 Las Vegas Blvd. South; 632-7771
Ri Ra was a little late to the party in terms of Las Vegas Irish pubs, but it has much to contribute in the way of authenticity and great food. We weren't particularly jazzed by the very authentic curry chips, but we loved the brown bread, pan-seared scallops with braised fennel and roasted cherry tomatoes, leek-and-Irish-cheddar-stuffed chicken, Guinness sundae and a refreshing Dark & Stormy cocktail. (7/22/11 H.K.R.)
Overall: B+
$$
SHAKESPEARE'S GRILLE & PUB
790 Coronado Center, Henderson; 837-7900
Pub grub has always belied the notion that English food is necessarily an oxymoron, and nowhere is that more evident than at Shakespeare's Grille & Pub. The Best Fish & Chips lived up to their name with a golden crust cloaking firm, mild cod, and we also liked the Traditional Bangers & Mash and All Day English Breakfast. (3/25/11 H.K.R.)
Overall: B+
$$
SULTAN'S GRILL
1910 Village Center Circle; 838-3221
Sultan's Grill was somewhat of a mixed bag, with falafel that was dry and flavorless and a promising parsley-and-scallion green hummus that was a pasty disappointment. Those were balanced, though, by really good shawarma – carefully seasoned, well marinated and tender and juicy – and solid red and classic versions of hummus, and by friendly service and a clean and sleek, if somewhat plain, interior. (5/4/12 H.K.R.)
Overall: B-
$
SUSHISAMBA
The Shoppes at the Palazzo, 3326 Las Vegas Blvd. South; 607-0700
Japanese-Peruvian cuisine may seem offbeat but isn't really new, Nobu having paved that road long ago. But Sushisamba gives it a fresh spin by doing things like putting Asian pear in its Pacific roll with king crab and avocado and rolling its Green Envy roll (tuna, salmon and asparagus) in a wasabi-pea crust. We also loved the smooth-as-silk sweet plantains, crisp green beans tempura, kicky tuna ceviche and, from the robata grill, a succulent lamb chop with red miso and yuzu. (9/30/11 H.K.R.)
Overall: A
$$$
TAMBA INDIAN CUISINE
3743 Las Vegas Blvd. South; 798-7889
Signature dishes: clay-oven creations, curries.
TVERSKAYA RUSSIAN RESTAURANT
4825 W. Flamingo Road
Tverskaya may not be as fancy as its predecessor in the same space, but it does a very good job of presenting fresh, colorful Russian fare. We loved the golubtsky (cabbage rolls), the borsch, the pork shashlik with marinated vegetables and the Langyet steak, with its meltingly soft sauteed onions. (6/10/11 H.K.R.)
Overall: B
$$
VIA BRASIL STEAKHOUSE
1225 S. Fort Apache Road; 804-1400
Signature dishes: Churrascaria-style meats, salad/food bar.
VARADERO CUBAN RESTAURANT
5081 N. Rainbow Blvd.; 463-3609
Ropa vieja with an impressive, multilayered depth of flavor set the tone for our dinner at Varadero Cuban Restaurant, a strip-center standout near Sante Fe Station. We also thoroughly enjoyed the picadillo-stuffed tostones rellenos, custardy tres leches cake and, to an only slightly lesser extent, a classic arroz con pollo. (1/8/10 H.K.R.)
Overall: A-
$$
YOLIE'S BRAZILIAN STEAKHOUSE
3900 Paradise Road; 794-0700
Signature dishes: Churrascaria-style meats, lamb.