August 10, 2012 - 1:32 am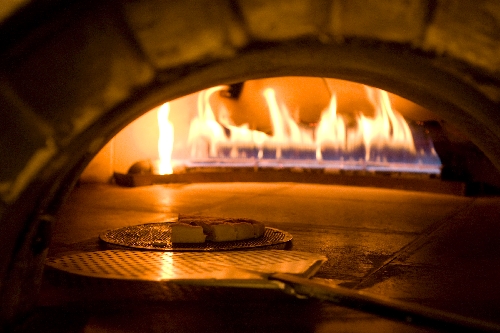 Each week Neon spotlights a different cuisine in the Dining Guide, with Italian restaurants this week. Restaurants are rated on a letter-grade scale, from A to F. Opinions by R-J critic Heidi Knapp Rinella (H.K.R.) are indicated by initials. Price symbols are based on the cost of an average entree: $ = entrees less than $10; $$ = entrees between $10 and $20; $$$ = entrees between $20 and $30; and $$$$ = entrees more than $30.
ANNIE'S GOURMET ITALIAN
1716 Horizon Ridge Parkway, Henderson; 254-3663
Annie's offers patio seating and even a special menu for dogs, but it takes its role as a restaurant for humans very, very seriously. Service was perfect, the interior attractive and the food sublime, including stuffed mushrooms, a Caesar salad, veal Parmesan and shrimp scampi on linguine. (2/18/11 H.K.R.)
Overall: A
$$
B&B RISTORANTE
The Venetian, 3355 Las Vegas Blvd. South; 266-9977
Signature dishes: Mario Batali's beef cheek ravioli with black truffles and crushed duck liver, whole grilled branzino with summer squash and salsa verde.
BACIO
Tropicana, 3801 Las Vegas Blvd. South; (800) 462-8767
Signature dishes: Chef Carla Pellegrino's light and crispy calamari, Salsa Rustica.
BAMBINI'S PIZZERIA & ROTISSERIE
4090 W. Craig Road; 631-3555
Bambini's serves ribs and rotisserie chicken but really it's all about pizza and pasta and in those areas it definitely excels. Garden-variety spaghetti and meatballs had moist, well-seasoned meatballs and a red sauce that would make Nonna proud (even if the rigatoni was a little past al dente) and the same sauce lent credibility to a Pizza Margherita. We liked the small antipasto platter, too, and we'd never stop in again without ordering the garlic knots. (1/7/11 H.K.R.)
Overall: A-
$
BRATALIAN NEAPOLITAN CANTINA
10740 S. Eastern Ave., Henderson; 454-0104
Who says you have to go to the Strip for great Italian food? You can get it – and at the hand of a Strip chef – in Henderson at Bratalian, a strip-center spot that's quaint and colorful, with whimsical clotheslines dangling above the tables. Service and food were perfect, too, the latter including a classic Insalata Caprese, Linguine al Ragu and Pollo alla Milanese. (1/27/12 H.K.R.)
Overall: A
$$
BRIO TUSCAN GRILLE
Town Square, 6653 Las Vegas Blvd. South; 914-9145 (also at Tivoli Village, 302 S. Rampart Blvd.)
Brio looks a lot more like a Tuscan manse than an outlet of a restaurant chain based in Columbus, Ohio, but that's just part of its appeal. It manages to deliver the familiar with a slightly innovative edge, as in the garganelli carbonara with not only the customary bacon and Parmesan but also grilled chicken and fresh spinach leaves; bruschetta Caprese that blends the best of both dishes; a somewhat-too-subtle artichoke-and-herb-crusted pork chop; a trio of creme brulee; and a lovely soup of the day, creme of morel. (1/29/10 H.K.R.)
Overall: A-
$$
BROADWAY PIZZERIA
840 S. Rancho Drive; 259-9002
Broadway Pizzeria is always packed, and it's not because of atmosphere or the customer service. The reason is the food – good, solid preparations of old-fashioned Southern Italian favorites – and the prices; a two-slice-and-a-drink lunch special costs about the same as fast food. We loved the garlic knots, an eggplant Parmigiana sub, a pepper-and-egg sub and two slices of pepperoni-and-mushroom. (9/3/10 H.K.R.)
Overall: B+
$
BUON GUSTO
2642 W. Horizon Ridge Parkway, Henderson; 407-6600
The fact that Buon Gusto flies under the radar but has been around for more than 10 years reveals the best testament to a restaurant: a crowd of regulars. Presentation isn't anything special but we really liked the tiny place for the Italian wedding soup, stuffed mushrooms, California White Pizza and Eggplant Chef Cisco Style – and the oil-herb-balsamic blend served with the bread. (5/20/11 H.K.R.)
Overall: B+
$$
CANALETTO
Grand Canal Shoppes, 3377 Las Vegas Blvd. South; 733-0070
Signature dishes: risottos, ravioli filled with pear and Parmigiano-Reggiano and tossed with asparagus and stracchino cheese cream sauce.
DUE FORNI
3555 S. Town Center Drive; 586-6500
Due Forni makes some pretty good pizzas in those two ovens – even if one is a flat-bread style crackery crust – but we really loved our starters, a vertically constructed beef carpaccio and bufala mozzarella with roasted tomatoes. But we were sure to save room for a great Neapolitan-style pizza Margherita and the crisp crust with a four-cheese blend that included a super Fontina. (10/14/11 H.K.R.)
Overall: A
$$
ENZO'S PIZZA & RISTORANTE
2724 N. Green Valley Parkway, Henderson; 458-2166
I'm not sure what prompted me to order the white pizza at Enzo's but I was awfully glad I did, because the lightly charred, stretchy crust had been topped with a creamy layer of smooth ricotta, a blanket of melted mozzarella and lots of garlic, for quite a satisfying combination. We thought the marinara, as served with the Pasta Norma, needed a little zip, but the garlic knots were wonderfully crisp-edged and garlicky. (11/11/11 H.K.R.)
Overall: B+
$$
FELLINI'S RISTORANTE
Stratosphere, 2000 Las Vegas Blvd. South; 383-4860
Signature dishes: osso buco Milanese, pastas and pizzas.
FERRARO'S ITALIAN
RESTAURANT & WINE BAR
4480 Paradise Road; 364-5300
A not-so-welcoming host/maitre d' notwithstanding we definitely enjoyed our dinner at Ferraro's, which included the best osso buco we've had in a long time plus a delicate, perfectly executed beef carpaccio and lovely rigatoni with meatballs. Besides, a skilled waiter and truly delicious breads did much to smooth ruffled feathers. (12/2/11 H.K.R.)
Overall: A-
$$$
FIAMMA TRATTORIA & BAR
MGM Grand, 3799 Las Vegas Blvd. South; 861-7600
Italian is Italian is Italian except when it's not – or when it provides some distinctive surprises, and such is the case at Fiamma. We were impressed by the little touches that only added to already solid dishes such as beef carpaccio (with fried capers), Alaskan halibut (with basil pesto), ravioli alla Florentine (with a sage-butter sauce) and a chocolate bombe (with crunchy raspberries). (10/22/10 H.K.R.)
Overall: A
$$$$
GIADA'S ITALIAN CUCINA
2540 Anthem Village Drive, Henderson; 462-9830
They definitely know how to put the best face on things at Giada's Italian Cucina; even the escarole was just right – garden-fresh, and slightly crisp – as part of the Pappardelle Rustico. But the goodness didn't stop there; we also were impressed by the chicken Gorgonzola, Italian nachos, house salads and the pepper spread served with our hot-from-the-pizza-oven bread. (12/10/10 H.K.R.)
Overall: A-
$$
IL FORNAIO
New York-New York, 3790 Las Vegas Blvd. South; 740-6403
Signature dishes: housemade and imported pastas, wood-fired pizzas.
LUNA ROSSA
10 Via Bel Canto, The Village at Lake Las Vegas, Henderson; 568-9921
When we sort of stumbled into Luna Rossa on a chilly evening it was like coming in from the cold on a number of levels, in no small part because of the pleasant live piano music in the cozy dining room. But our experience was only heightened when we were served the Crostini della Tradizione with its crispy crust, sage, prosciutto and melted mozzarella; the rigatoni al funghi with vodka-infused pink sauce; and the Canelloni di Carni, whose tiny bit of dryness (in the filling) was saved by blankets of red and white sauces. (2/24/12 H.K.R.)
Overall: A-
$$
MASTRIONI'S
3330 S. Hualapai Way; 367-7511
As neighborhood Italian spots go, Mastrioni's isn't one; it's something better. We liked the serene atmosphere (belying a strip-center location), smooth service (ditto) and great food, including a special of beef carpaccio, linguine with whole clams in white sauce, veal Parmesan and crunchy/creamy orange-laced and chocolate-embellished cannoli. (7/27/12 H.K.R.)
Overall: A
$$$
NOVE ITALIANO
The Palms, 4321 W. Flamingo Road; 942-6800
Its afternoon clientele notwithstanding the Palms is a hipster kind of place, and Nove Italiano definitely fits right in. We were surprised, then, to encounter such a soulful old-school Sunday Gravy with multiple layers of flavor, which tasted as though it had been made by Chef Geno Bernardo's gray-haired grandmother. Also worthy of note: a much lighter Veal Nove, starters of arancino and the cheese-infused tomato soup called Pomodoro/Formaggio, and the Nutella Tower for dessert. (8/6/10 H.K.R.)
Overall: A
$$$$
OSTERIA DEL CIRCO
Bellagio, 3600 Las Vegas Blvd. South; 693-8865
Signature dishes: housemade pastas, grilled meats and fish.
OTTO ENOTECA PIZZERIA
Grand Canal Shoppes, 3377 Las Vegas Blvd. South; 677-3390
Signature dishes: Mario Batali's Sicilian eggplant caponata, house-cured salumi.
PASTA CUCINA
Boulder Station, 4111 Boulder Highway (and four other locations); 432-7777
Boulder Station's Pasta Cucina – one of five at various Station Casinos properties – was close to perfection, which made its miss that much sadder. Chicken cannelloni had a rich, velvety sauce and ethereally delicate crepes, but they enfolded a filling that was too dry, and the rigatoni with sausage and meatballs would have been excellent had it been uniformly hot. And the Caprese Croutons had lots of promise, but their crouton rafts were just too hard. (6/1/12 H.K.R.)
Overall: B+
$$
PIERO'S ITALIAN CUISINE
355 Convention Center Drive; 369-2305
Piero's has many of the trappings of a conventionaire/tourist-centric restaurant – the location close to the convention center, the high prices, the multitude of tables for large parties – but much about it doesn't feel touristy, and that would include the quality of the food and service. We were extremely pleased with the roasted artichoke, Saltimbocca alla Romana, Fettucine A Modo Mido – fresh fettucine with broccoli, mushrooms and pancetta, to you and us – and a creamy, not overly sweet tiramisu infused with a striking coffee flavor. (9/11/09 H.K.R.)
Overall: A
$$$$
LE PROVENCAL
Paris Las Vegas, 3655 Las Vegas Blvd. South; 862-5138
Signature dishes: artichoke Milanese with roasted garlic fondue, Bouillabaisse (served by singing wait staff).
RAO'S
Caesars Palace, 3570 Las Vegas Blvd. South; (877) 346-4642
Signature dishes: lemon chicken, veal chop, meatballs.
ROCCO'S N.Y. ITALIAN DELI
1181 S. Buffalo Drive; 254-4777
Rocco's has the feel of a New York deli (only without the rudeness), right down to the groceries on the shelves and the Brioschi on the counter. We didn't need it, though, because we absolutely loved the fried ravioli, the longshoreman-sized baked ziti and the cannolis, and would've loved the huge Buffalo chicken salad with grape tomatoes and mozzarella and the side salad served with the ziti, if it hadn't been for the restaurant's sole use of iceberg lettuce. (1/2/12 H.K.R.)
Overall: A-
$$
SETTEBELLO
140 S. Green Valley Parkway, Henderson; 222-3556
When your pizza earns the approval of the Italian government you have to be doing something right, and Settebello seems to be doing everything right. Highly recommended: the Insalata and Caprese salads, Quatro Stagioni and Capricciosa pizzas and some of the most reasonable (and nice) Italian wines in town. (11/11/11 H.K.R.)
Overall: A
$$
SIENA ITALIAN TRATTORIA
9500 W. Sahara Ave.; 360-3358
While far from minimalist the kitchen at Siena definitely knows when less is more, so we greatly enjoyed the warm bread with tapenade, the burrata and tomatoes, Struzzichini (marinated olives), stuffed rigatoni with mushrooms, tomato-cream sauce and just enough shrimp, and pinwheel sausage with peppers and cippollini onions. (4/8/11 H.K.R.)
Overall: A-
$$
SINATRA
Encore, 3131 Las Vegas Blvd. South; 248-3463
We're thinking Ol' Blue Eyes himself would be proud of his namesake restaurant, which blends just enough traditional favorites with enough innovative dishes (and lots of seafood) to keep things interesting. We liked the carpaccio with endive, watercress and quail eggs; Cioppino; an excellent, traditional lasagna; and pistachio and vanilla panna cotta. And we also loved the music and portraits of the Chairman of the Board. (3/12/10 H.K.R.)
Overall: A-
$$$$
SIRIO RISTORANTE
Aria, 3730 Las Vegas Blvd. South; (877) 230-2742
Signature dishes: build-your-own antipasti and cheese selections, fish and seafood.
STRATTA
Wynn Las Vegas, 3131 Las Vegas Blvd. South; 770-3463
Since Alex has closed your only opportunity for dining on the cuisine of Alex Stratta is at Stratta, an Italian spot that's a little more rustic. That was fine with us, though, because we loved the simple goodness of the summer melon with prosciutto, crab-crusted halibut and mascarpone risotto with chicken and mushrooms, and the soothing, muted atmosphere of the place. (8/18/11 H.K.R.)
Overall: A
$$$
TRATTORIA DEL LUPO
Mandalay Bay, 3950 Las Vegas Blvd. South; 740-5522
Signature dishes: pizza, pasta, antipasti and desserts made at exhibition stations.
TREVI
The Forum Shops at Caesars, 3500 Las Vegas Blvd. South; 735-4663
Trevi provides some of the best people-watching in the country, but rest assured that the food and service ain't bad, either. We liked the risotto cakes, the Fettucine al Pesto con Gamberi (fettucine with pesto and shrimp) and the Romano chicken, and the chance to linger over glasses of wine as we watched the good, the bad and the oh, so weird as it paraded on by. (9/23/11 H.K.R.)
A-
$$$
WOLFGANG PUCK
PIZZERIA & CUCINA
Crystals at CityCenter, 3720 Las Vegas Blvd. South; 238-1000
Ironically, we weren't particularly enamored with the pizza at Wolfgang Puck Pizzeria & Cucina, which didn't have much in the way of tomato sauce – or character, for that matter. But we were positively crazy about the bread served before our dinner and loved the starter of San Daniele prosciutto and burrata, the classic penne carbonara and a flourless-chocolate/hazelnut mousse cake for dessert. (12/16/11 H.K.R.)
Overall: B+
$$
ZEFFIRINO
Grand Canal Shoppes, 3377 Las Vegas Blvd. South; 414-3500
Signature dishes: pesto, fish.