Dining Guide: Steak and seafood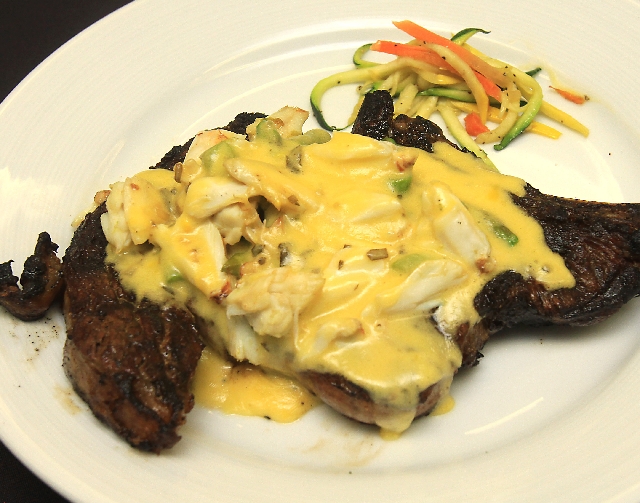 Each week Neon spotlights a different cuisine in the Dining Guide, with steakhouses and seafood restaurants this week. Restaurants are rated on a letter-grade scale, from A to F. Opinions by R-J critic Heidi Knapp Rinella (H.K.R.) are indicated by initials. Price symbols are based on the cost of an average entree: $ = entrees less than $10; $$ = entrees between $10 and $20; $$$ = entrees between $20 and $30; and $$$$ = entrees more than $30.
BOTERO
Encore at Wynn Las Vegas, 3131 Las Vegas Blvd. South; 248-3463
A few service snags marred what should have been a flawless experience at Botero, but we certainly couldn't fault the food, which included a tart of wild mushrooms and Gruyere, a duet that paired Asian-inspired Arctic char and caviar-sprinkled Pacific salmon, brioche-crusted Colorado rack of lamb, pistachio-crusted asparagus, and mascarpone panna cotta with strawberry gelee and rhubarb sorbet. (4/1/11 H.K.R.)
Overall: A-
$$$$
CANAL STREET
The Orleans, 4500 W. Tropicana Ave.; 365-7111
Prices at steakhouses across the valley have gone sky-high in recent years, and in most cases, they're not worth it. So we were particularly pleased to find good value at the elegant Canal Street, where we enjoyed oysters Rockefeller, a filet mignon and Parmesan-crusted veal Tuscan. Excellent (but not snobby) service put the icing on the cake. (11/25/11 H.K.R.)
Overall: B+
$$$
THE CAPITAL GRILLE
Fashion Show mall, 3200 Las Vegas Blvd. South; 932-6631
The Capital Grille is the kind of steakhouse they're not building much of anymore, but contemporary touches help this old-school-style spot feel like anything but a throwback. French onion soup and a dry-aged steak au poivre with Coirvoisier cream sauce were both excellent but on the salty side; also excellent (but not too salty) were the prosciutto-wrapped mozzarella, creamed spinach and roasted chicken. (10/17/11 H.K.R.)
Overall: A-
$$$$
CARNEVINO
The Palazzo, 3325 Las Vegas Blvd. South; 789-4141
Sixty-plus dollars for a steak — especially when it's the second-least-expensive steak on the menu — may seem pretty steep, and yeah, it is. Whether it's worth it to you depends on a lot of things. We'll just say that it was an excellent steak, but we also enjoyed the much less expensive pasta dishes we had at Carnevino, the garganelli Bolognese and the gnocchi with walnut-herb pesto, plus a starter of prosciutto and pears and a local-origin pumpkin cake for dessert. (12/7/12 H.K.R.)
Overall: A
$$$$
CUT
Palazzo, 3325 Las Vegas Blvd. South; 607-6300
Signature dishes: Wolfgang Puck's steaks, bone-marrow flan, short ribs.
DELMONICO
The Venetian, 3355 Las Vegas Blvd. South; 414-3737
Signature dishes: Emeril Lagasse's steaks, chateaubriand, stuffed pork trotters.
THE FLAME STEAKHOUSE
El Cortez, 600 Fremont St.; 385-5200
Signature dishes: steaks, prime rib, stone crab in season.
THE GOLDEN STEER
308 W. Sahara Ave.; 384-4470
Signature dishes: steaks, seafood, chateaubriand.
GORDON RAMSAY STEAK
Paris Las Vegas, 3655 Las Vegas Blvd. South; 946-4663
There were a few service glitches related to our dinner at Gordon Ramsay Steak — most related to the fact that we had the night's earliest reservation time, which resulted in a cattle-call feeling — but the food was absolutely flawless. We reveled in our smoked beef tartare, Prime filet mignon, Beef Wellington, Parmesan-cream spinach and a dessert of sticky toffee pudding. (8/3/12 H.K.R.)
Overall: A-
$$$$
HANK'S FINE STEAKS
Green Valley Ranch, 2300 Paseo Verde Parkway, Henderson; 617-7515
Signature dishes: long-bone rib-eye chop for two with signature spice rub, dry-aged 24-ounce prime rib.
MORELS FRENCH STEAKHOUSE & BISTRO
Palazzo, 3325 Las Vegas Blvd. South;
607-6333
Asking us if we'd like filtered tap water instead of bottled charmed us right off the bat, but Morels easily stayed in our good graces with a combination of good service, a pleasant interior (and a patio) and top-notch food that included an amuse-bouche of a prosciutto-wrapped fig with a cherry-ginger reduction, mushroom bisque, a summer heirloom tomato salad, Scottish salmon, grass-fed New York sirloin and creamed summer sweet corn. We even loved the good yeast rolls — and the tapenade and butter rolled in sea salt that were served with them. (9/15/11 H.K.R.)
Overall: A
$$$$
OSCAR'S BEEF, BOOZE & BROADS
Plaza, 1 Main St.; 38-OSCAR or 386-7227
Oscar's had a huge party on the evening of our visit so we had to sit in the bar, which turned out to be a pretty good thing (except that we lost the view of the Fremont Street Experience), because the barkeep was affable and efficient and he did, of course, know how to pour a Bombay Sapphire martini. We loved the food, which was Old Vegas with a New Vegas sensibility — Steak Tartare a la Meyer, Joey C's Filet Mignon and especially Oscar's Mayor Weiner Schnitzel. (3/9/12 H.K.R.)
Overall: A
$$$$
THE PALM
The Forum Shops at Caesars, 3500 Las Vegas Blvd. South; 732-7256
Signature dishes: Steaks and lobster.
PRIME STEAKHOUSE
Bellagio, 3600 Las Vegas Blvd. South; 693-8865
Signature dishes: steaks, seafood, classic sides.
RON'S STEAKHOUSE
Arizona Charlie's, 740 S. Decatur Blvd.; 258-5201
Amid all the hoopla about a steakhouse to be opened by a former Las Vegas mayor, another steakhouse opened by a former Las Vegas mayor — that would be Ron's, for Ron Lurie — turns out to have a winning formula of good food at reasonable prices and served in a pleasant atmosphere. Noteworthy: oysters Rockefeller, creamed spinach, New York strip and Charlie's Steak au Poivre. (9/9/11 H.K.R.)
Overall: A-
$$$
THE STEAKHOUSE
Circus Circus, 2880 Las Vegas Blvd. South; 794-3767
Signature dishes: steaks, seafood, oysters on the half-shell.
SW STEAKHOUSE
Wynn Las Vegas, 3131 Las Vegas Blvd. South; 248-3463
Signature dishes: steaks, seafood, foie gras.
35 STEAKS + MARTINIS
Hard Rock Hotel, 4455 Paradise Road; 693-5585
It's hard out there for a steakhouse — hard to separate yourself from all of the other steakhouses, while still offering the steakhouse basics that customers expect. 35 Steaks + Martinis walks that line ably, starting with a boursin-tomato-spinach-filled artichoke in which the mixture gets all nice and melty around the leaves. Prime prime rib was not particularly stellar, but the Colorado lamb was pretty darn perfect and we liked the couscous with apricot and dates and the creamed spinach. (5/18/12 H.K.R.)
Overall: A-
$$$$
WAVERLY'S STEAK HOUSE
The Cannery, 2121 E. Craig Road; North Las Vegas; 507-5777
Waverly's has a definite old-school vibe — that's a good thing, especially for a steakhouse — and it honors the tradition with a serene atmosphere with muted colors and music, efficient team service and solid renditions of dishes such as Caesar salad, French onion soup and veal Oscar, and a perfectly charred-on-the-outside-red-rare-on-the-inside rib-eye steak. (9/28/12 H.K.R.)
Overall: A-
$$$
Seafood
AMERICAN FISH
Aria, CityCenter, 3730 Las Vegas Blvd. South; 590-8610
Fish poached in ocean water? Sounded a little iffy to us but we bit, and ended up with nice fresh halibut served in a sake broth. It was awfully good, but no more so than the cornmeal-crusted griddled Idaho trout, Coho salmon baked in sea salt, oysters on the half-shell, amazing french fries with housemade tartar sauce and truffled macaroni and cheese. Even the breads — wood-grilled ciabatta and supermoist corn muffins — were nothing short of exemplary. (11/4/11 H.K.R.)
Overall: A-
$$$$
AQUAKNOX
The Venetian, 3355 Las Vegas Blvd. South; 414-3772
Signature dishes: sauteed John Dory, mesquite-grilled prawns.
BARTOLOTTA RISTORANTE DI MARE
Wynn Las Vegas, 3131 Las Vegas Blvd. South; 248-3463
Signature dishes: whole fish and crustaceans flown in from the Mediterranean; housemade sauces.
CRAB CORNER
4161 S. Eastern Ave.; 489-4646
Crab Corner doesn't stand on ceremony, but that doesn't matter much if what you're looking for is fresh seafood, simply prepared. We liked a starter of mini crab cakes (even though it was served last) plus mussels with garlic butter, steamed Maryland crabs and sides of hush puppies, potato salad and beer-battered onion rings. (5/27/11 H.K.R.)
Overall: B
$$
EMERIL'S NEW ORLEANS FISH HOUSE
MGM Grand, 3799 Las Vegas Blvd. South; 891-1111
Signature dishes: New Orleans BBQ shrimp, banana cream pie.
LOBSTER ME
Miracle Mile Shops, 3663 Las Vegas Blvd. South; LOBSTER (562-7837)
If you're looking for a good lobster roll, Lobster ME would be the place to get it, because they serve them there in two sizes, on authentic split-top, side-buttered-and-grilled buns, and they're all lobster, all the time. We weren't as enamored of the lobster and chips and the lobster wontons, but we're intrigued by the lobster breakfast dishes. And the lobster ice cream. (3/2/12 H.K.R.)
Overall: B+
$$
McCORMICK & SCHMICK'S
335 Hughes Center Drive; 836-9000
Who said you can't get great seafood in the desert? We like starters like the lump blue crab and shrimp cake, just about anything on the Fresh List and such specialties as almond-crusted trout and buttermilk-fried jumbo shrimp. (8/21/11 H.K.R.)
Overall: A-
$$$
MICHAEL MINA BELLAGIO
Bellagio, 3600 Las Vegas Blvd. South; 693-7111
Signature dishes: caviar parfait, Maine lobster pot pie.
RICK MOONEN'S RM SEAFOOD
Mandalay Bay, 3950 Las Vegas Blvd. South; 632-7777
Signature dishes: sustainable seafood, sushi.
SEAFOOD SHACK
Treasure Island, 3300 Las Vegas Blvd. South; (866) 286-3809
If you want to find out if seafood's fresh, order it unadorned, which was pretty much the case with the mussel and clam steamers we had at the Seafood Shack at Treasure Island. They passed the test, fresh and sweet as it gets. We also liked the lobster and seafood stuffed mushrooms, and the Cajun Seafood Pasta was jampacked with shellfish. (12/21/12 H.K.R.)
Overall: B+
$$