Dinosaurs of 'Jurassic World' rule over box office with $204M debut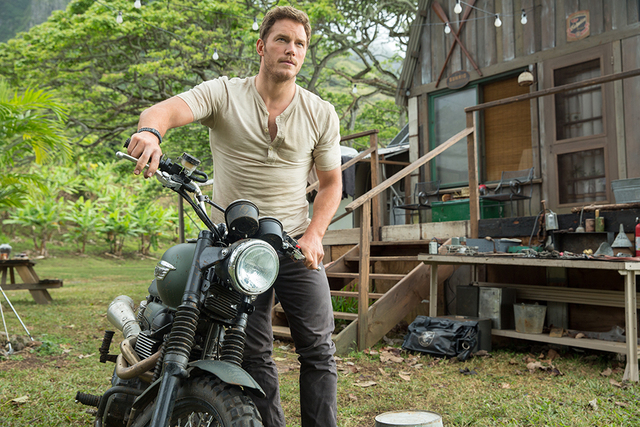 LOS ANGELES — Dinosaurs rule the earth again after "Jurassic World" debuted to a dominant $204.6 million at the domestic box office this weekend.
That commanding number, the second-biggest opening in history, all but ensures that those pesky geneticists will keep futzing around with Triceratops DNA and park-goers will continue to serve as prehistoric reptile kibble for several more installments.
Universal Pictures and Legendary shelled out $150 million to reopen the park, bringing on Sundance sensation Colin Trevorrow ("Safety Not Guaranteed") to direct and snagging Chris Pratt to star in the sequel. It has been more than a decade since "Jurassic Park III" hit theaters and the absence appears to have spiked interest in the latest film. Credit goes to Trevorrow and crew for recapturing that old Isla Nublar magic.
"This is some pretty rarefied air," said Nick Carpou, Universal's distribution chief.
He noted that with a domestic debut on 4,273 screens, "Jurassic World" represents the widest release in Universal history.
"It gave people all around North America the opportunity to see the film, especially in those great large formats and 3D," said Carpou. "That created the possibility that it could grow beyond what the historical data indicated it would do."
Going into the weekend, it was clear that "Jurassic World" was shaping up to be a box office colossus, but no one was even close to predicting the scale of the opening. Most projections were in the $125 million to $135 million range.
Instead, "Jurassic World" scored the year's biggest bow, just ahead of "Avengers: Age of Ultron" and its formidable $191.3 million opening in May. It ranks behind 2012's "Marvel's The Avengers" and its $207.4 million debut on the all-time list of openings. From there, "Jurassic World" stomped across the record books, scoring the third-biggest opening day ever, with $82.8 million and shattering all June high-water marks for opening weekend, biggest opening day and all-time biggest PG-13 launch.
"This is really unprecedented in terms of shattering expectations," said Phil Contrino, vice president and chief analyst at BoxOffice.com. "They rebooted it in just a really smart way. Universal's marketing campaign was exceptional. They just nurtured this thing and the trailers were excellent."
It also snapped a cold streak at the stateside box office, driving ticket sales up 44% over the previous year, with overall receipts topping out at $270 million. That's quite an accomplishment given that the double whammy of "22 Jump Street" and "How to Train Your Dragon 2" were released on the same weekend last year.
Universal has yet to release its global figures, but they are likely to be gargantuan. The sequel bowed across 66 international territories including such major markets as China, the United Kingdom, Russia, Mexico and Australia.
It continues what has been a commanding year for Universal. The studio has fielded some of 2015's biggest hits. Its murderer's row includes "Fifty Shades of Grey," "Pitch Perfect 2" and "Furious 7," and still has the "Despicable Me" spinoff "Minions" and "Ted 2" waiting in the wings. That line-up is in marked contrast to five years ago when Universal was mired in a prolonged slump and rolling out costly duds such as "Green Zone" and "The Wolfman."
"Jurassic World" was a juggernaut when it came to premium formats. The sequel did 48% of its domestic opening weekend gross from 3D screens and took in $71 million from RealD locations. It was the highest grossing weekend ever for private label PLF screens and and Cinemark XD with $16.2 million, and set an Imax record with a stateside debut of $20.6 million.
"This is a bigger-than-life movie," said Greg Foster, chairman and president of Imax Entertainment. "It really reminds audiences why we go to the movies. It honors the tradition of these films but updates them for today's technology."
The film's appeal was universal. Opening weekend crowds were nearly evenly split between the genders, with the audience coming in at 52% male. The film's PG-13 rating also meant the dinosaur carnage was palatable for families. Ticket-buyers were 39% under age 25. In terms of racial breakdown, the masses that flocked to see "Jurassic World" were 54% Caucasian, 20% Hispanic, 14% Asian, 8% African-American and 4% "other."
"Jurassic World" sucked up most of the oxygen, leaving a handful of holdover films to forage for crumbs. In second place, Melissa McCarthy's "Spy" showed some staying power, slipping less than 50% to $16 million in its second weekend. The Fox espionage satire has generated $56.9 million in two weeks.
Warner Bros.' "San Andreas" scored a third place finish, picking up $11 million to drive its domestic total to $119.3 million. Horror film "Insidious: Chapter 3" finished in fourth with $7.3 million. The Focus Features release has generated $37.4 million in two weeks. "Pitch Perfect 2" rounded out the top five with a $6 million weekend, bringing its domestic haul to $170.7 million.
"Entourage" came in sixth with $4.3 million, pushing Warner Bros.' Hollywood comedy to a buzz-killing $25.9 million after two weeks. In its second weekend, Roadside and Lionsgate's Brian Wilson biopic "Love and Mercy," cracked the top ten with $1.8 million from 573 screens, bringing its total to $4.8 million.
"Jurassic World" had the weekend largely to itself, with studios opting not to release any major tentpole productions. There was one notable art house debut, however. Fox Searchlight fielded "Me and Earl and the Dying Girl," a sort of "Fault in Our Stars" for cinephiles, that opened to a solid $210,000 in 15 theaters.
"The reviews are really good and people who see the film love it," said Frank Rodriguez, senior vice president of distribution at Searchlight. "They responded to it and it looks like we've got some good word of mouth."