Drake heads to Las Vegas gun range for birthday bash
October 27, 2015 - 10:55 am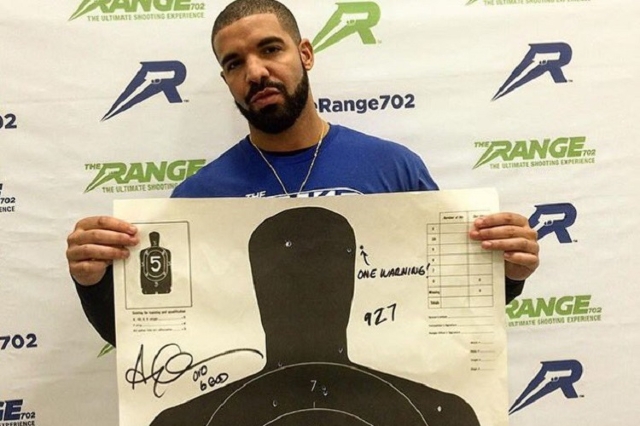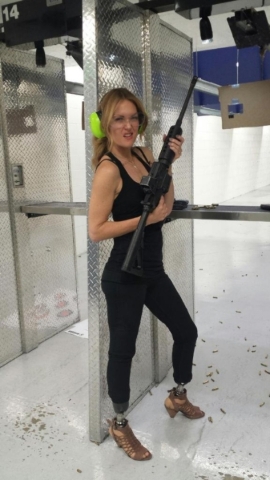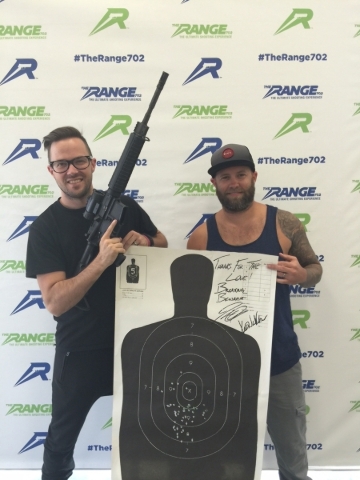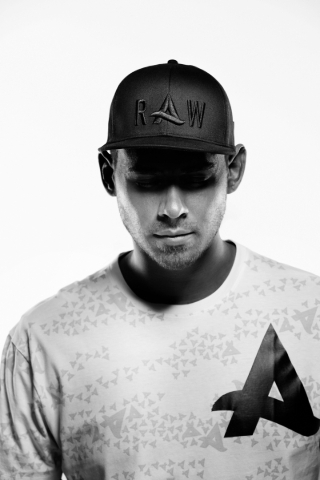 Canadian pop rapper Drake won the Internet last week by showing everyone his subdued dance moves in the music video for "Hotline Bling."
On Sunday, he celebrated that pop culture victory, plus his birthday, by renting out a Las Vegas gun range and firing an M4 machine gun, a Glock 19 handgun, and the Smith & Wesson .500 (a version of "Dirty Harry's" cannon).
How was Drake as a person?
"Super nice guy. Super personable," general manager Brian Doleshal of The Range 702 said.
How good was Drake at guns?
"I would definitely put him on the top tier of the celebrity range," Doleshal said.
Drake was firing the most popular weapon there, a "point-and-click machine gun."
"Fully automated machine guns are rapid fire, so as long as you've got a good general base of where you're aiming it, you just pull the trigger, and it'll put holes in the paper for you," Doleshal explained to me, since I'm more familiar with the PlayStation 4 hand controller.
Drake, who turned 29 on Saturday while partying with dozens of friends at Omnia nightclub in the MGM Grand hotel, was the latest star firing weapons at the range.
Last week alone, shooters at 702 included the band Breaking Benjamin; Amy Purdy, the paralympic snowboarder; Vegas UFC bruiser Frank Mir; and Michael Rooker of "The Walking Dead"/"Days of Thunder."
The best celeb the gun range's general manager has seen?
"Honestly, Michael Rooker was a pro. He was almost dead-center on every single shot, with machine guns and with handguns," Doleshal said.
However, he added, Las Vegan BJ Baldwin (the off-road racing champ) frequents the range, "and he is perhaps the best shot that comes into our range, hands down."
All the celebs Doleshal has come into contact with have been very nice, and so full of adrenalin they follow all the safety officer instructions, he said.
Have any of them been terrible shots?
"No," Doleshal said and joked, "not that I would say."
"It's a safe environment. That's what we can offer them, is a private, safe environment," he said.
Trend question: When all of us citizens argue with each other over guns, politically, does that increase business, lower business, or have no effect?
"I'm not going to get political," Doleshal said. "But I will say, anytime something is brought up, whether it's been the media or social media, it has become more relevant in that moment. Case in point, you and I are talking today because Drake came in and was entertained at our range. It's undeniable to say that anytime something is in the media, it shines more light, whether it's positive or negative."
By the way, the gun range was simultaneously celebrating a grand reopening in a new location on Dean Martin Drive, with new business neighbors known as Hustler Club strippers. (Insert punch line here.)
AFROJACK: DANCE MUSIC IS HERE TO STAY
DJ Afrojack is headed to Caesars Palace's fancy new nightclub this Friday night, proving electronic dance music and nightclub culture isn't going away, despite protestations among some people in the entertainment media field who don't like EDM.
For the past year or so, writers for newspapers and online sites have insisted dance music is dropping out of pop music (this is true, ever since DJs let themselves get co-opted by, then overtaken by hip-hop); but they have also claimed club culture is fading into nothing (not true).
What's going on with dance music is the same thing that happened to every format of American music from '20s jazz to rock 'n' roll to gangster rap to alternative rock — it went from nothing to everything to just another genre in about six years.
What does Afrojack, 28, think about the people who write dance music obituaries?
"I don't really care what they're saying. People always have something to say. They always think they know the answer," Afrojack said.
"I've been doing this a long time. It might grow, and it might decline a little, but for our generation, this is what we do. We go to the clubs. We go to the pool parties. That's the way it is."
Older people, around 50 or 60, even started going to the clubs, he said, and this is also true.
"They used to go to see the dinner shows, see the concerts, see the performances, see the dancing shows and the musicals," Afrojack said.
"Our generation still does that, but not as much as we like to go to parties. It's our way of celebrating. It's what we do."
And when Afrojack plays underage shows around the world, enthusiasm remains.
"I've played in front of 5,000 16-year-olds, and they're ready for the dance music generation. I'm super pumped to be part of it."
Programming note: Last week, I accidentally wrote that Afrojack will also perform at Omnia on Tuesday night, but that's wrong. Tuesday night is the Nervo sisters.
Game note: Afrojack is a "Call of Duty" player. He posts screen shots of victory boards.
"I try to do it while I make music, while I'm in the studio, to chill out a little, play some 'Call of Duty' and get back to work," he said.
"I actually worked together with (Treyarch/Activision) on some stuff but I can't say anything about it. 'Black Ops III,' baby!'"
Doug Elfman can be reached at delfman@reviewjournal.com. He blogs at reviewjournal.com/elfman. On Twitter: @VegasAnonymous