Ducasse restaurant puts up in upscale
October 20, 2015 - 10:27 pm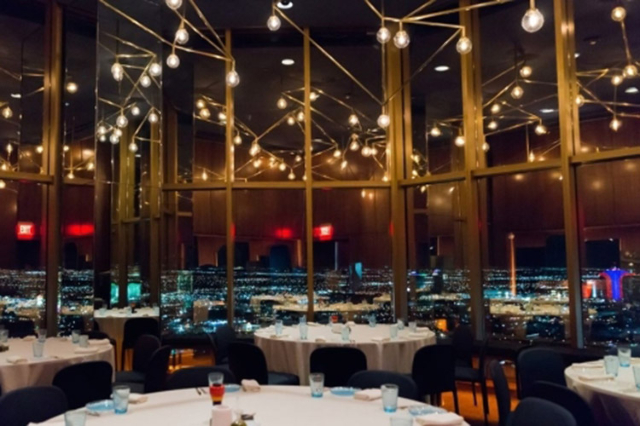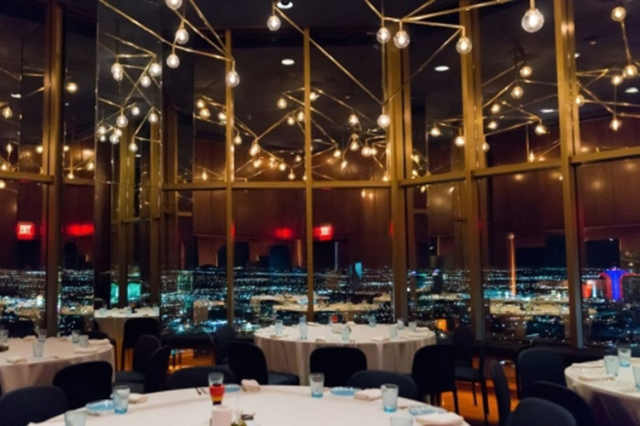 Star chef Alain Ducasse's latest restaurant project has a new name, a new menu and, arguably, the most breathtaking dining-room view in Las Vegas.
By converting a long-ignored space into two private dining rooms, Rivea's 64th-floor view at Delano Las Vegas ranks up in the rarified air with the likes of Alize atop the Palms and the Eiffel Tower Restaurant at Paris Las Vegas.
"Those rooms were just raw-concrete storage rooms for 11 years," said Olivier de Roany, Rivea's assistant general manager.
The space is at the extreme north end of what was formerly Mix restaurant. Each room can accommodate 30 diners. They are connected, which allows a combined party of 60-plus, perfect for larger corporate parties.
"We did have a few celebrities in the private dining room the last couple of weeks but we are sworn to secrecy," de Roany said.
Rivea, with its neighboring Skyfall lounge, formerly Mix lounge, held its grand opening last Thursday after $2.7 million in renovations.
The menu is inspired by the French and Italian Riviera, "cuisine that's much lighter, with a lot of olive oil, vegetables and fish. Essentially the opposite of traditional French cooking with sauces and butter," de Roany said.
One of executive chef Bruno Riou's signature dishes, the vegetable cookpot, gets its sweetness from pears instead of sugar.
Chef shakeups
Changes are coming fast and furious at Steve Wynn's restaurants.
If you didn't get around to scheduling that last supper at Bartolotta Ristorante di Mare at Wynn Las Vegas, it's too late. It closed after Sunday night and was to reopen by midweek as Costa di Mare, with Mark LoRusso leaving Wynn's soon-to-close Botero Steakhouse, helming the kitchen.
Paul Bartolotta, who took fresh seafood to another level during his 10 years at the Wynn, was to stay on until early next year, according to Wynn's PR office back in July. But something changed the timetable.
Meanwhile, Oprah Winfrey's personal chef Paul Zlatos is returning to the Wynn to run Lakeside, where he previously worked for David Walzog. Zlatos worked for Oprah in 2013 before being recruited by the Maccione family to head Sirio, which closed at Aria last year.
Botero is turning into a new concept early next year.
Last week, Rene Lenger replaced Carlos Guia as executive chef at The Country Club — A New American Steakhouse.
David Middleton, who formerly worked for longtime Wynn chef Alex Stratta and most recently of db Brasseries, is the new executive chef at Tableau.
There was buzz at the Kerry Simon memorial Sunday at the Cleveland Clinic Lou Ruvo Center for Brain Health that Guia has something in the works.
The scene and heard
Susan Savage is the envy of all casino hosts. The host at the Wynn Las Vegas just hit a Caesars Palace slot machine for $1 million. I'm told Savage has been in talks to buy a Ferrari from longtime Wynn executive Marc Schorr. …
Carbone, a Italian institution in New York, opened Monday at Aria, on the promenade level next to Jean Georges Steakhouse and Bardot Brasserie.
On this day
Oct. 21, 2000: Actress Lauren Hutton is airlifted to University Medical Center in Las Vegas after crashing her motorcycle during a ride in the desert with Jeremy Irons, Dennis Hopper and others. She was hospitalized three weeks with a broken arm and a broken leg.
Oct. 22, 2001: Tennis stars Andre Agassi and Steffi Graf wed at his Las Vegas home, with only their mothers and a judge in attendance, four days before their first child is born. They celebrated with a low-key wedding-night dinner at Lindo Michoacan on Desert Inn Road.
Sightings
Pro golfer Rickie Fowler, with friends at Crazy Horse III late Monday. … Rick Nielsen of Cheap Trick, rocking out Sunday with fellow musicians at the Simon memorial.
The punch line
"Donald Trump is now saying that his immigration policies would have prevented 9/11. Trump is also claiming his hair would have kept the Titanic afloat." — Conan O'Brien
— Norm Clarke's column appears Sunday, Monday, Wednesday and Friday. He can be reached at 702-383-0244 or norm@reviewjournal.com. Find more online at www.normclarke.com. Follow him: @Norm_Clarke