EDC veterans advice to newcomers: hydrate
Updated May 19, 2018 - 12:02 am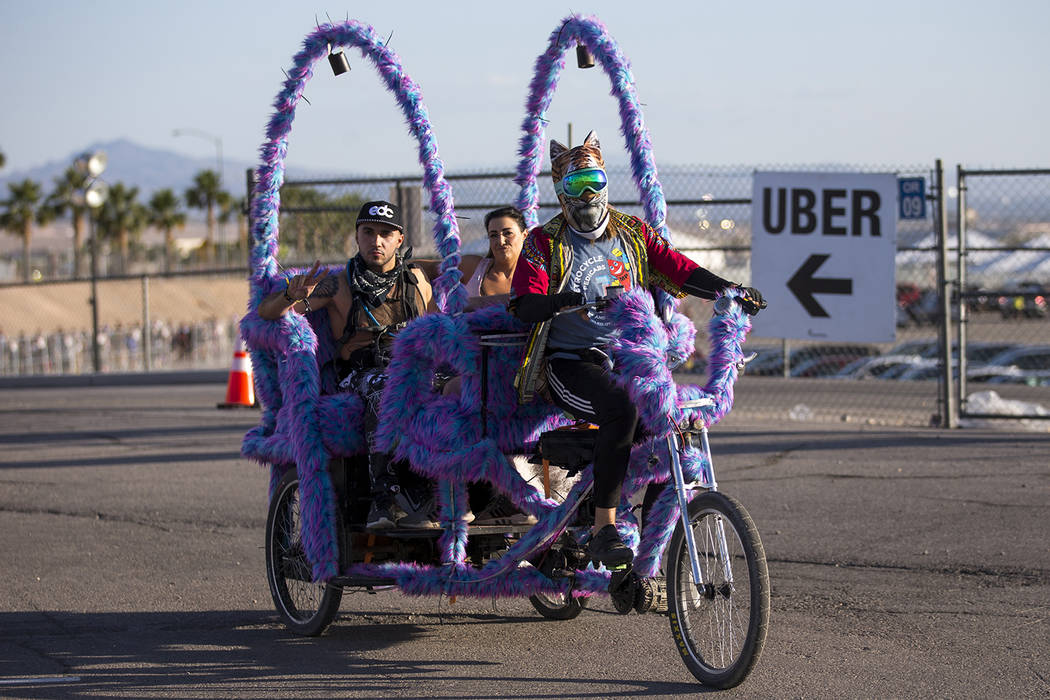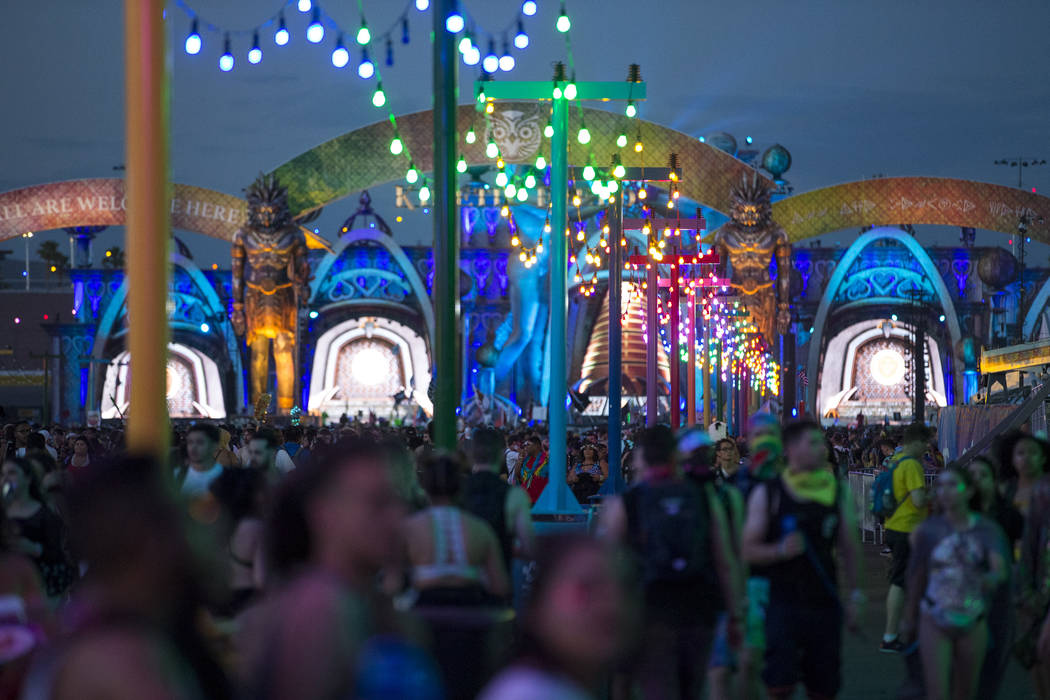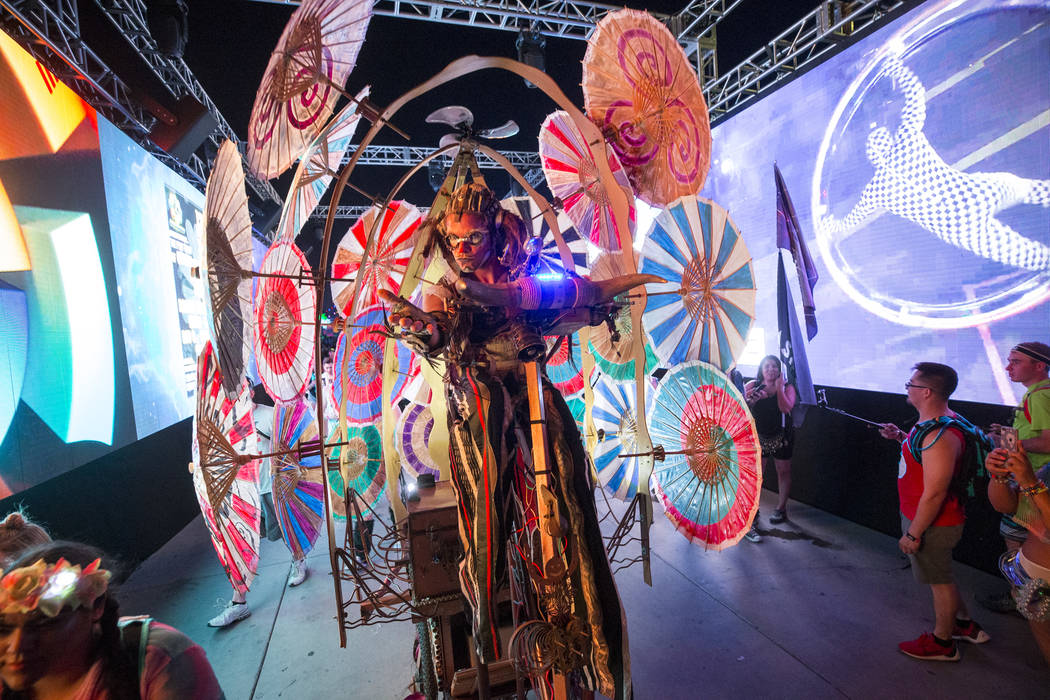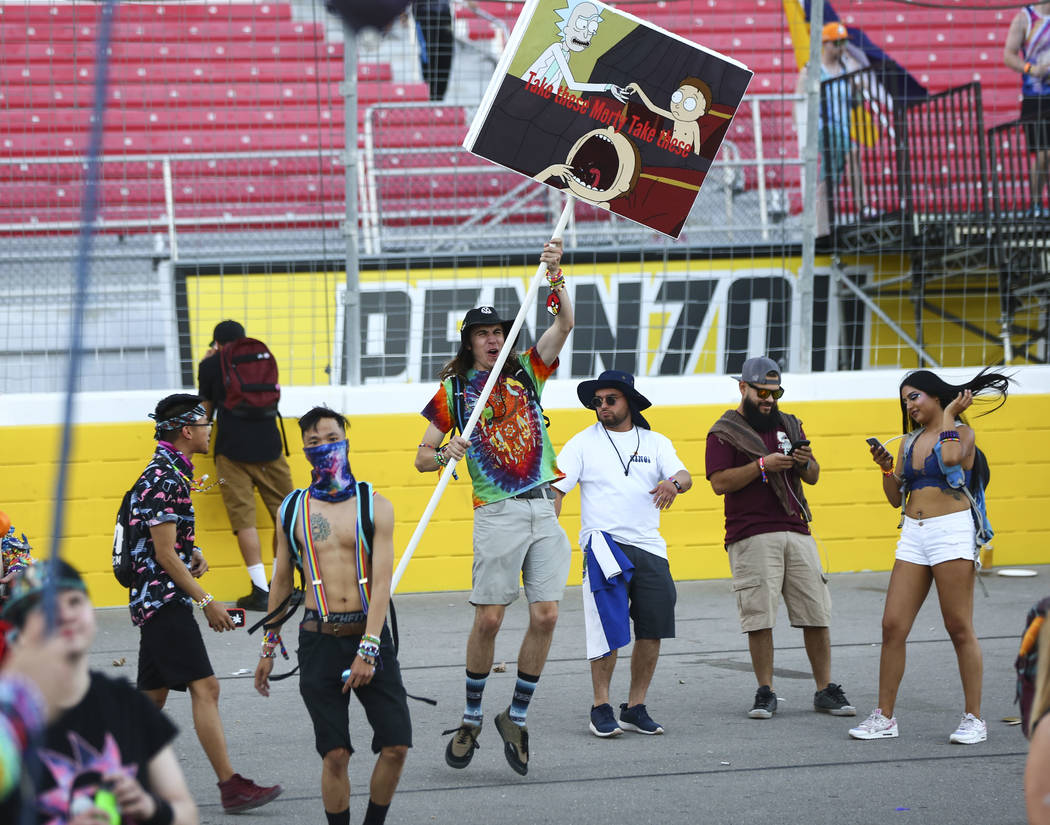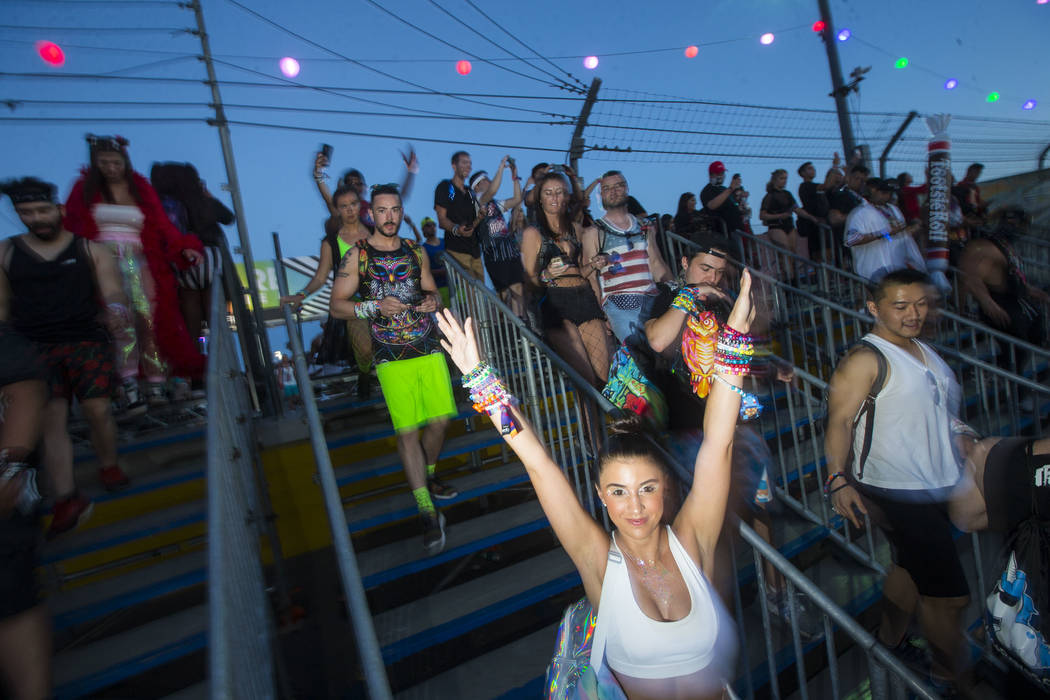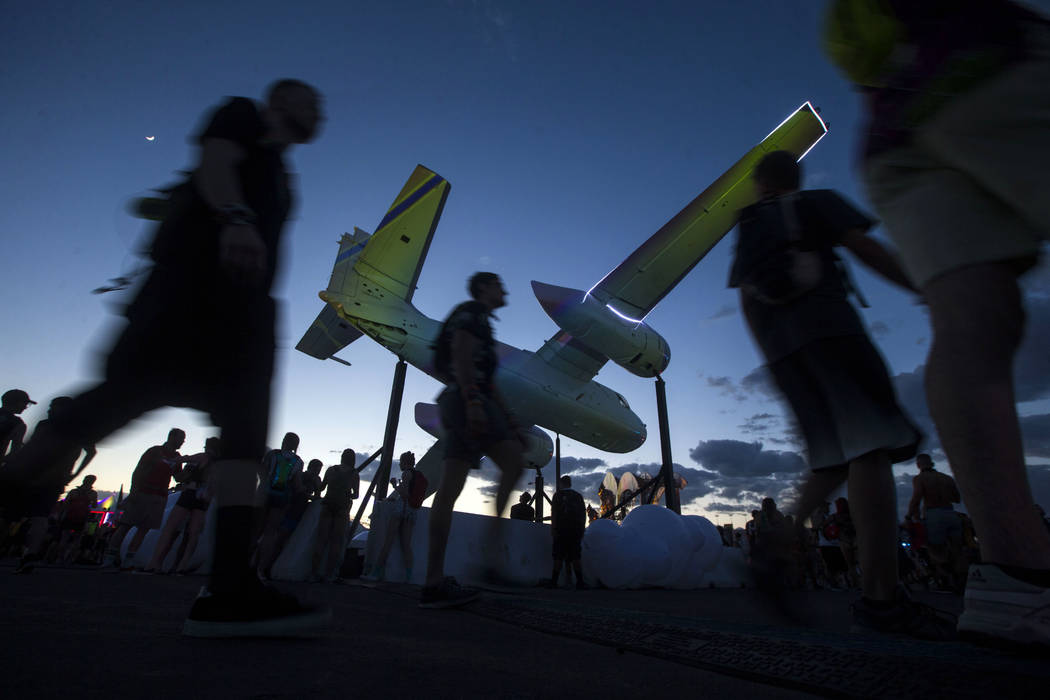 If Electric Daisy Carnival veterans and store managers have one piece of advice for festivalgoers, it's this: Hydrate, hydrate, hydrate.
The manager at the Big 5 on the northwest corner of Craig Road and Clayton Street, the closest sporting goods store to the Las Vegas Motor Speedway, said he arranged with distributors two months ago to deliver extra hydration backpacks, cooling towels, UV-protective neck covers and misting fans. The store had sold at least 25 hydration backpacks, all hanging in an aisle labeled "EDC," before noon Friday, and Shane Lum expected to sell many more throughout the weekend.
"We actually get a lot of business on Saturday because Friday people go to EDC without them and then they're like, 'Where do you get those? We need those!'" Lum said.
The annual three-day music festival began Friday, about a month earlier than in years past, after 34-year-old California man Michael Morse died at the 2017 festival, at least in part due to heat. High temperatures Saturday and Sunday are expected to peak in the low 90s, and the National Weather Service forecast low temperatures in the high 60s.
Despite fairer weather, a group of EDC-goers shopping at Walmart Friday afternoon stuffed their trunk half-full with cases of Pedialyte, Powerade and water. They filled the other half with alcohol, eggs, bacon, carne asada and tortillas to make tacos and breakfast at the house they rented for the weekend.
Cesar Martinez, 29, Jade Bustillos, 20, Jefferson Nguyen, 24, and Alexis Miller, 20, drove to Las Vegas from Southern California on Friday to meet 28-year-old Crystal Serrato, of Texas, who befriended Jade at last year's festival. Nguyen took gulps from a newly opened bottle of Pedialyte and passed it around to the group.
Except Miller, everyone in the group had been to the EDC at least once. When asked their advice for newcomers, the group answered unanimously, "Know your limit."
"Stay hydrated and don't go hard the first day," Bustillos said, adding that, although the group planned to prepare a tub of "jungle juice" (a drink made with different fruits, juices and liquors) to share in the parking lot, being too drunk can ruin the experience. "There are always some people on the floor because they can't handle it."
Shelves at the entrance of the Walmart, 1807 W. Craig Rd., were piled with boxes of Oreos, Nutter Butters, Kool-Aid, Gatorade and cans upon cans of Red Bull.
Jacob Armijo, 23, who went to EDC for the first time in 2016, pushed a cart with assorted fruits, a bottle of pineapple vodka, and, most importantly, he said, deodorant.
Armijo drove eight hours to Las Vegas from New Mexico with two friends who were first-time EDC-goers. Aside from the essentials — water, a portable phone charger, hand sanitizer and wet wipes — the men said the next most important thing to bring to any music festival is a group you can tolerate.
"Make sure you go with the right people," Armijo said. "Go with someone that you want to make memories with, not someone you think will kill your vibe."
Alberto Galvan, 25, and Omar Lira, 26, who have gone to EDC for the last five years, had similar advice.
"You have to know who you're bringing," Galvan said, adding that the pair traveled to Las Vegas from Los Angeles with his sister and two close friends. "No wild cards."
Galvan said he and Lira have learned to rest, eat and hydrate on Thursday, to establish "dark hours" (time designated for sleeping, during which anyone who wakes up must leave the room), and to always have a cooler in their car stocked with alcohol and water to wait out the hours of parking lot traffic at the end of each night.
The men also learned after their first few years at EDC to stay off the Strip and avoid getting drunk or going to clubs the first night they get in town.
"Don't party or neglect sleep on Thursday," Lira said.
"Everybody comes here too hype, and then they have to leave early on Sunday because they burn out," Galvan said, adding that dehydration can speed up the process. "They don't understand that EDC is a marathon, don't treat it like a race."
Contact Kimber Laux at klaux@reviewjournal.com. Follow @lauxkimber on Twitter.