Electric Daisy Carnival announces June 20-22 Las Vegas dates
November 18, 2013 - 1:43 pm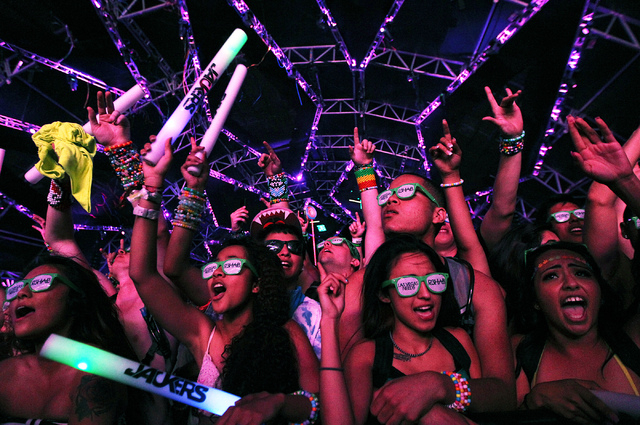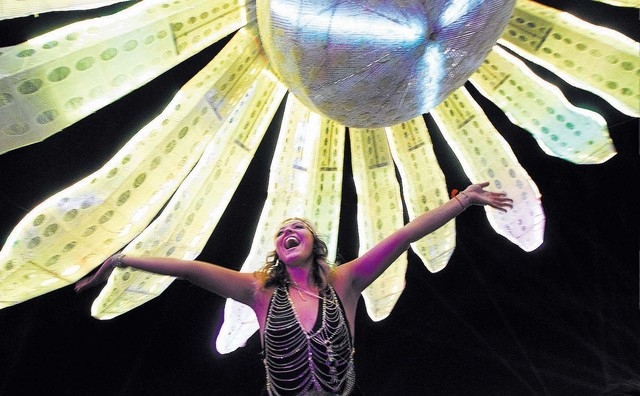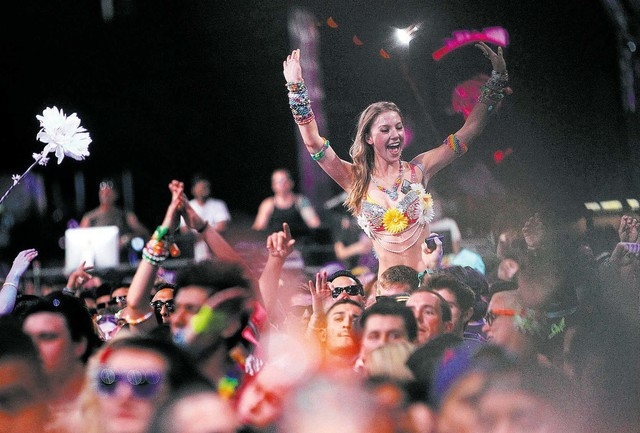 Start gathering what little fabric will be needed for that sexy superhero get-up now, as the country's largest electronic dance music gathering has announced the date of its return to Las Vegas.
From June 20 through June 22, the Electric Daisy Carnival will once gain envelop the grounds of the Las Vegas Motor Speedway in a halo of light, sound and whimsically costumed concertgoers.
Now in its fourth year, the three-day festival drew a sold-out crowd of 115,000 attendees a day at the most recent EDC this past June.
In 2014, the capacity will be raised to accommodate about 130,000 fans nightly as revellers dance from dusk until dawn to the sound of big-name DJs performing on a constellation of mammoth stages, which belch fire and pulsate with state-of-the-art visuals.
Debuting locally in 2011 after originating in the Los Angeles area where it took place for 14 years, EDC expanded greatly in the scope of its production values in 2013, embodied by the largest stage, the Kinetic Field, which held 80,000 fans and was adorned with a skyscraper-sized mechanical owl and water tower-tall mushroom props.
Taking it all in, one felt like an ant on the set of some futuristic stage production of "Alice in Wonderland."
The building process for EDC took 18 days, with close to 450 people working at the event at times.
The larger-than-life spectacle had been years in the making, as EDC slowly evolved from an under­ground dance music party that drew about 5,000 fans to L.A.'s Shrine Auditorium in 1997 to one of the biggest music festivals in America.
"The jumps have been very little, such a gradual process," says Pasquale Rotella, CEO of Insomniac Events, which puts on the Electric Daisy Carnival. "Last year, I actually took a moment to say, 'This is where we wanted to be.' I've never been able to do that." With EDC 2014 still in the planning stages, it's now all about finding new ways of creatively assailing retinas and ear drums alike.
"We're trying to always push the boundaries and stay innovative," Rotella says.
In addition to EDC, Rotella is also expanding EDMBiz, an electronic dance music conference held in conjunction with the Electric Daisy Carnival that debuted in 2012.
Scheduled to take place at The Cosmopolitan of Las Vegas from June 17 to June 23, the conference will expand to include an expo and an awards show produced with Dick Clark Productions, which may eventually be broadcast on TV.
Rotella also says that Insomniac also plans to throw various one-off events in Vegas throughout 2014 as well.
All this comes in the wake of Insomniac signing a partnership deal last year with concert giant Live Nation, reportedly valued at $50 million.
Locally, EDC has been a financial boon, with an economic impact of $207 million for Clark County in 2012 (the numbers for the festival's economic impact in 2013 will be released in December and are expected to grow).
The EDC brand has been steadily growing both nationally and globally in recent years, with EDC events expanding to markets such as Dallas, Chicago, New York City and London.
Las Vegas, though, remains the Electric Daisy Carnival's flagship show.
"The other ones are great events, beautiful festivals. I'm proud of them," Rotella says, "but it's all building up anticipation for Las Vegas."
Early bird tickets for EDC 2014 are set to go on sale on Dec. 2.
Contact reporter Jason Bracelin at jbracelin@reviewjournal.com or 702-383-0476. Follow on Twitter @JasonBracelin.