Elton John pays record store surprise visit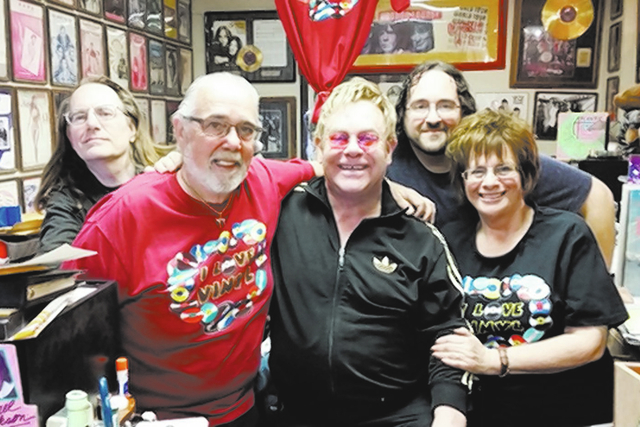 What would you say if Elton John walked into your record store?
Sunny Rosen, the mom in the mom-and-pop Wax Trax Records store at 2909 S. Decatur Blvd., put her hand to her mouth in amazement and said, "This is so much better than seeing you from the last row in Carnegie Hall in 1971."
John's manager had promised the Caesars Palace headliner would show up but the Rosen family didn't believe it until Captain Fantastic showed up on their doorstep at 3 p.m. Sunday.
John's people had raved about the store after buying him classic records for his 68th birthday last Wednesday.
The birthday presents were including several Elvis albums, an Elvis EP and a Frank Sinatra album from a recording in a little club in New Jersey.
John had asked to take photos of the place and bring them back. He came in for an hour and purchased about 75 items at the three-story store.
"He loved Elvis and he loved soul," said Sunny.
"He's a mensch," she added. "I asked for a hug, I got a kiss. He couldn't have nicer."
The Rosen family started the record store in Brooklyn in 1972 and moved here 16 years ago.
John found the Rosens so, um, colorful, that he was overheard saying, "Somebody should do a reality show on you guys."
POWERHOUSE ROMANCE
A romance involving musical giants Taylor Swift and DJ Calvin Harris has been heating up in Las Vegas.
Talk about a powerhouse couple: Swift, 24, reportedly hauled in $64 million last year while the 33-year-old Scottish DJ and electronic dance music producer raked in $66 million.
The country superstar and Harris, the world's highest-paid DJ, were seen together Thursday in Nashville at a Kenny Chesney's concert.
Photos have surfaced of the two leaving a Whole Foods store last week in Nashville, where she has a home. According to reports, sparks reportedly started flying at the Brit Awards in London when they were seen chatting at length.
Swift has since made at least two trips in March to Las Vegas, where Harris has a three-year-old residency at the MGM Grand's megaclub Hakkasan.
She's had a history of short-lived celebrity romances and writing break-up songs about them. Her ex-boyfriends include Joe Jonas of the Jonas Brothers, singer John Mayer, actor Jake Gyllenhaal and Harry Styles of One Direction.
If they are still an item in May, Swift is scheduled to perform here May 15-16 at the Rock in Rio festival. Harris has a May 15 concert at Hakkasan.
THE SCENE AND HEARD
In other celebrity dating news, the Internet was abuzz over the weekend with reports of a romance between upcoming Caesars Palace headliner Mariah Carey and Hollywood director Brett Ratner. Numerous photographs surfaced of them cuddling on a billionaire friend's yacht in St. Barts. Ratner, who directed the "Rush Hour" franchise and "X-Men: The Last Stand," also shot several of Carey's music videos. He also filmed the commercial TV spots of Steve Wynn on top of Wynn Las Vegas in 2005 and Encore in 2008. Wynn owns a yacht that he often moors in St. Barts. … Las Vegas chef Andre Rochat, who is celebrating his 35th year in Las Vegas, was honored Sunday at a dinner featuring more than a dozen of his former chefs. Proceeds from the dinner, which was held at Andre's Restaurant and Lounge at the Monte Carlo, went to the James Beard Foundation. … If you like the idea of seeing Justin Bieber squirming in the hot seat, tonight's the night of his roast on Comedy Central at 10 p.m.
SIGHTINGS
At John's show Saturday at the Colosseum (Caesars Palace): Eva Longoria, George Lopez and a group of "Billy Elliot" London supporters. John wrote the music for "Billy Elliot — the Musical," which was based on the 2000 film "Billy Elliot." After meeting the group backstage, John thanked them in a tweet, saying "Our little musical would not be celebrating 10 years of continued success without their hard work and dedication. Thank-you!!!" … Jerry Lewis and Bob Anderson of "Sinatra: The Man, The Music," having lunch Saturday at the Terrace Pointe Cafe at Wynn Las Vegas. … Cedric the Entertainer among a group that included offensive lineman Rodger Saffold of the St. Louis Rams at Marquee (Cosmopolitan) on Saturday. … Pro wrestling legend Bill Goldberg and Corey Harrison of "Pawn Stars," chatting at The D, after dining at Andiamo at separate tables. Also dining at Andiamo: Actor Ron Yuan of "Sons of Anarchy." … Erik Estrada of "CHiPS" fame, with his wife and daughters at Lavo (Palazzo) and members of his production team. … "Rich Kids of Beverly Hills" stars Morgan Stewart and Dorothy Wang, judging a hot bodies contest at the Flamingo pool Saturday before hosting a spring break bash at Chateau nightclub and rooftop (Paris).
THE PUNCH LINE
"Vin Diesel said that 'Fast and Furious 7' will win the Oscar for best picture. He's being kept in a hospital overnight for observation." — Conan O'Brien
Norm Clarke's column appears Sunday, Monday, Wednesday and Friday. Reach him at 702-383-0244 ornorm@reviewjournal.com. Find more at normclarke.com. Follow @Norm_Clarke on Twitter.