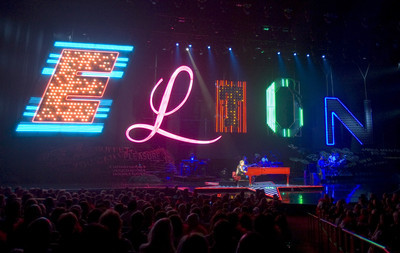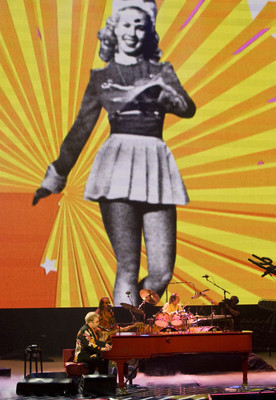 The night before Valentine's Day of 2004, Elton John did something once unthinkable for a rock star of the '70s. He became a Las Vegas headliner.
The durable star had only played Las Vegas in clearly defined one-night concert venues. And he had once said, with good reason, that he wouldn't be playing a casino at age 45.
Back then, a rocker's biggest Vegas fear was irrelevance. And now, as he counts down the last of 242 shows at Caesars Palace, the best guess as to why end it now? Irrelevance.
"We went from what we thought would be 75 shows over three years to 242 shows over five years. That's an amazing run," said Scott Schecter, vice president of entertainment for Harrah's Entertainment. "We should feel great about having pushed the limits for what is probably the reasonable cycle for entertainment in town these days."
Of course, there is no expiration date for Elton John songs. But "The Red Piano" was such a specific showcase for them, and David LaChapelle's videos such strong statements in their own rights, that it's better to think of April 22 as the end of a project — much like "Billy Elliott," one of two Broadway musicals John launched during the Caesars years — than the end of John as a Las Vegas performer.
• • •
"Tumbleweed Connection" is one of the first albums I remember buying. It came out in 1970, but I was probably a year or two older when I treated my elementary school class to "Burn Down the Mission" as part of a music class report.
My information came solely from one magazine — maybe Life — found in the school library. The music teacher had never heard of Elton John, though she did make us sing along to Neil Diamond's "Taproot Manuscript."
By 1975, everyone knew about Elton. He was such a big star at that point, no one thought it premature when he put out a musical autobiography, "Captain Fantastic and the Brown Dirt Cowboy." I bought it the first week it came out, having mastered the art of getting vinyl albums home intact on a bicycle.
That same year brought the star to Las Vegas for the first time, for a concert at the old Las Vegas Convention Center, at the peak of his amazing early-'70s run. Rock concerts were so foreign to Las Vegas that tickets were sold from a movie theater. Strip headliners that month included Glen Campbell, Eddie Arnold, Mitzi Gaynor and Rich Little.
By 2003, it wasn't so rare to have John show up for annual concert stops at the MGM Grand Garden. But a lot of us old fans had quit caring much.
"The Lion King" — which, ironically, opens next month at Mandalay Bay and sort of replaces his presence on the Strip — had detoured the songwriter to a new audience and career opportunities. But the barnstorming piano-rock of the '70s had taken its place in the past.
That is, at least, until his 2001 album "Songs from the West Coast" found the old sound again. Then, "The Red Piano" found its spirit.
"When we made the decision (that John would follow Celine Dion with a Colosseum residency), we didn't really know what was going to be delivered," Schecter said. "Pretty much whatever he did would be fine with us."
But they did have the star's word, as stated at a news conference, that "I want it to be special. I want people to go, 'Elton has made an effort here.' Not just take the money and run.
"I haven't had the chance really to do a specialized show," John added. "At this stage of my life, at 56, it's another string to my bow."
"The Red Piano" unveiled a neon stage design and sexually suggestive inflatables, striking the perfect balance between the singer's Liberace tendencies and the underlying grit of his classic hits. Pop-art photographer LaChapelle's giant-screen videos made songs you'd heard in a thousand supermarkets revelatory, as though you were understanding them for the first time.
"Philadelphia Freedom" explodes with a '70s-hair porn star celebration of the decade's decadence. "Rocket Man" unspools to an impossibly long, surreal look at the star trapped in the cage of backstage life, everyone wanting a piece of him.
A couple of years ago, they slipped in a video for "Someone Saved My Life Tonight" that filled the giant screen with the electrocution of a naked transsexual. It was quite possibly the most transgressive thing ever seen in a show on the Las Vegas Strip.
It was not, by any stretch, "The Lion King."
• • •
"I hope Vegas is not taking the brunt end of just how hard that man works," says John Meglen, co-chief executive of AEG Live, which operates the Colosseum.
Two Larry King interviews with John document the shift in enthusiasm between 2005 and last year. "It's a really exciting place to be," John said in the early going. "I never thought I'd say I really enjoyed playing in Vegas and staying there, but I actually do, and they look after me so well."
But in February of last year, he told King, "I'm onstage in Las Vegas for only an hour-and-a-half, and halfway through the show (I start thinking about) parliamentary elections. And it's like I don't know why that happens."
I have a good guess. The rigid, 95-minute formula of "The Red Piano" became too rote and confining for a performer far more generous with his concert stage time elsewhere.
The singer put out two albums of new material during the Caesars era. And if he hadn't put one song from each of them into the show, it's doubtful many in the Caesars audience would have known.
"I look at the struggle Elton is having right now getting people to reconnect with his records," his friend Pete Townshend noted before a Who concert in 2006. "He makes another superb record, and it hardly dents the air. Making a million dollars a night in Vegas will not keep Elton happy — he is a compulsive and driven songwriter, a richly gifted composer, a hugely prolific and substantial artist and a real performer."
All those things were evident when John added the autobiographical new song "The Bridge" to the Caesars set, singing it alone at the piano in the deep, scarred voice of his recent years. Anyone sorry to see "The Red Piano" go should probably ponder the lyrics:
"And every one of us has to face that day
Do you cross the bridge or do you fade away
And every one of us that ever came to play
Has to cross the bridge or fade away."
Contact reporter Mike Weatherford at mweatherford@ reviewjournal.com or 702-383-0288.
Preview
Elton John
7:30 p.m. today-Sunday, Tuesday, Wednesday, and April 18, 19, 21 and 22
Colosseum at Caesars Palace, 3570 Las Vegas Blvd. South
$115-$280 (731-7110)