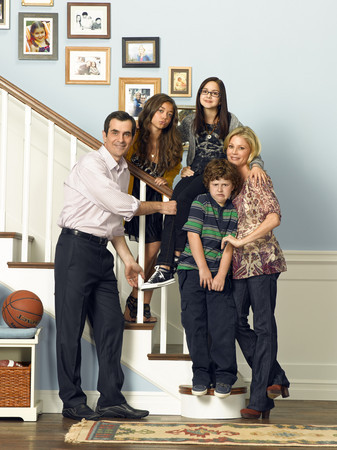 Goodbye, guys selling "Too Close for Comfort" reruns to emerging markets that have yet to discover the joys of Jim J. Bullock.
Farewell, filmmakers who claim to know who killed Michael Jackson as well as Nicole Brown and Ron Goldman, yet are taking that evidence to local TV buyers rather than the police.
Germans touting videos of bikini-clad women frolicking in the mud, I think I'll miss you most of all.
The National Association of Television Program Executives convention left Las Vegas for good late last month — it's seeking a fresh start in Miami — but not before offering attendees a look inside one of this season's biggest success stories: ABC's Wednesday comedy block.
"Cougar Town" and "Scrubs" creator Bill Lawrence (no relation) conducted a rollicking master class on sitcoms. And in a separate seminar, "Modern Family" co-creator Steven Levitan talked about his freshman hit with series stars Julie Bowen, Ty Burrell, Ed O'Neill and Sofia Vergara. (And if you've never had the pleasure of listening to Vergara, imagine getting honey poured in your ears before having it licked out by a unicorn.)
Despite the differences in the shows, though, their success boils down to three common elements.
YOU GOTTA HAVE HEART
"One of the things that I really love exploring on TV that I don't think there's a lot of anymore," Lawrence said, "is people that actually like each other, and friendships, and people caring about each other. I think it adds stakes to comedy."
If TV Land ever stops making reality shows and goes back to focusing on reruns, the channel should have Lawrence host a weekly series examining classic sitcoms. The self-proclaimed "TV nerd" knows the business inside and out and has enough stories — "I got fired off 'Boy Meets World' for not understanding the emotional spine of the show," he admitted with equal parts irony and pride — to keep the discussion entertaining.
"I think that when we lost comedy for a while," he said, "it was because it became about talking heads that had no emotional connection to each other throwing jokes at each other."
He used as an example the time he got his father to watch the late, great "NewsRadio," one of Lawrence's favorite shows and a huge hit among comedy writers. His dad's response? "Who gives a (expletive)."
"Who am I supposed to care about on that show?" his father continued. "They're all kind of funny, but does anybody really have anybody else's back? Is anybody best friends?"
"And I would argue," Lawrence concluded, "that some of the shows that I love that have failed" — think "Arrested Development" — "may have failed because there's nothing emotional for people to hook onto."
Levitan, meanwhile, said his goal for "Modern Family" is to keep it "sweet and heartfelt without being sappy."
"You get the feeling that these people actually love each other and care about each other. … If you're surviving just on laughs alone, it's like junk food. It could be empty calories after a while, and you feel longing for more."
KEEP IT REAL
After turning in what he called a "fun and raucous" pilot script for "Cougar Town," Lawrence said he realized "great chunks of it felt like it had been written by men writing for women." He went back, rewrote three or four scenes and hired more female writers, making "Cougar Town" the rare sitcom with a writing staff where men are in the minority.
But it would be hard to get any more real than "Scrubs," which Lawrence based on his best friend from college, a cardiologist also named J.D. "The real J.D. is such a screw-up," he revealed, "that if I were to wake up in an emergency room with him standing over me, I would have a giant heart attack."
Similarly, Levitan incorporated elements of his own family into "Modern Family's" Dunphy clan.
His children are the same ages and sexes as the Dunphy kids. One of the best scenes in the pilot was inspired by Levitan's shooting his young son with a BB gun, the home video of which became part of his sales pitch to ABC. ("We were all laughing," he recalled, dryly. "It was a delightful Levitan family moment.") And an incident involving his daughter's friend, a webcam, and Levitan's walking by in his boxers inspired a similar recent scene with Bowen in her underwear. And for that, sir, I thank you.
IT MOSTLY COMES DOWN TO LUCK
"I think in a way, 'Back to You' serves as proof about how much has to go right," says Burrell, "Modern Family's" scene-stealing Phil, who played a supporting role on the failed Fox comedy.
ABC wouldn't have a comedy block at all had "Back to You" survived its first season. Its stars, Patricia Heaton and Kelsey Grammer, went on to headline ABC's "The Middle" and the now-canceled "Hank," while its creators, Levitan and Christopher Lloyd, went on to make "Modern Family."
As for the role chance plays in whether a series becomes a hit, Lawrence is typically blunt.
"If you get a chance to talk to any television creator, and they don't take a second to say that it was at least a great part (due) to luck and the hard work of others," he advised, "then you should give them a smack in the face."
Christopher Lawrence's Life on the Couch column appears on Sundays. E-mail him at clawrence@ reviewjournal.com.