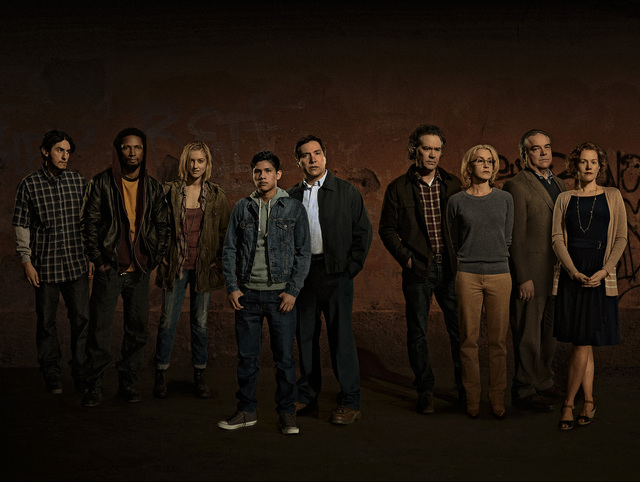 It starts with one of the most jaded 911 calls you'll ever hear.
"I don't know if this is a home invasion, or, but, you know, my neighbors, yeah, they pretty much look like they're dead."
"They" are Matt and Gwen Skokie, an Iraq War veteran and his beauty queen sweetheart. His murder and her brutal assault drive "American Crime" (10 p.m. Thursday, KTNV-TV, Channel 13), the compelling, thought-provoking new drama from John Ridley, the Oscar-winning writer of "12 Years a Slave."
And, really, when was the last time you had a thought provoked by a network drama?
Matt's divorced parents, Barb (Felicity Huffman) and Russ (Timothy Hutton) are barely keeping it together after traveling to Modesto, Calif., to bury their son.
When early reports suggest the police are looking at "an Hispanic kid," the first words out of Barb's mouth are, "Some illegal?"
Later, she unleashes decades of venom on Russ for his long ago gambling addiction that cost them their life savings and caused her to have to raise Matt and his brother in public housing. "Do you have any idea what that was like? A white mother and her two white kids? Do you know what those people did to us?"
Barb's an interesting character, the gleaming face of oppressed-feeling white folk everywhere.
But there's an undercurrent of prejudice and bias running throughout "American Crime."
Mexican-American auto mechanic Alonzo Gutierrez ("The Shield's" Benito Martinez) is proud that he came to this country "the right way" and looks down on Mexicans. He won't even deal with tow truck drivers who have tattoos.
Black Muslim Aliyah Shadeed (Regina King) looks down on the white man.
Gwen's ultra-religious parents (Penelope Ann Miller, W. Earl Brown) look down on pretty much everybody.
White police officers shoot an unarmed Hispanic suspect who, even in this day and age, can't believe their actions.
Aside from devastated dad Russ, "American Crime's" most likable characters just may be the junkie meth heads (Elvis Nolasco, Caitlin Gerard) who sweetly paper their walls with magazine photos of other loving interracial couples.
Ridley's genius is in finding redeeming qualities in some of "American Crime's" worst characters and in bringing out the worst in some of its most redeeming ones.
The facts get more and more complicated as the series goes.
There may not be 50, but there are plenty of shades of gray.
Ready to rumble: NBC is betting big on boxing with the debut Premier Boxing Champions card airing live (5:30 p.m. Saturday, KSNV-TV, Channel 3) from the MGM Grand. Led by announcer Marv Albert, analyst "Sugar" Ray Leonard and host Al Michaels, the prime-time (at least on the East Coast) telecast claims to have "re-imagined the presentation of boxing to fans and viewers."
If you build it …: "SEMA: Battle of the Builders" (8 p.m. Sunday, Velocity) follows the Vegas-based competition among more than 100 of the nation's top car builders.
Contact Christopher Lawrence at clawrence@reviewjournal.com or 702-380-4567.