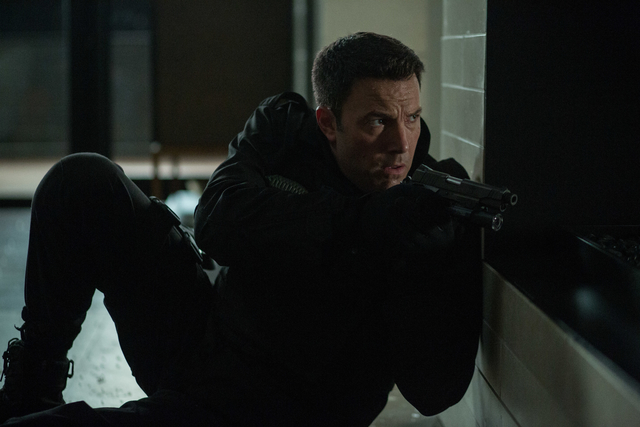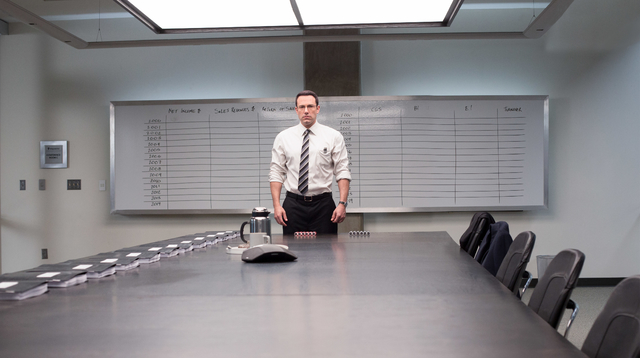 As a die-hard Red Sox fan, Ben Affleck may resent the comparison to Yankees great Reggie Jackson, but the actor has become Hollywood's version of Mr. October.
It's the month that some of his finest work — "Argo," "Gone Girl" and his directorial debut, "Gone Baby Gone" — opened in theaters. His latest doesn't quite stack up to those, but it's a unique, inventive action-thriller that's even quite sweet and tender at times.
Affleck played the world's first blind superhero in 2003's "Daredevil." Now he's playing its first autistic one in "The Accountant." Granted, he doesn't wear tights, but Christian Wolff (Affleck) hides behind a secret identity, has a strong moral code, can brawl with the best of them, is a world-class sniper and, when possible, has a thing about shooting his victims in the face at alarmingly close range. His greatest superpower though? Math.
A genius with numbers, Christian runs ZZZ Accounting in Plainfield, Illinois, helping struggling farmers by massaging, even downright manhandling, tax codes. But that's just an unassuming front for his real job: uncooking the books for some of the world's nastiest criminal syndicates, locating the source of their missing money and, toughest of all, getting out alive.
When his unseen handler, a voice on the other end of his phone, detects increased chatter about him, she suggests Christian take on a safe assignment for a change and sends him to the electronics company Living Robotics. Junior accountant Dana Cummings (Anna Kendrick) has discovered missing funds, and the company's founder, Lamar Blackburn (John Lithgow), and his sister (Jean Smart) seem very invested in unraveling the discrepancy.
What should be a long-term assignment lasts just a day as Christian discovers how money was being stolen, then pumped back into the company, and is immediately sent packing by Lithgow's Blackburn. Then Christian and Dana are set upon by a team of assassins led by a famed hit man named Brax (Jon Bernthal).
Directed by Gavin O'Connor ("Warrior") from a script by Bill Dubuque ("The Judge"), "The Accountant" is a whole lot of movies smushed into one.
There's young analyst Marybeth Medina (Cynthia Addai-Robinson), who's being blackmailed into uncovering the identity of the man known only as The Accountant by her soon-to-retire supervisor, Ray King (J.K. Simmons), the leader of the Treasury Department's Crime Enforcement Division.
There's the look at the horrors of what Christian's father (Rob Treveiler) drilled into him as a young boy to make him tough rather than being coddled in classes or schools for those with special needs.
There's the indie-film love story of Christian and Dana, who also has trouble relating to people, as two outsiders trying desperately to connect.
Then there's the badass Christian, who took out a major chunk of the Gambino crime family using their own weapons, and has his own secret lair: a tricked-out, 34-foot Airstream trailer, complete with its own arsenal, a Jackson Pollock, plenty of cash, gold, even a copy of Action Comics No. 1, aka the first appearance of Superman.
It's a lot to cram into one movie, and some of "The Accountant's" storylines feel neglected for long periods of time. The blackmail angle feels unnecessary. And the ease in which the young analyst is able to make major progress in identifying Christian with just a simple Google search of some of his aliases is somewhat embarrassing.
"The Accountant" has a few twists that work to varying degrees. One is obvious early on, another is interesting but takes too long to explain, while a third is actually heartwarming. And it handles Christian's autism with care, never stooping to feeling like a "very special episode" of a Jason Statham movie.
The cast is first rate from top to bottom, offering fans a first look at Simmons and Affleck together, the Commissioner Gordon to his Batman in the upcoming "Justice League" movies.
"The Accountant" probably won't make you forget Affleck's other October surprises, but it adds up to a fun, clever night out.
If nothing else, it will ensure you never again look the same way at those nerds they drag out at the Oscars each year for their 60 seconds of fame.
Contact Christopher Lawrence at clawrence@reviewjournal.com. On Twitter: @life_onthecouch.
Review
Movie: "The Accountant"
Running time: 128 minutes
Rating: R; strong violence and language throughout
Grade: B
Now playing: At multiple locations