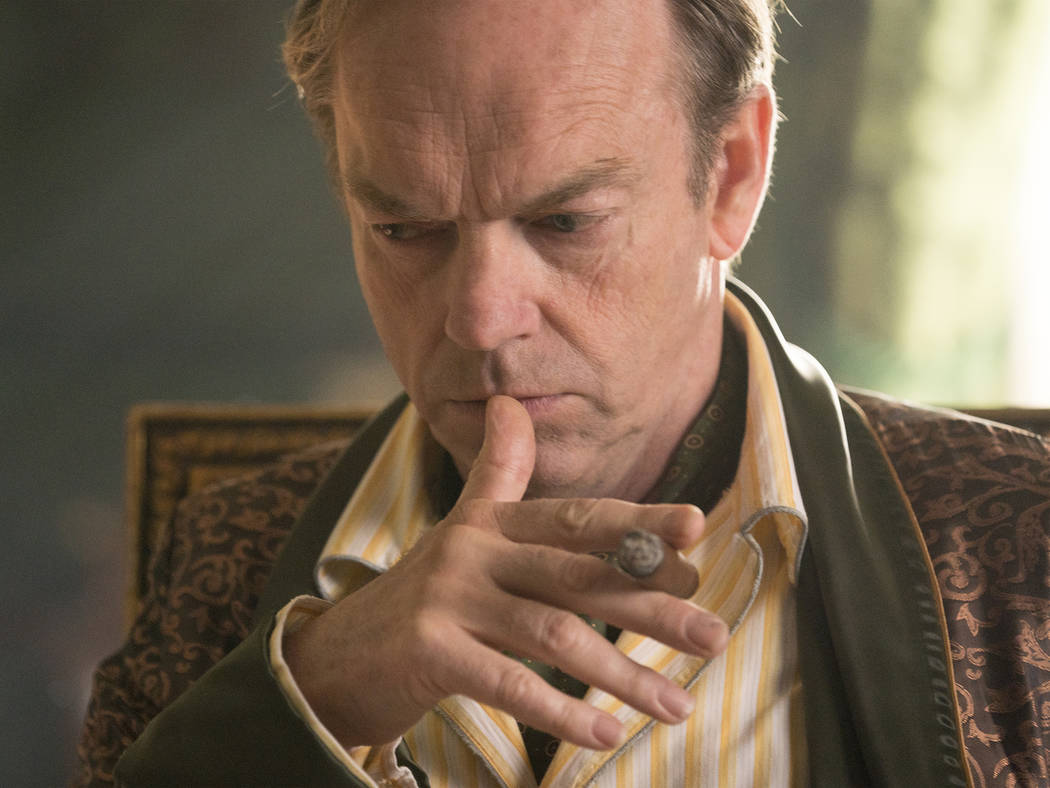 Benedict Cumberbatch can die happy.
"I've only ever had two roles on my acting bucket list," the actor wrote in a note to TV critics, "Patrick Melrose and Hamlet."
What, no Doctor Strange?
Cumberbatch ticked the second box with his 2015 run of "Hamlet" at London's Barbican Theatre, tickets for which sold out in minutes a year in advance.
Now, he's tackling his first goal in "Patrick Melrose" (9 p.m. Saturday, Showtime), a decade-spanning five-part series, each episode of which adapts one of Edward St Aubyn's semiautobiographical novels.
The three episodes Showtime provided are among the best television I've seen this year.
The first, "Bad News," begins with Patrick receiving a transatlantic phone call in his London home informing him that his father has died in New York. His responses are halting, not because of the transmission delay — it's 1982 after all — or his sorrow but the heroin he's just injected.
Smoking a cigarette in the shower while thinking back on a childhood trauma that becomes more evident as the episodes unfold, it's clear Patrick has a more loving relationship with needles than his Mephistophelean father, David Melrose (Hugo Weaving). Questioned about the cause of his not-very-dear old dad's demise, Patrick responds, "I forgot to ask. I was too dizzy with glee. I'm sorry, I mean dazed with grief."
At first blush, Patrick is quintessential Cumberbatch. He's a smug loner who's smarter than, and dismissive of, everyone else in the room. Asked by a waiter if he'd "care for a dessert," Patrick doesn't even attempt to hide his disdain. "Care for it? How do you care for a dessert? Feed it? Visit it on Sundays?"
But there's far more to him than that, and it's largely the fault of his upbringing by the abusive David and his drunk, self-medicated mother, Eleanor (Jennifer Jason Leigh), who must have required exhaustive neck surgery at some point based on the amount of time she spends looking the other way. When it comes to despicable parents, they're first-ballot Hall of Famers.
Saturday's premiere has its darkly comic moments, but it can be a difficult watch as Patrick travels to New York to collect David's ashes while trying to kick heroin. High on speed and quaaludes while suffering from jet lag and withdrawals, he trashes his room at the Drake Hotel. And he delivers rambling, drug-addled external monologues that typically would be internal.
But if you stick with it, "Patrick Melrose" morphs from a character study of an obnoxious addict to an exploration of how parents can effectively ruin a child's life before it really even begins. It also grows into an indictment of England's class system and the dangers of "privilege."
The second episode, "Never Mind," is framed as a withdrawal-induced flashback to the incident that shaped Patrick's miserable life. Sebastian Maltz is devastating as he portrays a young Patrick as a wounded animal. It's a gripping, haunting tale of staggering cruelty and neglect.
The third, "Some Hope," offers just that as Patrick tries to move on with his life in 1990 while white-knuckling sobriety.
Weaving is flat-out terrifying as the abhorrent David, and the "Matrix" and "Lord of the Rings" alum would dominate the discussion of "Patrick Melrose" if it weren't for the presence of Cumberbatch. Sherlock Holmes forever may be his signature role, but he's never before shown this much range and magnetism on screen.
If, as David drilled into Patrick's head, "hard work and ambition are vulgar," Cumberbatch's performance is a masterpiece of vulgarity.
Contact Christopher Lawrence at clawrence@reviewjournal.com or 702-380-4567. Follow @life_onthecouch on Twitter.