'Best Exotic Marigold Hotel' shows finding beauty an ageless pursuit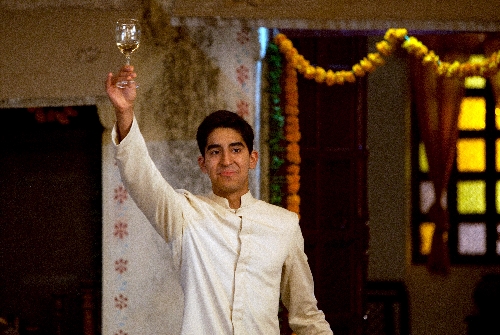 It's no secret that senior citizens are treated only slightly better by Hollywood than they were by the makers of soylent green.
At least those guys showed an interest.
After all, until Sylvester Stallone returns with the creaky killers of "The Expendables 2," anyone of retirement age is mostly relegated to the third act of "Battleship," helping Batman and those cameos by Stan Lee.
Heck, even Tommy Lee Jones is sidelined for much of this weekend's biggest release, "Men in Black 3."
Thankfully for a generation that wouldn't know that sequel's Agent K from a breakfast cereal, there's the genial, gentle "The Best Exotic Marigold Hotel."
Sonny Kapoor ("Slumdog Millionaire's" Dev Patel), an innkeeper fueled by dreams and a relentlessly positive disposition, knows full well the apathy most countries show their elderly. He hopes to remedy that by "outsourcing old age" – luring retirees from around the world to the ramshackle hotel in Jaipur, India, he lovingly names The Best Exotic Marigold Hotel for the Elderly and Beautiful.
His first tenants, seven Brits of varying means, are enticed by little more than those dreams, since the enchanting brochure depicts a place that doesn't yet exist. "A vision of the future," Sonny calls it. But the present consists of nonfunctioning phones, spotty plumbing and birds roosting in some of the guest rooms.
The seven strangers – well, five strangers and an emotionally estranged couple – are thrown together like a "Breakfast Club" for the senior set. "The Early Bird Dinner Club," if you will.
They're an eclectic lot, portrayed by a who's who of British acting that assures you from the start that you're in more-than-capable hands.
There's the recent widow (Judi Dench) on her own for the first time. The henpecked husband (Bill Nighy) and his horrible wife (Penelope Wilton), who lost their savings in their daughter's Internet startup. The miserable xenophobe (Maggie Smith) waiting for a cut-rate hip replacement. The bachelor (Ronald Pickup) and divorcee (Celia Imrie), both of whom are on the prowl. And the former judge (Tom Wilkinson) returning to his boyhood home and searching for a lost love.
The plot is a collection of stories of self-discovery, of finding beauty in unexpected places (the travelogue-style shots of India are nearly worth the price of admission), and how the characters embrace their new surroundings – or don't.
Directed by John Madden ("Shakespeare in Love") and based on Deborah Moggach's novel "These Foolish Things," "Marigold Hotel" treats its characters like living, breathing people.
For each of the (admittedly few) generic scenes – discovering the Kama Sutra; the obligatory Viagra bit; Pickup's Norman complaining, "I've still got it, I just can't find anyone who wants it" – there are plenty of very real insights into what it means to grow old today.
Imrie's Madge, the Blanche Deveraux of the group, for instance, is terrified of looking her age. Her cleverly dismal lament: "I don't want to be the first person to be let off the plane in a hostage crisis."
Much like its stars, "Marigold Hotel" sags a bit here and there.
And there's not enough of veteran character actor Bill Nighy ("Love Actually"). But there's rarely enough Bill Nighy. Bill Nighy could perform a one-man show about the joys of being Bill Nighy, and it would still fall short.
Even so, you'll laugh, you'll cry, you'll think twice before cursing at the next elderly driver clogging up traffic.
And for some, in this season dominated by explosions, aliens and those flying sea turtle things from "The Avengers," that may be the greatest special effect yet.
Contact Christopher Lawrence at
clawrence@reviewjournal.com or 702-380-4567.
Review
"The Best Exotic Marigold Hotel"
122 minutes
PG-13; sexual content and language
Grade: B+
At multiple locations