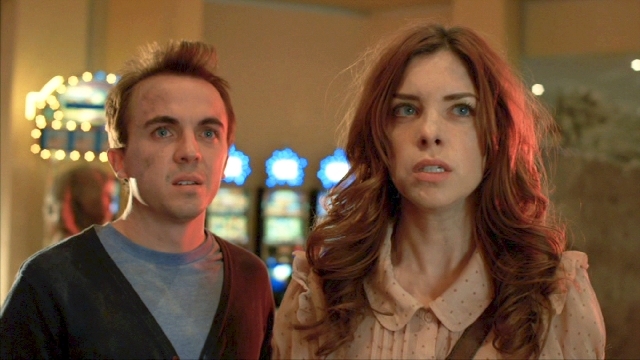 Oh, sure, it may sound stupid.
Three fraternity brothers drag their nerdy friend ("Malcolm in the Middle's" Frankie Muniz) to Las Vegas for spring break. They meet up with three sorority girls who've also dragged their nerdy friend to Las Vegas for spring break. Then they steal a cursed Egyptian artifact from a casino and unleash a horrible sandstorm that sometimes assumes the shape of a giant snake as it destroys the Strip. Their only hope for survival? An aging lounge singer played by Barry Bostwick.
But you can learn a lot from the Syfy original movie "Blast Vegas" (9 p.m. Thursday).
Twenty-eight things to be exact.
1. There's a second Egyptian-themed hotel on the Strip that should in no way be confused with Luxor.
2. Despite mustering a sparsely attended pool party — so cheap its only decorations are a chintzy "Spring Break Las Vegas" banner and a couple of Egyptian-looking knickknacks from Pier 1 — and a nearly empty casino floor, the Hotel Isis can afford the "priceless" sword of Egypt's Thutmose III.
3. Casinos have really good insurance. The Hotel Isis just leaves the relic from 1425 B.C. in the lobby with a complete lack of video surveillance and no security aside from an easily distracted rent-a-cop.
4. If you're going to have a couple of nerds tag along on your Las Vegas adventure, try to find some who are majoring in geology and ancient history.
5. Nerds have names such as Nelson and Olive.
6. Nerds say things such as "indeed" or "I've studied sandstorms in arid and semiarid regions (and) I've never heard of a storm this powerful."
7. If you're Joey Lawrence's younger brother Andrew and you're striving to portray a convincingly wasted frat guy who bumps into a coed before yelling at her to "Watch the brew!" it's best to make sure your two plastic cups of "brew" aren't bone dry.
8. Andrew Lawrence is still acting.
9. When confronted with the sight of the toppled Paris Las Vegas balloon rolling down the Strip, tourists will inevitably flee in a straight line until they're squished rather than simply stepping out of its way.
10. The Statue of Liberty has amazing regenerative powers. First, its fallen, broken ruins are the centerpiece of a scene in which an Elvis impersonator is menaced by a tiger. Then much later, as the sandsnake flies — or does whatever it is sandsnakes do to get around — Lady Liberty is shown upright, in its original location, without a scratch on it.
11. The same goes for the Paris Las Vegas balloon.
12. Getting a bunch of nonactors to convincingly react in terror to hokey, computer-generated sand isn't as easy as it sounds.
13. Also hard? Creating a lifelike computer-generated tiger. You'll have a whole new respect for "Life of Pi."
14. "This whole town is connected with an underground network. Service tunnels. They run the whole length of the town."
15. These underground tunnels are furnished with ceiling tiles.
16. Deep in the heart of a casino, during a cataclysmic sandstorm of biblical proportions, some people can still get cell service. (Meanwhile, even on the clearest of days, my iPhone loses its signal if I wander too close to a slot machine.)
17. In case of a disaster, the safest place you could be is in a casino sports book. They're "wired like the Pentagon."
18. Should such an apocalyptic event occur, your biggest impediment to getting from one end of the Strip to the other won't be the thousands of stalled or destroyed cars gumming up Las Vegas Boulevard. Seriously, it'll be deserted. Your biggest impediment will be a series of well-spaced chunks of foam painted to look like rubble.
19. After suffering devastation on an epic scale, a parking garage is going to look exactly as it did before, only with plenty of crumpled newspapers strewn about.
20. The urn that's rumored to have held Julius Caesar's ashes is in the Caesars Palace warehouse.
21. There's a Caesars Palace warehouse.
22. The Golden Nugget's 61-pound nugget, The Hand of Faith, can be accidentally cleaved into tiny pieces by a cheap-looking battle ax.
23. Despite several mentions of it being downtown, based on establishing shots, the Golden Nugget is located right in the heart of the Strip.
24. When in doubt, trust the old dude with white hair and a black goatee, a gold chain and a sparkly shirt unbuttoned to his navel who as a kid "did a little messenger work for Meyer Lansky."
25. If you stay here long enough, you'll eventually start talking in increasingly non-sequitur-ish gambling cliches.
26. Even in the middle of the end of the world — or at least the end of Las Vegas — somebody's bound to get a little rapey.
27. Every casino in Las Vegas looks suspiciously like the Fantasy Springs Resort Casino in Indian Springs, Calif.
28. Between them, Muniz and Bostwick have an Emmy nomination, three Golden Globe nominations including a win, three Tony nominations including a win, and eight Teen Choice Awards nominations. Technically, you don't actually learn this. It's just worth remembering.
Contact Christopher Lawrence at clawrence@
reviewjournal.com or 702-380-4567.