'Bridget Jones's Baby' isn't exactly a bundle of joy
September 15, 2016 - 11:22 am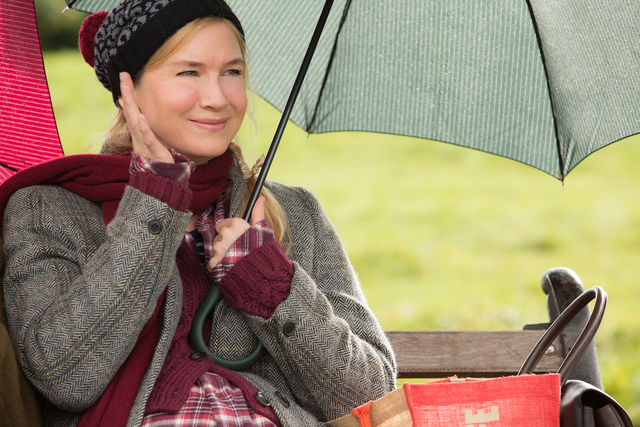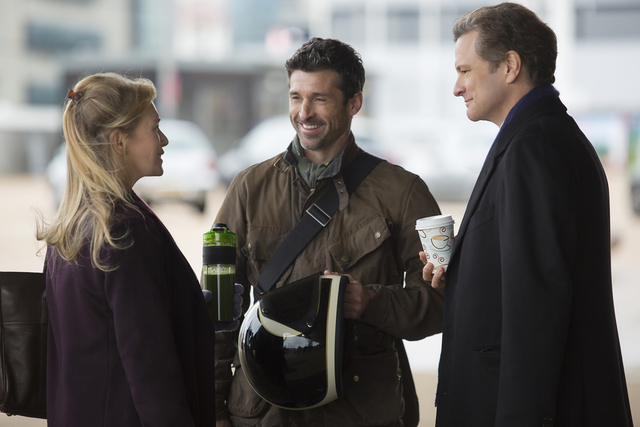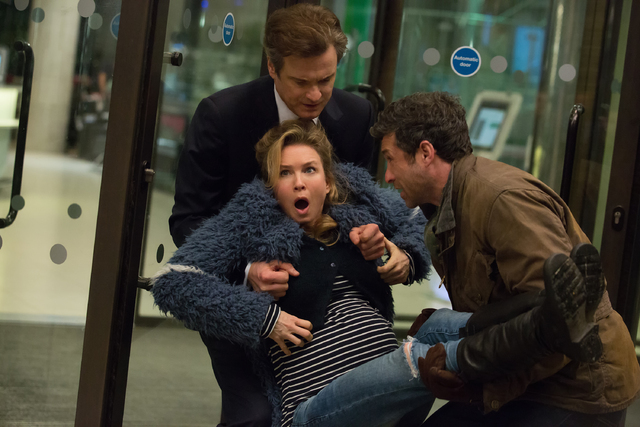 Sure, "Bridget Jones's Baby" feels as though it were Frankensteined together from a collection of hoary old sitcom gags and a couple of dusty scripts for abandoned Katherine Heigl rom-coms.
But it's such an improvement over 2004's "Bridget Jones: The Edge of Reason," it might even make fans of the accident-prone British diarist forgive — if not exactly forget — that particular atrocity.
"The Edge of Reason" is a pretty low bar to clear, to be sure, considering a good bit of the sequel to the massively popular "Bridget Jones's Diary" was spent with its heroine (Renee Zellweger) locked away inside a Thai prison, facing drug-smuggling charges and teaching her fellow inmates to sing "Like a Virgin" using tampons as microphones.
Anyway, "Bridget Jones's Baby" picks up with Bridget celebrating her 43rd birthday, alone in her flat with a cupcake and a candle, wondering, "How in hell did I end up here again?"
Her dating life may not have improved — "I'm beginning to think I'm past my sexual sell-by date," she sighs — but her career certainly has. No longer a field reporter bouncing from one humiliating puff piece to the next, Bridget's now a respected producer at a hard news show that's so full of hard news it's actually called "Hard News."
Sensing that she needs some fun in her life, Bridget's friend and "Hard News" anchor Miranda (Sarah Solemani) drags her to a music festival, where Bridget mistakenly finds herself in the wrong yurt and in bed with a dashing American named Jack (Patrick Dempsey). The next morning, she leaves without even learning his last name.
Meanwhile, after years apart, Bridget encounters her ex, Mark Darcy (Colin Firth), at a funeral and a christening in the same week. At the latter, they rekindle their love — if only for the night.
Given the proximity of her trysts, once Bridget becomes pregnant, she can't be sure which man is the father.
Bridget's in this predicament, it turns out, because she didn't realize the expiration date on her "dolphin safe" condoms was a real thing — that they really could, in fact, go bad — yet somehow society is comfortable allowing her to be responsible for the life of another human being.
This is terrifying.
Once she reconnects with Jack, Bridget tells both men she's pregnant and lets each of them think he's the father. Eventually, after many contrivances — including setting up separate ultrasounds for each of them with her doctor (Emma Thompson) — Bridget comes clean.
Jack and Darcy help her through the pregnancy classes, and a natural rivalry ensues. But, unlike the previous two movies in which "nice guy" Darcy competed with that scoundrel Daniel Cleaver (Hugh Grant) for her affections, Jack is even — in Dempsey's old "Grey's Anatomy" parlance — McDreamier.
Either way, Bridget wins, so there's precious little drama to be had. But that didn't stop several women at the screening from shouting out things like "Team Jack!" and "Pick him!" (Honestly, what has become of civilized society?)
"Bridget Jones's Baby" has a certain sense of nostalgia about it. Bridget's creator, novelist Helen Fielding, wrote the script along with Thompson and Sacha Baron Cohen collaborator Dan Mazer. "Diary" director Sharon Maguire returns after wisely skipping "The Edge of Reason." And most of the original cast members come back for at least a cameo.
Then there's the unintentional nostalgia, as the movie goes a long, long, long way to make a creaky "Gangnam Style" joke. Say what you will about Zellweger's face — and many people have — but it's nowhere near as distracting as that bit.
After a promising start, "Bridget Jones's Baby" gets more nonsensical as it goes, culminating in a ridiculous race to the hospital that should have embarrassed everyone involved.
Still, it had the overwhelmingly female crowd roaring with laughter, and they seemed to get the happy ending they wanted.
Even if "Bridget Jones's Baby" isn't exactly a bundle of joy.
Contact Christopher Lawrence at clawrence@reviewjournal.com. On Twitter: @life_onthecouch.
Review
Movie: "Bridget Jones's Baby"
Running time: 123 minutes
Rating: R; language, sex references and some nudity
Grade: C+
Now playing: At multiple locations