'Bright Lights' documentary serves as a fitting eulogy for Carrie Fisher, Debbie Reynolds
January 5, 2017 - 1:14 pm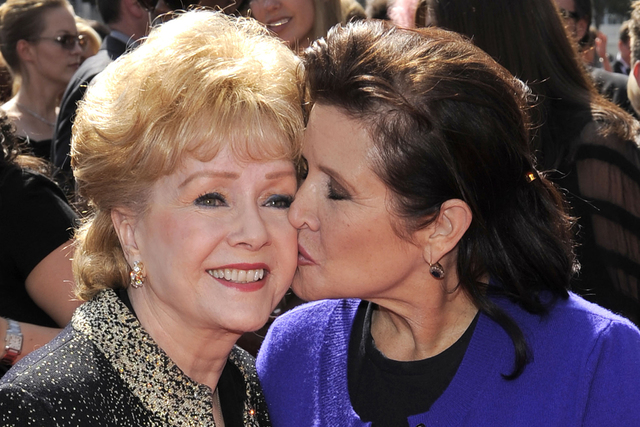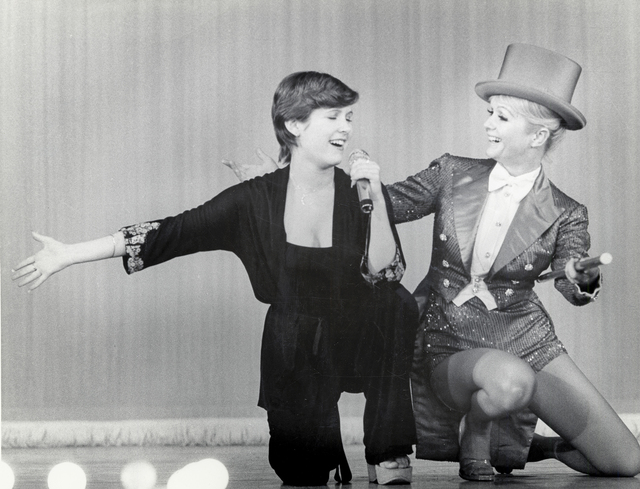 Of all the entertainers we lost in 2016, 366 days that will be remembered as the Limp Bizkit of years, nothing seemed more shockingly cruel than the back-to-back deaths of Carrie Fisher and Debbie Reynolds.
If the first felt like a punch to the gut, the second was a steel-toed boot to the groin.
It's even more painful once you realize just how close the two had become after the once-rocky relationship that Fisher chronicled in "Postcards from the Edge." That bond — more best friends than mother-daughter — is the focus of the documentary "Bright Lights: Starring Carrie Fisher and Debbie Reynolds" (8 p.m. Saturday, HBO).
It's a raw, revealing, hairy-warts-and-all look inside their lives and the Beverly Hills compound — part museum, part funhouse — they shared. And it serves as a fitting eulogy for both, only occasionally coming across as more heartbreaking than heartwarming.
"You have films that I'm happy," Fisher remarks in disbelief as home movies from her childhood open the documentary.
"Oh, yes," Reynolds replies. "Well, because you doubted it for so long."
"This is getting so ugly so fast," Fisher jokes, barely a minute in.
In addition to the home movies, there's a treasure trove of archival footage. The predictable highlights of Reynolds' film career are accompanied by screen tests and scenes of her dancing alongside Liberace. Fisher is pulled onstage to sing "Bridge Over Troubled Water" as part of her mother's lounge act at 15 — just a few years before she would begin dating the song's writer, Paul Simon. And there are shots of fairly primitive paparazzi, actual flashbulbs popping away, camped outside Reynolds' home shortly after her first husband, Eddie Fisher, left her for Elizabeth Taylor.
But the heart of "Bright Lights" is getting to experience the two bantering, as when Reynolds shows off one of Taylor's dresses, part of her legendary collection of Hollywood memorabilia. "It has a drag queen element," Fisher says, dismissively.
Given the events of the past month, some of that banter comes across as absurdly grim. Fisher, convinced that Reynolds loved her less than her brother, Todd, who's interviewed inside his Las Vegas home, asks Reynolds what she's getting in the will. At one point, Reynolds talks about staying onstage until she dies and then "being stuffed like Trigger."
"Bright Lights" doesn't shy away from the health problems of either of its subjects. Fisher is shown during a manic episode, and she talks freely about her addictions and her two moods she's named Pam and Roy. Reynolds appears so frail at times, you'll wish directors Alexis Bloom and Fisher Stevens would have yelled "Cut" more frequently. But there's a certain bravery in Reynolds, once one of Hollywood's most glamorous stars, allowing a glimpse behind her vanity.
Regardless of her health, Reynolds simply refuses to retire, which irritates Fisher to no end. "Performing feeds her in a way family cannot," she sighs.
A weekend of shows at the South Point in 2014 ends up being both melancholy and triumphant.
"If you're going to retire, you retire," Fisher complains. "She retires and then books an engagement in Las Vegas and then says, 'Come help me.' "
Which Fisher naturally does.
"My mother would say, 'Do drugs, do whatever you need to do. But why won't you sing?' That was my big rebellion," Fisher says about her decision to forgo a music career. But there she is, joining Reynolds onstage at those South Point shows, singing "I'll Never Say No to You" from her mother's Oscar-nominated turn in "The Unsinkable Molly Brown," altering the lyrics with references to being bipolar and doing too much blow.
Those shows, and getting to them by riding a scooter anonymously across the South Point's casino floor, couldn't have been the way Reynolds envisioned saying goodbye to Las Vegas when she began her relationship with the city six decades ago.
But it seems more fitting that she was surrounded during the rambling, low-key affair by her family: Carrie, Todd and her granddaughter, Billie Lourd.
Especially because "Bright Lights" showcases just how much family meant to Reynolds.
It even closes with the final words the world will ever hear from the Hollwood legend as she tells Fisher, sweetly, "You know I love you."
Contact Christopher Lawrence at clawrence@reviewjournal.com. On Twitter: @life_onthecouch.