'Castle Rock' show takes place in Stephen King shared universe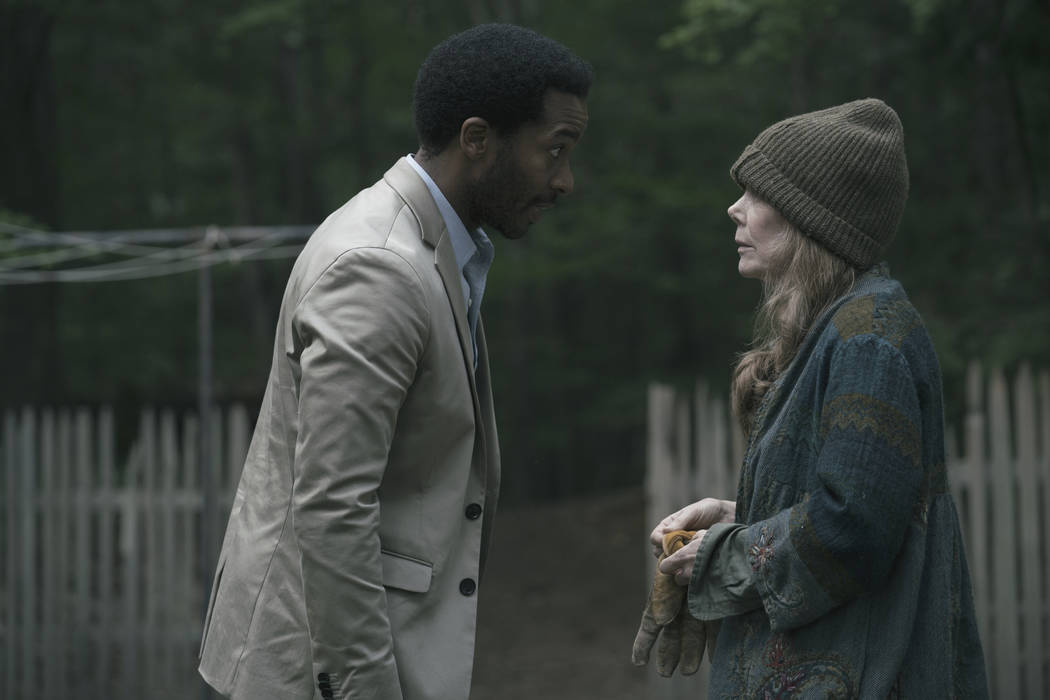 Terry O'Quinn portrays a man who solely and steadfastly believes in the seemingly impossible in a series produced by J.J. Abrams. Also, there's a mysterious hatch.
"Castle Rock" (Wednesday, Hulu) isn't "Lost." It isn't that bizarre — at least not through the first three episodes. But it's certainly well on its way.
The ensemble drama is the first attempt at a Stephen King shared universe, but don't expect to see Pennywise, Jack Torrance and Annie Wilkes teaming up to wreak havoc. "Castle Rock" may not be "Lost," but it isn't "The Avengers," either.
Instead, Dale Lacy (O'Quinn), the retiring warden at Shawshank prison, has finally realized there's something not quite right about the hamlet where much of the madness in King's novels takes place.
He's kept a file of newspaper clippings of some of the strange occurrences in Castle Rock: "Rabid Dog Tears Through Town" ("Cujo"); "Shopkeeper Missing After Oddity Store Fire" ("Needful Things"). He also makes reference to the Castle Rock Strangler ("The Dead Zone") and refers to 1961 as "the fall after they found that boy's body out by the train tracks." (That scenario, taken from the King novella "The Body," would become better known in the movie "Stand by Me.")
"Castle Rock" focuses on death-row attorney Henry Deaver (Andre Holland, "Moonlight"), a former resident who returns to town decades after he went missing for 11 days and survived subzero temperatures before reappearing with no memory of where he'd been.
And he's the normal one.
Elsewhere in "Castle Rock," a Shawshank guard (Noel Fisher) makes a rare visit to Cellblock F, which has been closed since the Christmas fire of 1987, where he's shocked to find an uncommunicative prisoner (Pennywise himself, Bill Skarsgard) who eventually struggles to say three words: Henry Matthew Deaver.
Henry's former neighbor (Melanie Lynskey), meanwhile, buys pills from a kid on the street to self-medicate what her sister derisively refers to as her "undiagnosed psychic affliction." Odds are, you'd need some black-market help, too, if you were a real estate agent in a town where every building was the site of some type of horror show. As Warden Lacy says of Castle Rock, "Every inch is stained with someone's sin."
Other ties to King's works include Scott Glenn as Alan Pangborn, the former Castle Rock sheriff who found Henry wandering alone in 1991 and figured prominently in "Needful Things" and "The Dark Half." And "Carrie's" Sissy Spacek co-stars as Henry's adoptive mother, Ruth.
Created by Sam Shaw and Dustin Thomason (WGN America's "Manhattan"), "Castle Rock" isn't based on a particular King story, but because of its ties to the prolific horror writer, there's an evil lurking inside the town that causes it to seemingly rot from the core.
Strange things are underfoot, and they're only becoming more so.
"Castle Rock" may not be "Lost," but it's certainly worth getting lost in.
What to watch
The sixth season of "Orange Is the New Black" (Friday, Netflix) picks up a week after the emergency response team stormed Litchfield with the inmates coming to terms with their new reality.
"Ronda Rousey Uncaged" (10 p.m. Sunday, Discovery), in which the UFC Hall of Famer confronts underwater predators, is among the highlights of the 30th annual Shark Week, airing Sunday through July 29.
After six seasons and a move from ABC to cable, the soapy country-music drama "Nashville" (9 p.m. Thursday, CMT) comes to an end.
An attorney (Kristin Kreuk, "Smallville") fights for a group of sick children in the drama "Burden of Truth" (8 p.m. Wednesday, The CW).
Contact Christopher Lawrence at clawrenc @reviewjournal.com or 702-380-4567. Follow @life_onthecouch on Twitter.