'Christopher Robin' an enjoyably strange trip to the Hundred Acre Wood
Updated August 2, 2018 - 7:16 pm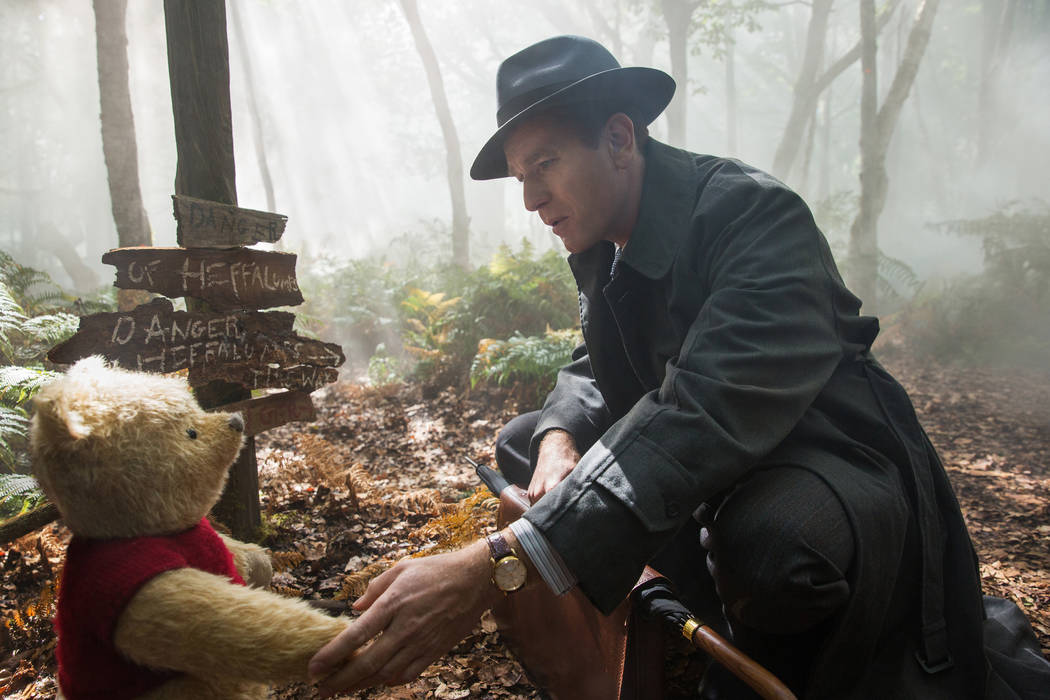 Few things will break you out of a rut and get your mind right faster than having a friend you haven't seen in 30 years show up in your yard, unannounced, without wearing any pants.
That's pretty much how Winnie the Pooh operates, though — with a combination of wide-eyed innocence and behavior that would land anyone else in jail or a mental ward — throughout Disney's "Christopher Robin."
It's a movie every bit as messy as its "hunny"-craving bear, though only somewhat as lovable.
The titular storybook hero (Ewan McGregor), having grown up and survived World War II since leaving the Hundred Acre Wood for boarding school all those many years ago, is now the harried efficiency manager at a London luggage company.
His wife, Evelyn (Hayley Atwell), hasn't seen him laugh in years, and his 9-year-old daughter, Madeline (Bronte Carmichael), is desperately looking forward to a weekend at Christopher's childhood cottage, where she'll get to play where he once played before she, too, is shipped off to boarding school.
Christopher's boss, however, has other intentions. The company is struggling, and if Christopher can't come up with a cost-cutting plan to save it over that very weekend, he may not have a job come Monday.
Just as Evelyn and Madeline are leaving Christopher behind for the country, Pooh (Jim Cummings, in his 30th year of voicing the bear) realizes that all of his friends are missing from the Hundred Acre Wood. Since Christopher Robin has taken on an almost mythical resonance since they've seen him, Pooh goes looking for his help — by walking inside a tree and popping out in the middle of London.
Pooh, along with the primary characters of Eeyore (Brad Garrett), Tigger (Cummings again) and Piglet (Nick Mohammed), are brought to life, seams and all, with a heavy dose of movie magic — and just a touch of creepiness. The initial effect isn't that far removed from those nightmares where your stuffed animals come alive after you've gone to sleep. McGregor is as game as any actor for the role, but given his resume, it's easy to think the whole talking toys thing is merely a hallucination and you've accidentally stumbled into the "Winnie the Pooh"-"Trainspotting" mashup you never knew you wanted.
Directed by Marc Forster ("Finding Neverland") from a script by Alex Ross Perry, "Spotlight" Oscar winner Tom McCarthy and Allison Schroeder ("Hidden Figures"), "Christopher Robin" feels like two drastically different movies grafted onto each other.
Oh, bother.
For the first hour or more, it's a somber, artsy meditation on lost childhoods and being outgrown.
The Hundred Acre Wood is downright gloomy. We first meet Eeyore (a terrific use of Garrett's laconic baritone) as he's floating down a stream toward a waterfall, ready to end it all. When Christopher snaps and tells Pooh he hasn't thought about him since childhood, the response — "We think about you every day," in Pooh's doddering-old-man whisper — evokes all of the feels.
The last half hour or so, though, is a madcap romp through London that's clearly aimed at the child behind me who'd become so disengaged early on, his dozen or more loud queries sent me scurrying to a faraway seat.
The end result may be discordant, but both ideas are enjoyably strange.
"Sometimes when I'm going somewhere and I wait," Pooh says, doling out some of his famous wisdom, "somewhere comes to me."
Given the abrupt change in tone, the makers of "Christopher Robin" didn't seem to have much faith in where their film was going.
It's impossible to tell if somewhere came to them.
But "Christopher Robin" still is worth "oh, bother"-ing to see.
Contact Christopher Lawrence at clawrence@reviewjournal.com or 702-380-4567. Follow @life_onthecouch on Twitter.
Review
Movie: "Christopher Robin"
Running time: 104 minutes
Rating: PG; some action
Grade: B-
Now playing: At multiple locations