Couchies recognize best, worst of TV season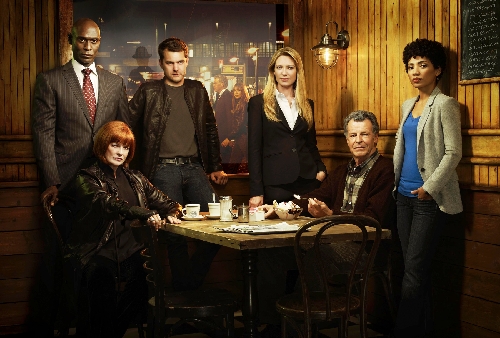 The middle of May traditionally means two things.
First and foremost, National Sea Monkey Day is Monday, so there's still time to finish your shopping.
But it's also time for the Couchies, the annual look back at the TV season that's the only awards show guaranteed to take up less of your time than NBC's gone-in-60-minutes comedy, "The Paul Reiser Show."
Fess up, how many of you even knew that was a show?
And that failure pretty much sums up the 2010-11 season. At least on the networks, where the closest things to a new hit they could muster were CBS' less-interesting-by-the-week "Hawaii Five-0" and "Blue Bloods," which, thanks to its kitchen-table debates, still feels too much like "The View" with guns.
And the Couchies go to:
Best Use of Southern Nevada: CBS' "The Defenders"
The Vegas-set legal drama didn't make a lot of noise. But the way it was filmed managed to make even some of the valley's sketchier addresses look like one of the Strip's gleaming, glistening monuments to excess that would dole out six figures for an appearance by one of the lesser Kardashians.
Worst Use of Southern Nevada: MTV's "The Real World"
There's a time and a place for this particular brand of televised idiocy and drunken jackassery. The time was 2002, and the place was the Palms.
Best Validation: Charlie Sheen
Somewhere along his path of career immolation, the actor confirmed what I've been telling people for years: "Two and a Half Men" is terrible. It's likely the most rational thing Sheen has said all year.
Biggest Fall From Grace, Non-Charlie Sheen Division: Fox's "Glee"
The once-brilliant take on high school and outsiderdom discarded such things as character development and plot in an all-out assault on the iTunes charts with its note-for-note covers of current pop songs. As a result, "Glee" has become TV's version of those Kidz Bop albums — only with less emotional resonance.
Most Random Takedown of a Strip Headliner: The CW's "Supernatural"
Two years ago, the cooler-than-thou demon-hunting drama titled an episode "Criss Angel Is a Douche Bag." This season, the angel Balthazar (Sebastian Roche) traveled back in time to save the Titanic, thereby altering the course of history. Why? "That godawful Celine Dion song made me wanna smite myself." And what became of Celine in the alternate world he created? "She's a destitute lounge singer somewhere in Quebec. And let's keep it that way."
Most Obnoxious Promos: NBC's "The Voice"
Ads for the singing contest eat up half the screen during other series, leaving viewers to guess what's happening on their favorite shows by following the characters' eyebrows.
Most Discouraging One-Two Punch: FX's "Terriers" and "Lights Out"
The cable powerhouse's most recent dramas — two of the best new series of the season — were canceled after so few viewers turned up, you'd have sworn they were airing on NBC. Possibly behind "The Voice" mentor Christina Aguilera's giant head.
Least Enticing Story Pitch: TLC's "Strange Sex"
An email alerting critics to the episode featuring Jonah Falcon, described as "the world's most endowed man," included the following line: "Jonah is available to talk about being the 'most endowed man.' " Something tells me the hard part is getting Jonah to not talk about being the "most endowed man."
Best New Comedy About a Slacker Parenting the Baby He Fathered During a One-Night Stand with a Serial Killer: Fox's "Raising Hope"
No contest.
Most Unfortunate Metaphor: Showtime's "Gigolos"
When a client hires four of the Vegas-based reality show's five male escorts for some group sex, veteran gigolo Brace gets cold feet, angering newcomer Vin. During unsettling footage of the act, Vin compares the situation to being "called out on a job to dig a ditch" and having one member of the crew "standing there leaning against his shovel" while "three of us are in a 6-foot-deep trench."
Prickliest Newcomer: ABC's "Mr. Sunshine"
The Matthew Perry comedy never really seemed to care if viewers liked it. Unfortunately, for the most part, they didn't.
Best Line: FX's "Justified"
Raylan Givens (Timothy Olyphant) on coal mining: "I tell ya, I'm not afraid of heights, snakes or red-headed women, but I am afraid of that."
Best Appetite Suppressant: AMC's "The Walking Dead"
In order to mask their smell and sneak past the undead hordes, Rick (Andrew Lincoln) and Glenn (Steven Yeun) spent far too long slathering zombie innards all over themselves. By the end, they were so covered in guts, it was tough not to hurl up some of your own.
The "Lost" Memorial What the (Expletive) Award: Fox's "Fringe"
In its third season, the daring sci-fi drama finally embraced its geekhood with its moving tale of alternate universes. "Fringe" didn't just bend the rules of time, space and logic, it turned them into origami.
Christopher Lawrence's Life on the Couch column appears on Sundays. Contact him at clawrence@reviewjournal.com.