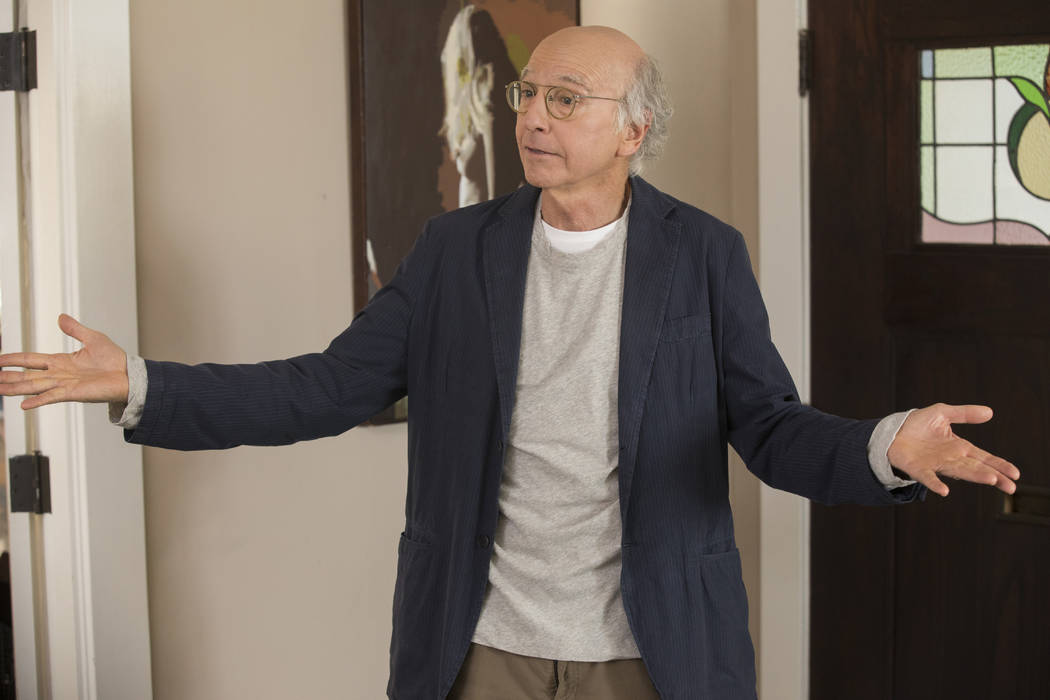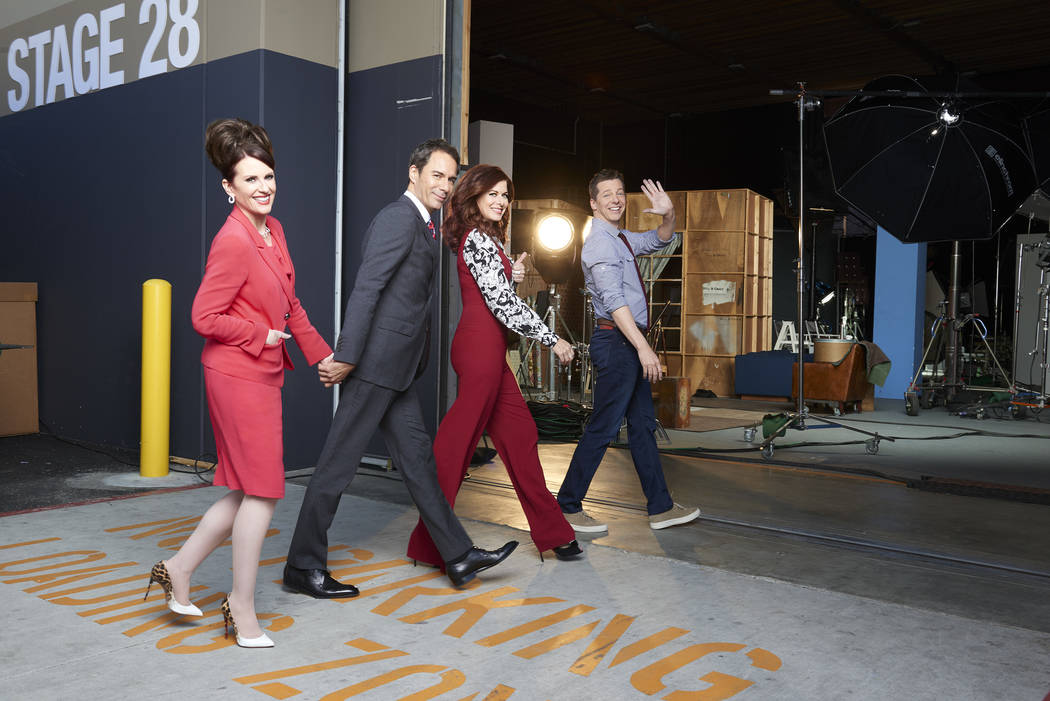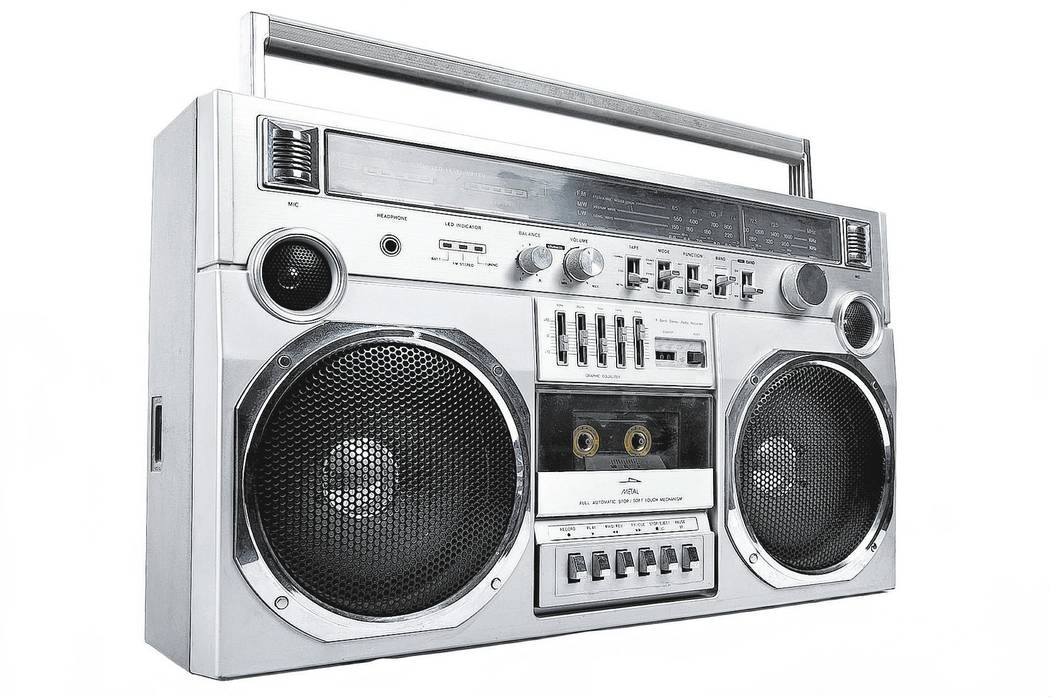 In one of the promos for the upcoming ninth season of "Curb Your Enthusiasm" (10 p.m. Sunday, HBO), Larry David is summoned back to television by having his sour puss reflected on the clouds, Batsignal-style.
It's been more than six years since David last made viewers wince, and fans — heck, even David's co-stars — refused to stop pestering him about when there would be new episodes. There was a pent-up demand to squirm at his indifference. People simply couldn't wait to hear him describe something, anything as being "prit-ty, prit-ty, prit-ty good."
On the flipside, no one was clamoring for a ninth season of "Will & Grace" (9 p.m. Thursday, NBC) — except, perhaps, its Emmy-winning cast. Yet here it is anyway, back for 16 episodes, with 13 more already ordered for 2018-19.
While "Curb" never was canceled and simply was mothballed until David felt motivated, sort of like the state of FX's "Louie," "Will & Grace" is among a growing number of series that simply refuse to die.
■ After middling success with reviving "24" and "Prison Break," Fox found a keeper with "The X-Files," which is returning for a second "event series" in 2018.
■ "American Idol" was barely off the air a year before ABC ordered a reboot for this season, which also will see the return of new episodes of "Roseanne" after an astounding 21 years.
■ Showtime just wrapped its new season of "Twin Peaks."
■ CBS snuck a de facto season of "King of Queens" onto the airwaves this week by killing off Kevin James' "Kevin Can Wait" wife (Erinn Hayes) and replacing her with his "Queens" co-star Leah Remini.
■ MTV is even dusting off "TRL" (3:30 p.m. Monday), the one-time home away from home for Britney Spears, 'N Sync and the Backstreet Boys.
And that doesn't count this fall's remakes, such as The CW's "Dynasty," which somehow makes being filthy rich look cheap, and CBS's "S.W.A.T.," an update of the 1975-76 series with the sort of name recognition that surely will have millennials lining up to download episodes to their smartwatches.
HBO didn't release screeners for the new season of "Curb," so I don't know what to expect. But NBC sent out the first three episodes of "Will & Grace," and, surprisingly, it's as though the cast hasn't missed a beat.
Sure, the premiere plays to its base with plenty of Trump jokes. During game night, one of the show's signature bits, Grace (Debra Messing) responds to the clues "rich" and "hostage" not with the correct answer, Patty Hearst, but with "Melania." And the writers throw in references to "fake news" and somebody being "woke" just to let you know this really is taking place in 2017. Or, in the case of woke, at least 2015.
By the second episode, though, Grace and Karen (Megan Mullally) become locked in a rapidly filling $100,000 shower in a bit that would have made Lucy and Ethel proud, and Jack (Sean Hayes) has the world's strongest magnets in his pants.
In other words, everything's back to normal.
The episodes aren't as good as they were in the early days, but they're just as funny as the ones during the middle of the show's run, before it became less of a comedy and more like TV's version of Studio 54, where celebrities could come hang out and perhaps bag an Emmy nomination.
This sort of a revival wouldn't work for, say, "Friends." Six 40-somethings spending all their time in a coffee house would just be sad — like "Joey"-level sad. But Will (Eric McCormack), Grace, Karen and Jack were, especially in the later seasons, essentially cartoon characters. So it's really not all that different than when Fox brought "Family Guy" back after three years and two cancellations, or when Comedy Central revived "Futurama" seven years after Fox dumped it.
The biggest problem some fans and critics have with the new "Will & Grace" episodes is the original series finale, which revealed that the titular characters had a falling-out and didn't speak for 20 years, yet here they are, goofing around like nothing ever happened. All I'll say is Thursday's return addresses those concerns.
That's nothing compared to the mystery of how "Roseanne" will handle having killed off Dan (John Goodman), who's returning for the revival.
The real question, though, is how, after all these years, is Mullally still able to hit those dog-whistle register notes as Karen?
Contact Christopher Lawrence at clawrence @reviewjournal.com or 702-380-4567. Follow @life_onthecouch on Twitter.