David Copperfield, cardist Andrei Jikh behind the magic of 'Now You See Me 2'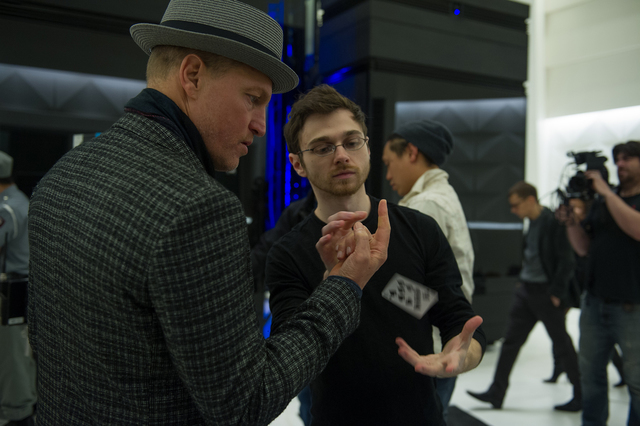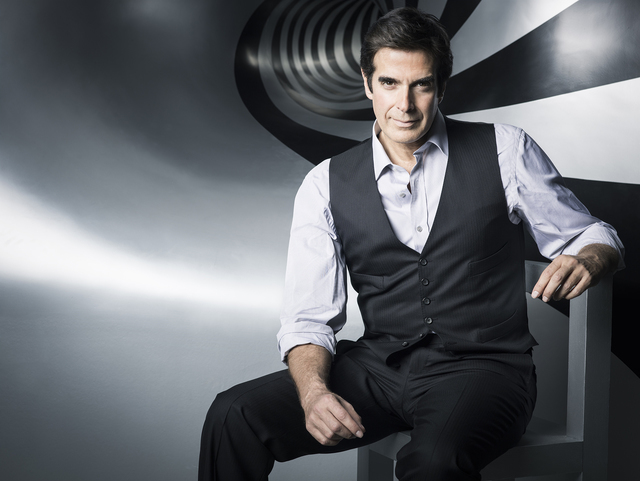 "For our final trick, we're gonna do something never before seen on a Las Vegas stage," magician Henley Reeves (Isla Fisher) says in 2013's "Now You See Me."
She's inaccurate on two levels.
First, that "Las Vegas stage," despite its MGM Grand signage, was actually in Louisiana thanks to the state's generous film incentives.
Second, the trick, in which an audience member is seemingly teleported out of the theater to a very remote location, had been performed hundreds if not thousands of times in Las Vegas by David Copperfield. Heck, his version of that illusion is the very reason the movie exists.
For "Now You See Me 2," in theaters Friday, Copperfield and Las Vegan Andrei Jikh served as two of the men behind the magic. The former earned a co-producer credit, while the latter taught the cast the art of cardistry.
DAVID COPPERFIELD
"I was inspired by the cinema to begin with," Copperfield, 59, says of his early days in magic. "Other magicians, their idols were (Howard) Thurston, (Harry) Kellar or Houdini. My idols were Victor Fleming and Orson Welles and Walt Disney, Frank Capra. I patterned everything I did from the very beginning on films that I saw."
The MGM Grand headliner went from being inspired by movies to inspiring movies when screenwriter Ed Ricourt caught his show and thought that particular trick would be a great way to rob a bank. In the eventual movie, the illusion is the ruse used by the magicians known as The Four Horsemen (Jesse Eisenberg, Woody Harrelson, Dave Franco and Fisher) to obscure how they stole millions from a vault in Paris.
Copperfield spent time with the movie's director, Louis Leterrier, and the cast came to see his show. The closing credits include the line "magic inspired by David Copperfield." He was more involved this time around, though, working with writer Ed Solomon, the "Men in Black" scribe who co-wrote the original and penned the script for the sequel.
"Ed Solomon and I spent many, many, many weeks talking about the script and ideas for the scenes and bouncing ideas back and forth and kind of getting a point of view," Copperfield says. That included "suggesting illusions (and) showing how he could bring them to life."
"I think probably the most important thing he brings to it," Eisenberg says of Copperfield, "is kind of the aesthetic of magic. … What I really like about his illusions, and I think what we kind of take advantage of in these movies, is the aesthetic of these illusions. His tricks are not only mind-bending, they're beautiful to look at. In this movie, we tried to do that, too."
For Franco, Copperfield served as a sort of reality check.
"Just to have someone like Copperfield supporting our movie, and that we could use him as a reference, it just kind of makes us all feel safe and makes us all remember that everything we're doing in the movie — even though there is some CGI in there — they are tricks that are really feasible," he says. "Real magicians can do these things. And we have someone like Copperfield to kind of, like, remind everyone else that, yes, we are trying to keep everything grounded."
"Now You See Me 2" is the latest in a string of movies to which Copperfield has contributed. Some, you'd expect, like the 2013 Steve Carell-Jim Carrey dueling magicians comedy "The Incredible Burt Wonderstone" or 2006's magical one-two punch of "The Prestige" and "The Illusionist."
Then there's the horror-tinged work he and his team did with the makers of the "Paranormal Activity" movies.
"We collaborated with them … brainstorming ideas and saying, 'OK, if it was us, here's what we would do,' " Copperfield says. "We travel the world and see a lot of stuff that's very, very strange. A lot of things get brought to us and presented to us that is very, very scary. And we can't use it, because I can't have people running out of the theater petrified."
According to Jon M. Chu ("G.I. Joe: Retaliation"), who took over directing duties for "Now You See Me 2," there's only one downside to working with Copperfield: the busy 15-shows-a-week schedule that kept him from flying off to the movie's international sets.
"Whenever we needed a question answered, whenever we needed anything, he was there for us, for sure," Chu says. "But you can't get him to Macau. You can't get him to London."
That's where Jikh came in.
ANDREI JIKH
"That was never my goal, to be famous or have my own show," Jikh says. "That's not really my thing."
Any doubts he had were confirmed by the year he spent performing with The Amazing Johnathan.
Instead, the 27-year-old is happy working behind the scenes with the instructional company theory11, which he refers to as the iTunes of magic.
"Everything we do is basically about making magic modern and sophisticated and intellectual and, like, relevant," says Jikh, who was born in Russia and moved with his acrobat parents to the valley 18 years ago.
He directed, shot and edited some of the bonus content for "Now You See Me." For the sequel, Jikh served as a consultant alongside former Las Vegan and fellow theory11 member Blake Vogt as well as mentalist Keith Barry, who had a brief run at Planet Hollywood starting in 2008.
Jikh was resonsible for working with the cast on cardistry, i.e. perfecting their skill and dexterity with playing cards. That included schooling a man who knows a little something about movie magic: "Harry Potter" star Daniel Radcliffe, who portrays "Now You See Me 2's" villain.
"I taught Dave Franco and Radcliffe how to do several of (their) moves," Jikh says. "They were, like, super interested in learning. They did so well. I was blown away by how quickly they picked up some of the difficult concepts."
By all accounts, Franco, who portrays cardistry expert Jack Wilder, was a star pupil. But even he had his limits.
"You learn how something's done, and you're, like, 'Oh, I can do that,' " the actor says. "Then you pick up some cards and try to do it, and you stumble all over yourself. And you realize how many hours go into this."
Speaking of hours, Jikh says he was working 16-hour days for two months during the production. His biggest contribution can be seen during the movie's signature "Mission: Impossible"-style heist, in which the Horsemen have to conceal a piece of high-tech equipment on a playing card, then keep palming it, passing it — even throwing it — to each other while a team of security guards is in their faces. The roughly five-minute sequence took eight full days to shoot and several more weeks to plan.
"Almost every time the actors are in contact with the cards, it's real," director Chu says. "We did as much as we could practically — even like the card throwing stuff, they did a lot of that stuff — and then we would use CG to tie things together or do some shots that were just impossible to do."
Chu got his start directing two of the "Step Up" dance movies and "Justin Bieber: Never Say Never," and he relied on the consultants the way he would a choreographer in working with the cast.
"Just comfort level for the actors," he says of what Jikh brought to the set. "To have somebody there who can watch what they're doing and say, 'No, no, no. Just move your wrist just a little bit this way, and you won't see (the card).' "
As proud as Jikh is of the show-stopping heist scene, his favorite moment comes just before it when Franco's character announces, " 'But first, we've got to brush up on our cardistry.'
"Which was the coolest moment for me," Jikh says. "Magic's kind of been in the limelight for a while, but cardistry is its own separate thing. That's completely different. Ever since I was a kid, that was one of my biggest dreams, to put cardistry in Hollywood."
Scenes from "Now You See Me 2" were filmed at Sands Macau and its sister property, The Venetian Macau, which are operated by Sands Macau, a subsidiary of Las Vegas Sands Corp. The Review-Journal is owned by the family of Las Vegas Sands Chairman and CEO Sheldon Adelson.
Contact Christopher Lawrence at clawrence@reviewjournal.com. On Twitter: @life_onthecouch.