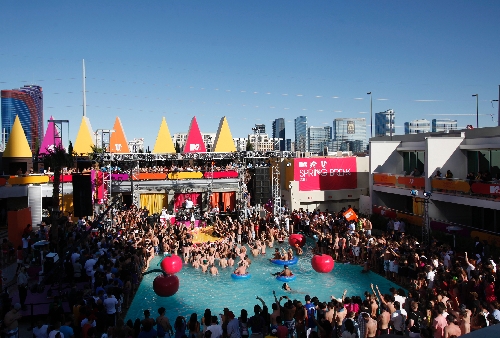 Spring break. If the English language has a more enticing two-word combo — with the possible exceptions of "extra cheese" and "Mila Kunis" — I've yet to discover it.
Some of my favorite memories are of that annual seven-day stretch of binge drinking, toilet hugging and anonymous sex. (Though not necessarily all at once.)
I never actually went to spring break, mind you. It was always too crowded and presented too many ways of getting sand in my itchy places. But thanks to MTV — which beach blanketed entire weeks of my youth with its special blend of round-the-clock raunch — I never had to.
That's why I greeted the news that the cable channel was bringing its Spring Break 2011 to the Palms with the same sense of civic pride that people in other cities must feel when the Olympics come to town. (The footage, filmed March 6-9, is set to air throughout this week.)
Over the years, MTV's spring break has unleashed a barrage of goofy game shows, performances ranging from Eminem to that "Rico Suave" guy, and Jenny McCarthy back before she started hating science. Not to mention reality shows about random girls looking to hook up, some whipped-cream bikinis and a young lady who fulfilled her alleged fantasy of being slathered in pureed beef, beans and guacamole, then rolled up in a giant tortilla.
To this day, my friend Matt can't see a beach without being reminded of the half-baked pageant in which some stripper type sent a young Joey Lawrence headfirst into the throes of puberty, his face frozen in a "Whoa!"
And a survey of MTV's spring break week programming in 2004 — by those noted sourpusses at the Parents Television Council — found "3,056 depictions of sex or various forms of nudity."
In short, even on TV spring break is awesome.
But with a safe spot above the pool from which to watch the madness — thanks, Palms! — I left the couch in search of good, old-fashioned, college-style debauchery.
I'm still looking.
Gone were the lewd shenanigans of the past in favor of concerts by rappers Snoop Dogg, Pitbull, Wiz Khalifa and Lupe Fiasco. Despite the hundreds of spring breakers in attendance, the closest thing I could find to shocking were a couple of T-shirts of the sort rarely seen outside the confines of Spencer's Gifts. (They may have alarmed the Tuesday afternoon slot-clubbers, but still.)
Even "The Hard Times of RJ Berger" dream girl Amber Lancaster, whose presence at spring break should have been like a crate of Ho Hos dropped into the "Biggest Loser" compound, didn't elicit the expected meatheadedness.
The actress, who plays the hottest thing to hit high school since the fire at the end of "Carrie," says she was met with nothing worse than shouts of "Jenny Swanson!" — her character on the delightfully rude high school comedy.
"RJ Berger" (10 p.m. Mondays) was one of last year's most pleasant surprises, and MTV is doing its best to get the word out about its just-begun second season. In fact, most of this week's spring break TV will be dedicated to special Vegas-based screenings of "RJ Berger," "The Real World: Las Vegas," "My Life as Liz" and the "Jersey Shore" reunion.
Lancaster, who's no stranger to Vegas but was attending her first spring break, came to the Palms to film a variety of promos — essentially working amid all the partying. Well, sort of.
"I don't really consider my job 'work,' especially when we get to do things like go to Vegas for MTV's spring break," she said. "Our job in Vegas was pretty much to have fun, so the more fun we were having, the better job we were doing."
As for the pool-side concerts, MTV is squeezing them into the tail end of the 9 p.m. hour each night this week. And while I can't speak to what Snoop, Wiz and Pitbull did, Lupe's hourlong set was epic.
However much of it ends up airing Tuesday night — MTV wasn't certain at press time, but it's expected to start around 9:45 or 9:50 — the Palms more than likely will look downright sun-baked. In reality, that afternoon was cool — 60 degrees at nearby McCarran — and breezy.
Lifeguards in windbreakers mingled with MTV staffers wearing hoodies. Throngs of partyers crowded up to the edge of the pool, eyeballing it warily as though it were filled with snakes. Moments before the taping began, "Jersey Shore's" Pauly D, over a thumping bass line, led a chant of "Get in the pool!" Given the trepidation, he may as well have been shouting "Saw off your leg!"
But once some brave souls jumped in and the show began, the scene was electric. The rapper, best known for songs such as "Superstar" and "Kick, Push," fronted a full rock band, cranking out the sort of sounds Limp Bizkit used to make — only, you know, good.
It was a star-making effort, capped by a riotous, in-pool mosh pit, with Lupe barely visible through the splashes as he hurled water from bottles back at the crowd.
Even when the show was stopped to towel off the stage, the rebuke from the production crew — "Electricity and water don't mix!" — was met with only a smattering of boos.
Lupe pulled off the sort of iconic performance MTV's spring break became known for. I just hope you'll get to see it.
Maybe more of it will turn up as part of this week's planned coverage on MTV2 and mtvU.
Because, as it prepares to turn 30 later this year, MTV is starting to feel like it finally may have outgrown spring break.
One of these years, I'm afraid, I just might have to do the same.
Christopher Lawrence's Life on the Couch column appears on Sundays. E-mail him at clawrence@ reviewjournal.com.
ELSEWHERE
The made-in-Vegas "The Ultimate Fighter" kicks off its 13th season with new coaches Brock Lesnar and Junior Dos Santos (9 p.m. Wednesday, Spike).
Vegas-based photographer Peter Lik will travel the country for his new series, "From the Edge with Peter Lik" (8 p.m. Thursday, The Weather Channel).
"Peepshow's" Holly Madison gets her own "True Hollywood Story" (10 p.m. Wednesday, E!).
And Las Vegan Maribel De Santiago is vying for $250,000 in cash and prizes, as well as a one-year contract with Univision Network, on "Nuestra Belleza Latina" (8 p.m. today, KINC-TV, Channel 15).