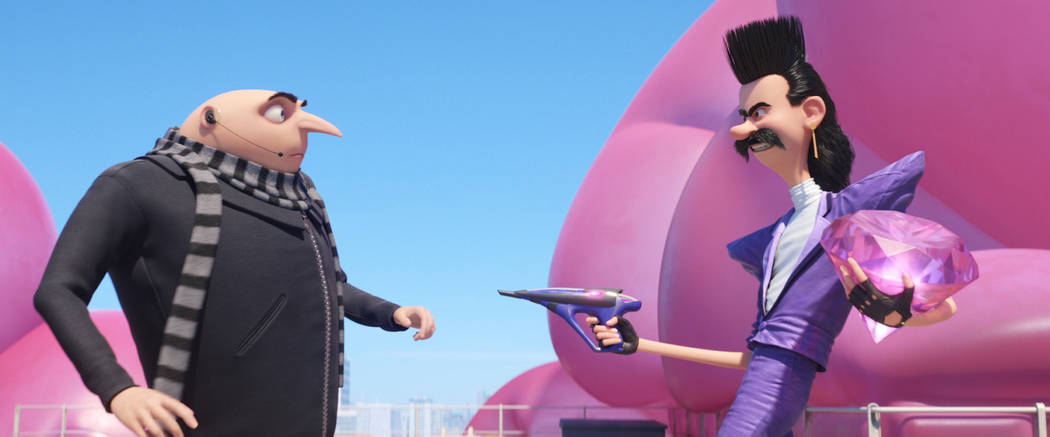 It was the best of last Wednesday, it was the worst of last Wednesday.
Within those 24 hours, I was gobsmacked by the criminal who choreographed his escapes to pop songs in "Baby Driver" and bored silly by the giant robots in "Transformers: The Last Knight."
The fact that both elements are part of what passes for a plot in "Despicable Me 3" only makes the latest adventures of Gru and the Minions feel even less necessary.
This isn't helped by the fact that both come courtesy of Balthazar Bratt (voiced by "South Park's" Trey Parker), who was the biggest child star of the 1980s until he hit puberty during Season 3 and his show, "Evil Bratt," was canceled. Bratt never recovered and became a supervillain, albeit one still stuck in the 1980s with his mullet, massive shoulder pads and supersonic keytar. Now he's launched an elaborate plan, involving that giant robot and massive amounts of bubblegum, to destroy Hollywood for turning its back on him.
None of this is as funny as it must have seemed to the "Despicable Me" and "Despicable Me 2" team of writers Cinco Paul and Ken Daurio and director Pierre Coffin, along with "Minions" director Kyle Balda.
For failing to catch Bratt, Gru (Steve Carell) is fired from the Anti-Villain League, while his new bride, Lucy (Kristen Wiig), resigns in solidarity. When the Minions led by Mel — although how anyone can tell them apart is beyond me — learn this doesn't mean they're returning to a life of crime, all but Jerry and Dave quit.
Under Mel's command, the little yellow banana-lovers accidentally crash a TV singing competition, perform an elaborately choreographed "I Am the Very Model of a Modern Major-General" from "The Pirates of Penzance" and for some reason are thrown in prison.
Meanwhile, Gru is contacted by a representative of Dru (Carell), the twin brother he never knew he had. So Gru, Lucy and the girls — Margo (Miranda Cosgrove), Edith (Dana Gaier) and Agnes (Nev Scharrell) — fly to Gru's ancestral homeland of Freedonia to meet his long-lost sibling.
It turns out their recently deceased father was a supervillain. It's the family business, yet Dru never was much good at it and was considered a failure. So he wants villainy lessons from Gru to prove his father was wrong.
There's yet another subplot involving Margo's courtship by an odd Freedonian boy. Agnes becomes obsessed with finding a unicorn in a nearby forest. Lucy has to learn how to be a mother, while Gru navigates what it means to be a brother. Even with all that, "Despicable Me 3" still only stretches to 96 minutes thanks to lengthy credits. I was out of the theater in roughly 85.
After the out-of-left-field success of "Happy" from "Despicable Me 2," Pharrell Williams throws seven songs at the screen to see what, if anything, sticks. It's just another example of the filmmakers' scattershot approach to the sequel. There are simply too many ideas, none of which is really explored, for any of them to resonate.
Still, "Despicable Me 3" is harmless enough, and a handful of laughs are wrung out of Carell's exuberance and the sheer volume of goodwill he's stockpiled over the years.
The result may not be terribly entertaining, but it's far from despicable.
Even though the franchise certainly is trending that way.
Contact Christopher Lawrence at clawrence@reviewjournal.com or 702-380-4567. Follow @life_onthecouch on Twitter.