Despite Tim Burton's visual magic, 'Miss Peregrine's Home' lacks heart
September 30, 2016 - 8:46 am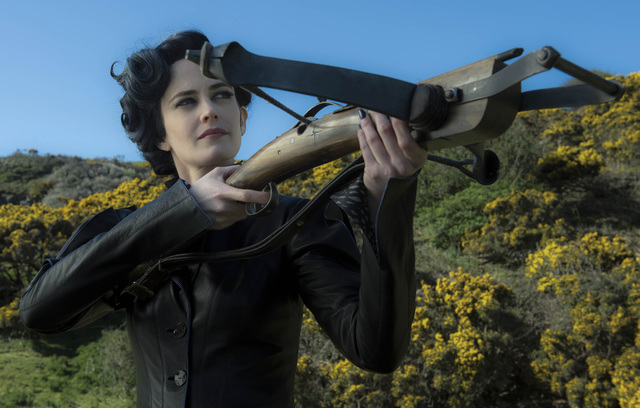 Tim Burton was a natural to direct "Miss Peregrine's Home for Peculiar Children."
Heck, it's easy to imagine him growing up there.
So why does the resulting movie feel so bland?
It has most of Burton's signature elements: outcasts, scenes of stop-motion animation and a campy, over-the-top title character.
But the only heart on screen is the one Enoch (Finlay MacMillan), one of the Peculiars, employs to briefly bring inanimate objects to life.
Jake (Asa Butterfield) is jolted out of his miserable daily life in Miami by an emergency call from his beloved grandfather Abe (Terence Stamp), who helped raise Jake on bedtime stories of his days living with all of the strange inhabitants of Miss Peregrine's. Eventually, though, Jake grew up and stopped believing those tales.
But when he finds Abe dead in the woods with his eyes missing, and sees a monstrous figure lurking nearby, Jake begins questioning everything he thought he knew. At the recommendation of his therapist (Allison Janney), Jake travels with his dad (Chris O'Dowd) to the Welsh island to see the home for himself and separate reality from fiction.
When he asks about Miss Peregrine's, he's told by locals that it was destroyed by a Nazi bomb back in 1943, killing every one of its inhabitants. But upon further inspection, Jake finds his way into the loop, that single day from 1943 that keeps repeating itself to protect the Peculiars from the dangers of the outside world.
Once there, Jake meets Miss Peregrine, an "ymbrine" who can control time and turn herself into a bird. There's Emma (Ella Purnell), who can manipulate air and has to wear lead shoes to keep from floating away. Olive (Lauren McCrostie) sets everything she touches on fire. Bronwyn (Pixie Davies) is tiny but strong. Millard (Cameron King) is invisible. Hugh (Milo Parker) is filled with bees. And so on.
The result is basically "Groundhog Day" meets The X-Men, with a touch of "American Horror Story" thrown in for good measure.
Adapted by Jane Goldman ("Kingsman: The Secret Service"), "Miss Peregrine's" may play better to those who read the best-selling novel by Ransom Riggs. Because none of the characters, save for Miss Peregrine and the villainous Mr. Barron (Samuel L. Jackson), is even remotely memorable — and the latter is only because Jackson is so wildly miscast.
Barron is the leader of a splinter group of former Peculiars who, thanks to an experiment gone wrong, have turned into monsters known as Hollows. The only way the Hollows can regain any semblance of their humanity is by eating the eyeballs of Peculiars, particularly those of children, which they do in realistic detail.
Green, as she's proven in Burton's "Dark Shadows" and Showtime's "Penny Dreadful," is terrific in oddball roles. But Jake is a bit of a bore, and his budding relationship with Emma lacks any sense of chemistry. There's not a single character in which you can feel vested.
With Burton calling the shots, there's certainly magic in some of the visuals. But overall, "Miss Peregrine's Home for Peculiar Children" takes its cue from its monsters.
It's ultimately hollow.
Contact Christopher Lawrence at clawrence@reviewjournal.com. On Twitter: @life_onthecouch.
Review
Movie: "Miss Peregrine's Home for Peculiar Children"
Running time: 127 minutes
Rating: PG-13; intense sequences of fantasy action/violence and peril
Grade: C-
Now playing: At multiple locations