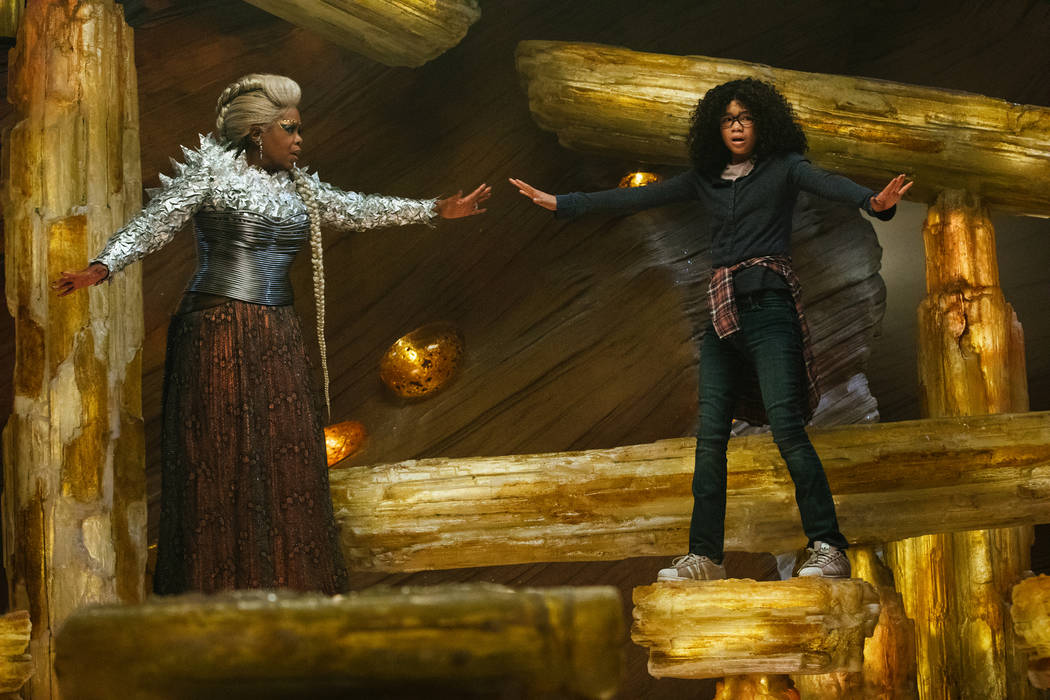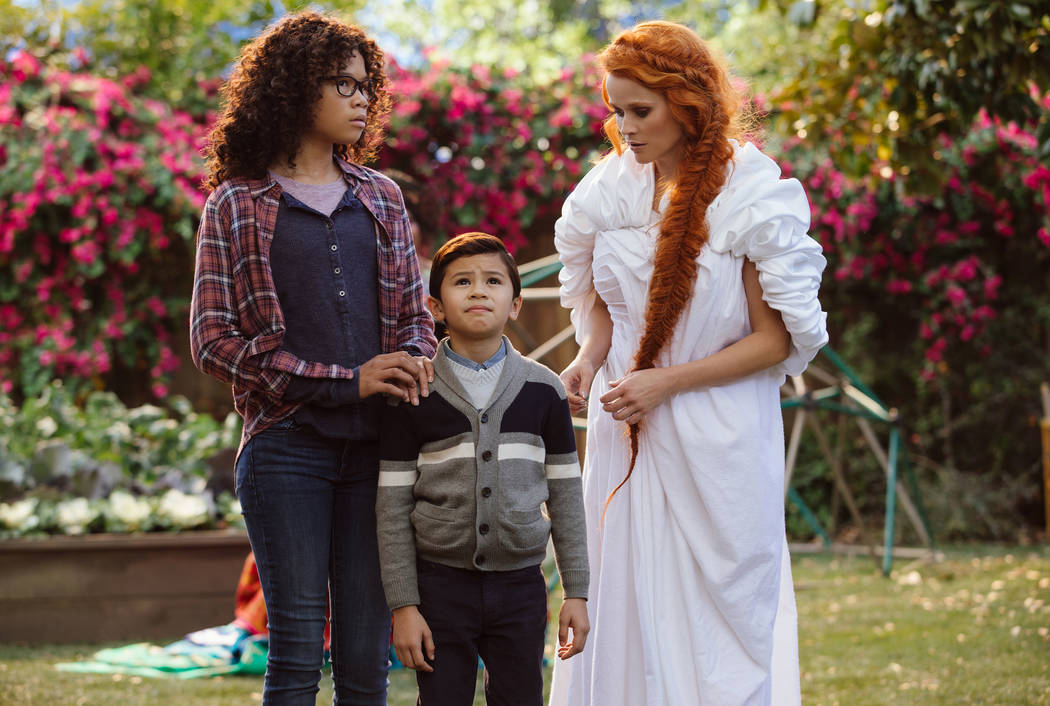 If you see only one movie this year after taking peyote, make it "A Wrinkle in Time."
(Kids, please don't take peyote. It's a literary device. But still.)
Mrs. Which (Oprah Winfrey), Mrs. Who (Mindy Kaling) and Mrs. Whatsit (Reese Witherspoon) — refugees from a failed Abbott and Costello routine — are "warriors who serve the good and light in the universe."
Mrs. Which has a bedazzled forehead and is occasionally several stories tall and semitransparent. Mrs. Who has "evolved past language" so she "cheats" by only speaking quotes by others, ranging from Buddha to OutKast. And Mrs. Whatsit is sometimes an enormous being that looks like the result of a bird having gotten it on with a head of lettuce.
Also, there are flying flowers who "speak color" and love to gossip.
The Mesdames — none of whom appears to be married, so who knows where the Mrs. appellations come from — are summoned to Earth by a call for help from Alex Murry (Chris Pine), a theoretical physicist who's traveled farther into the universe than any human ever has and can't get home.
Back on Earth, Alex simply disappeared, leaving his brilliant daughter, Meg (Storm Reid), and his newly adopted, annoyingly precocious son, Charles Wallace (Deric McCabe), fatherless. It's been four years since Alex vanished, and Meg is falling apart. She's no longer a top student, and she's started to lash out after being mocked at every turn. A note on her locker reads, "Happy anniversary. If only you'd disappear too." Seriously, that's a strong bully game.
Charles Wallace comes to know the Mesdames — there's no such word as Mrses. — because he simply refuses to stop talking to strangers. (Kids, please don't talk to strangers. Even if they have bedazzled foreheads and quote OutKast. Heck, especially if they have bedazzled foreheads and quote OutKast.)
One afternoon, Meg's schoolmate Calvin (Levi Miller) turns up, seemingly summoned by an unseen force, and the Mesdames give the three the chance to save Alex. They'll also need to stop the bleak planet Camazotz, controlled by an evil energy known as The IT — nope, not Pennywise — from infecting everyone on Earth with its darkness, while restoring hope to the planet.
That's some pretty heady stuff for youngsters, and I have no idea how I processed any of Madeleine L'Engle's classic tale as a child.
Similarly, I can't imagine what young viewers will make of this adaptation, directed by Ava DuVernay ("Selma") from a screenplay by Jennifer Lee ("Frozen") and Jeff Stockwell ("Bridge to Terabithia").
Assuming they make it through all the quasi-science involving a tesseract — no Captain America, Loki and the gang, either — and "tessering," a way to travel through space as long as you can achieve the proper frequency, the final third of the movie, set on Camazotz, is a horror show, morphing from Dr. Seuss to Stephen King.
It's still early, but "A Wrinkle in Time" looks to have the Oscar for best costumes sewn up. The outfits sported by the Mesdames, who have more wardrobe changes than Cher, could inspire an entire episode of "RuPaul's Drag Race."
Aside from those frocks, though, there's precious little worth seeing.
The plot meanders. There are some highly questionable acting choices. And large segments of the script sound as though they were cribbed from a self-help book.
As failures go, this one is very nearly devastating.
Other than those spoken by Meg's bullies, there isn't a cynical syllable anywhere in "A Wrinkle in Time." It's awash in positivity and even manages to weaponize love. Coming on the heels of "Black Panther," the story of a biracial girl who's been made to believe she's less than yet finds her way in the universe is one I desperately wanted to love — or even enjoy.
Unfortunately, too much of this "Wrinkle" falls so flat, it might as well have been steam-pressed.
Review
Movie: "A Wrinkle in Time"
Running time: 109 minutes
Rating: PG; thematic elements and some peril
Grade: C+
Now playing: At multiple locations
Contact Christopher Lawrence at clawrence@reviewjournal.com or 702-380-4567. Follow @life_onthecouch on Twitter.