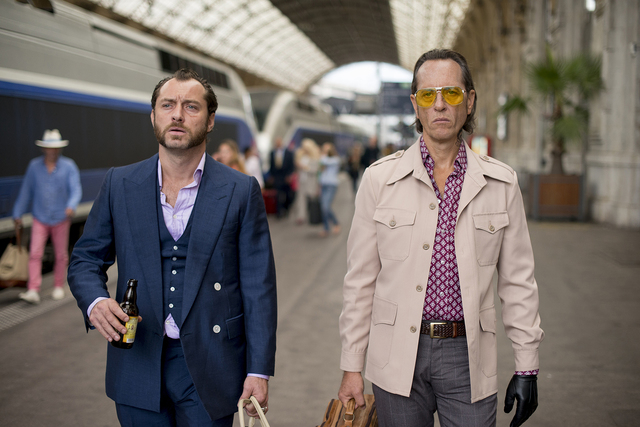 It's always a shame when a mediocre movie happens to a great character.
In "Dom Hemingway," Jude Law goes all in as the titular Dom, a paunchy, bellowing, red-faced embodiment of hypertension.
And you can tell Law is having a wonderful time.
But moviegoers are in for a bumpy ride from the opening, off-putting scene in which a nude Dom stares straight into the camera and delivers several minutes of a crude soliloquy about the joys and wonders of his penis.
Dom is finishing up a 12-year prison stint. Moments after being released, he's pummeling the poor bloke who had the audacity to marry his ex-wife while he was behind bars before going on a three-day drugs-and-hookers bender.
Then Dom heads to the French countryside with his best friend (Richard E. Grant), who pulls off the rare fashion choice of pairing an ascot with a neck tattoo, to reconnect with the crime boss (Demian Bichir) Dom protected.
Law is barely recognizable as the magnificently bearded Dom — picture Fisher Stevens replacing Liev Schreiber as Sabretooth in "X-Men Origins: Wolverine" — a foul-mouthed force of nature with anger issues. "I'm the (expletive) who will gut you with a dull cheese knife and sing Gilbert and Sullivan while I do it," he bellows.
But after a raw, grimy start — as well as an elaborately, exquisitely staged car wreck — Dom tries to reconnect with the daughter (Emilia Clarke) he never really knew, and things quickly turn to mush.
For a movie in which Dom literally wagers his penis that he can crack a state-of-the-art electronic safe in less than 10 minutes, this burst of heart fits about as well as the vest that barely contains Dom's belly.
Given all the sweat equity Law put into the role, Dom Hemingway deserves better than "Dom Hemingway."