Downtown Summerlin theater provides ultimate moviegoer experience
October 9, 2014 - 5:19 am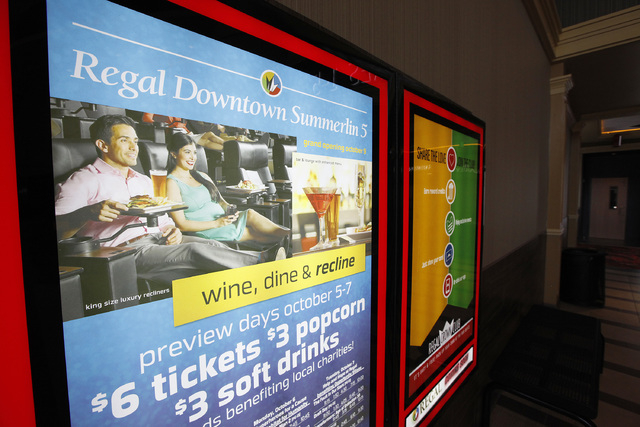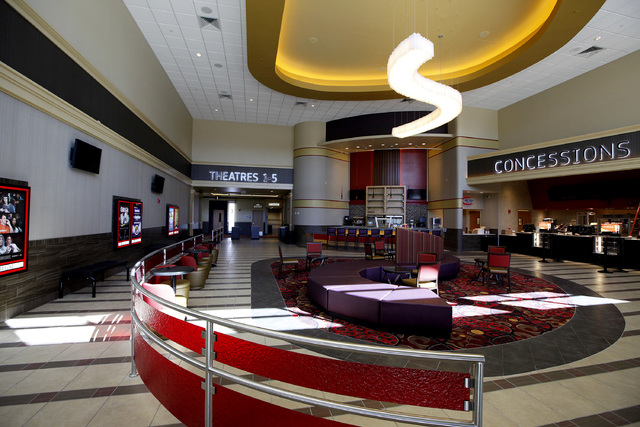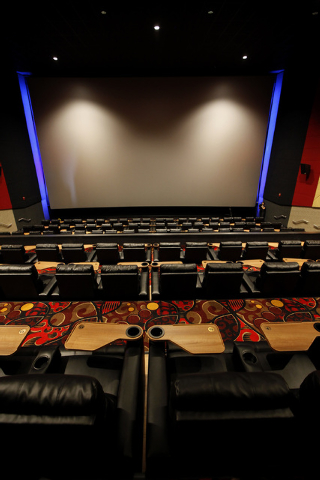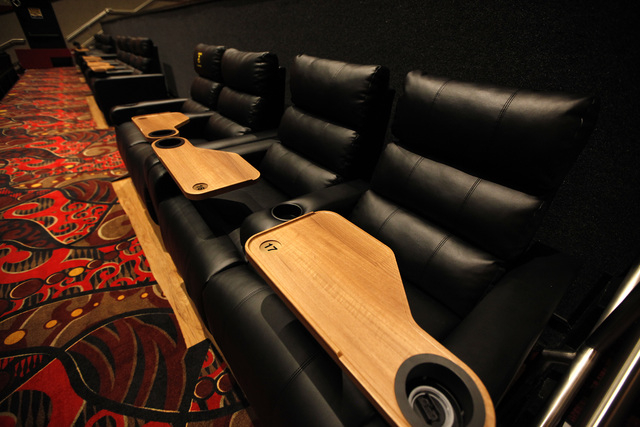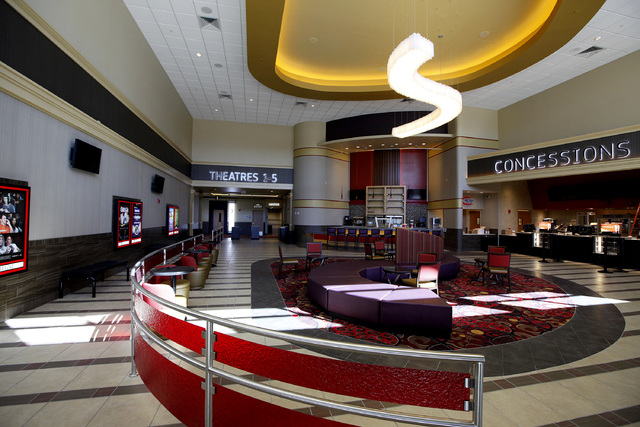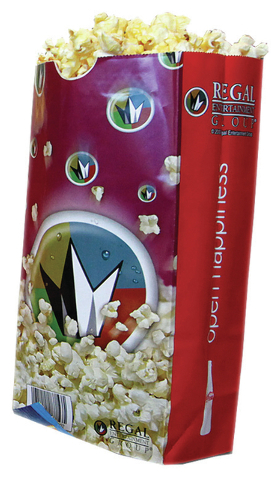 Electric recliners. A fully stocked bar. A menu that includes hummus and pita chips, chipotle aioli shrimp and turtle molten Bundt cake.
The Regal Downtown Summerlin 5, 2070 Park Center Drive, is the moviegoing experience Las Vegas has spent the past couple of years baby-stepping toward.
In fall 2012, the theaters at Town Square began offering liquor sales during certain screenings until ownership changed hands a few months later. The Galaxy Green Valley Luxury+ opened in March 2013 with electric recliners, beer and wine sales and a gourmet sausage bar. Galaxy renovated its Cannery location to those specifications last fall.
But the Downtown Summerlin 5, which officially opens to the public Thursday after three days of charity screenings, is the first to combine all those amenities under one roof. There's even valet parking just outside.
The new theaters have sidestepped some of the hurdles that made liquor sales less than convenient at Town Square. There, alcohol was confined to the lobby bar and special 21-and-older screenings, but customers weren't allowed to carry it between those venues. Instead, a cocktail waitress had to walk beside them and carry the drinks to their seats.
Although that sounded responsible in practice, it was also weirdly restrictive considering that adults can carry drinks to their seats at Cashman Field, UNLV games and virtually every show up and down the Strip, regardless of whether children are sitting next to them.
The new theaters still have some limitations, though. Rachel Lueras, western marketing manager for Regal Entertainment Group, says customers will be carded at the bar, given a wristband and limited to three drinks, one at a time, during their visit. Those drinks, by the way, start at $5.
On the food side, look for dishes ranging from $5 to $11 that include pizza, mac-and-cheese bites, and a variety of burgers and sandwiches that come with waffle fries, sweet potato waffle fries or onion rings.
The only thing other high-end theaters offer that's missing at the Downtown Summerlin 5 is waiter service, but that often comes at a premium. A couple of years ago at one such multiplex, I paid $19.50 to see "The Expendables 2" on a Wednesday night.
Despite the additional amenities, Downtown Summerlin 5's ticket prices are $13 for adults, $9.50 for seniors and children, $12 for military and $10.50 for matinees. That's $1.50 more at each price level than Regal charges next door at its theaters at Red Rock Resort. (Galaxy, which runs the only other theaters in the valley with recliners, charges $11 for adults, $8.50 for children, $8 for seniors and $8.50 for adult matinees.)
While families are obviously welcome, Lueras says the Downtown Summerlin 5 will cater to adult moviegoers looking for a fun night (or afternoon) out.
For its opening weekend, the theaters will offer "The Judge," with Robert Downey Jr. and Robert Duvall; "Kill the Messenger," in which Jeremy Renner plays a journalist investigating the link between crack cocaine, Nicaraguan rebels and the CIA; "Men, Women &Children," from director Jason Reitman ("Juno," "Up in the Air"); and the erotic thriller "Addicted."
One word of caution: Because of the additional space needed for the recliners, the theaters seat considerably fewer people than their neighbors.
The Downtown Summerlin 5 auditoriums have capacities ranging from 86 to 149, compared with 117 to 467 next door at Red Rock.
But since the new theaters sell only reserved seats, you'll know, in some cases days in advance, whether the showing you were planning to attend is sold out — or whether you and your date would be stuck sitting in the first row in the corner.
■ Gettin' thrifty with it: Las Vegans Jason T. Smith and Bryan Goodman return for a second season of "Thrift Hunters" (9:30 p.m. Saturday, Spike TV).
Contact Christopher Lawrence at clawrence@reviewjournal.com or 702-380-4567.