'Draft Day' trades all realism for drama
April 11, 2014 - 12:03 pm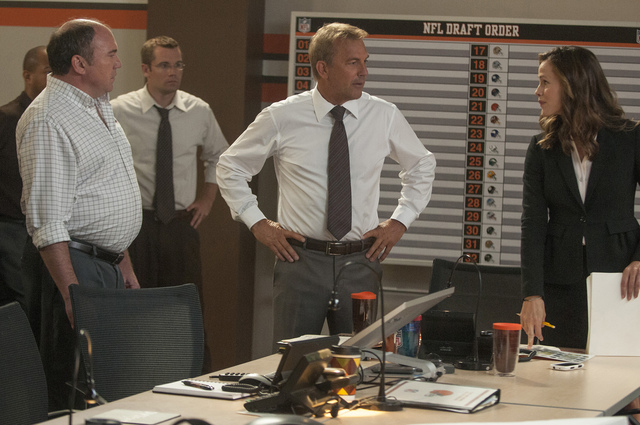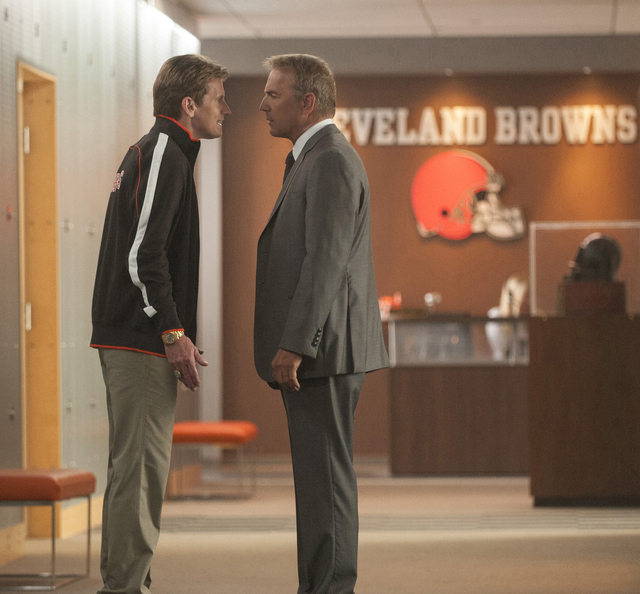 Kevin Costner has made great sports movies ("Bull Durham" and "Field of Dreams").
He's made good sports movies ("For Love of the Game" and "Tin Cup").
And he's made "Draft Day."
That's not necessarily a knock on his latest. It's just that, despite having the cooperation of the NFL, "Draft Day" is barely a sports movie. Unless talking on the phone is considered a sport.
Sonny Weaver Jr. (Costner) is the beleaguered general manager of the Cleveland Browns. The team's owner (Frank Langella) demands he make a splash in the draft. He's butting heads with his new coach (Denis Leary). Fans are calling for his head. And it's only been a week since the death of his father, the legendary coach he fired. Also, Sonny works for the Cleveland Browns.
So when the Seattle Seahawks' front office decides to trade its overall No. 1 pick the morning of the draft, they ask themselves: "Who's the most desperate guy we know?"
That would be Sonny.
Sonny is eyeing Ohio State linebacker Vontae Mack ("42's" Chadwick Boseman) and Florida State running back Ray Jennings (Houston Texans running back Arian Foster). But there's an undisputed franchise player available in Wisconsin's golden-boy quarterback, Bo Callahan (Josh Pence).
Sensing Sonny's needs, Seattle asks for his seventh pick, as well as his first pick in the next three drafts.
"I'm not gonna sell the farm for one guy," Sonny says, rejecting the idea. "Well, you should," he's told. "Your farm sucks."
With his job on the line, Sonny sells that farm and only then begins looking into Callahan's background. What he finds leaves him wrestling with his decision.
"Draft Day" is a curious mix of authenticity for die-hard sports fans and overly simplistic tutorials for moviegoers who know nothing about the NFL.
ESPN's Chris Berman, Jon Gruden and Mel Kiper appear as themselves, as do the NFL Network's Rich Eisen, Deion Sanders and Mike Mayock. Browns legends Bernie Kosar and Jim Brown make cameos. And NFL Commissioner Roger Goodell acts in scenes filmed during last year's draft at Radio City Music Hall.
But then every team Sonny deals with is introduced with an aerial shot of its stadium as well as onscreen graphics ("SEATTLE — HOME OF THE SEAHAWKS"). And on his way into work, Sonny listens as a local sports radio host explains to the city's rabid fanbase that Cleveland is a sports town and, sure, its teams lose a lot, but Clevelanders love them anyway. What station is this? 1080-AM, The Exposition?
Since nothing takes a viewer out of a movie like fictional teams, "Draft Day" has all the right licensing deals in place. The movie wouldn't work at all if Sonny ran, say, the Cleveland Grind, or Callahan attended Northeastern Wisconsin State Polytechnic A&M. But, then, all that authenticity is nearly undone by having the movie's plot hinge on Super Bowl XLVIII champions Seattle — HOME OF THE SEAHAWKS, lest you forget — being desperate for both a good quarterback and a winning season.
Not content to just focus on the draft itself, "Draft Day's" writers, playwright Rajiv Joseph and newcomer Scott Rothman, pile on plenty of other complications for Sonny. With the news that the team is looking at Callahan, the Browns' current quarterback ("Smallville's" Tom Welling) starts acting out. Leary's Coach Penn openly rebels. The Browns' owner is breathing down Sonny's neck. There's even some shtick involving the team's intern (Griffin Newman).
Most egregiously, though, "Draft Day" has Sonny's girlfriend, Ali (Jennifer Garner), choose the morning of the draft to tell him she's pregnant and has his mom (Ellen Burstyn) show up with his late father's ashes, demanding to scatter them on the practice field while Sonny reads a Gaelic prayer, just hours before the draft.
These are smart women who know football, who understand the delicate balance of draft day. Heck, Ali is responsible for keeping the team under the salary cap and even makes a speech about how football is in her blood. There's just no way they would do this on the most important day of Sonny's year.
The obvious comparison to "Draft Day's" behind-the-scenes approach is "Moneyball." But at least that movie could rely on the drama of actual games throughout a season. By taking place entirely, as the title suggests, on draft day, what little football footage there is exists in the form of recruiting reels.
Since the closest thing to action involves Sonny's talking on the phone with other GMs, players and coaches, director Ivan Reitman tries to inject a little energy with a series of split screens that just prove distracting. Characters overlap and encroach into each others' screens. At one point, someone walks from his own screen on the right, through the one on the left, and into a third, new screen farther left.
It's as though Reitman doesn't trust the material to be interesting enough on its own. Which makes sense, because writers Joseph and Rothman take a kitchen sink approach to that material.
Is it a drama? Is it a comedy? Is it a love story? Is it a rumination on what it means to take a stand and be your own man?
Whatever "Draft Day" ultimately is, a great sports movie isn't part of that equation.
Contact Christopher Lawrence at clawrence@reviewjournal.com or 702-380-4567.
Review
"Draft Day"
109 minutes
PG-13; brief strong language and sexual references
Grade: C
At multiple locations